ARTICLE SUMMARY:
The COVID-19 pandemic is testing medical technology companies' ability to flex operations and help healthcare providers manage demand surges arising from the resumption of deferred care and procedures. To help support the rebound—and prepare for COVID-19's potential long-term impacts on product, supply chain, and ecosystem capabilities—organizations should rethink their short- and long-term commercial effectiveness strategies. By Doug Billings, Deloitte Consulting LLP.
SPONSORED BY:

Deloitte Life Sciences
Comprehensive consulting, financial advisory, risk management, audit, tax and related capabilities, along with software products and platforms, deliver value at every step - from insight to strategy to action.
As healthcare providers begin to resume coronavirus-deferred diagnostic care and procedures, they are grappling with the challenges of ensuring patient and staff safety, triaging the backlog of undelivered care, managing complex pre-procedure planning, and preparing for a possible second wave of the virus. Medtech companies that supply these providers with critical products and services are also dealing with COVID-19-related challenges that may temper their ability to help customers effectively manage the resurgence in demand: a mix of exhausted supply chains and surplus/aging inventory, reduced customer access, and a variable rate of customer, geographic, and product category recovery.
Which commercial effectiveness strategies should medtech companies put in place to help providers manage short-term demand surges arising from the resumption of deferred care and procedures? How can medtechs build resilience and agility to respond to longer-term industry changes created by the pandemic, such as virtualization of care and site-of-service and payor-mix shifts?
Survey Spotlights Providers' Concerns
Understanding providers' challenges and concerns can help guide medtech organizations' strategies to support deferred care recovery. Between May 4 and May 15, 2020, the Deloitte Center for Health Solutions conducted an online survey of 50 clinical and service line leaders at US provider organizations on their deferred procedures. Results suggest that resuming these procedures will be complex, and leaders are preparing for many uncertainties.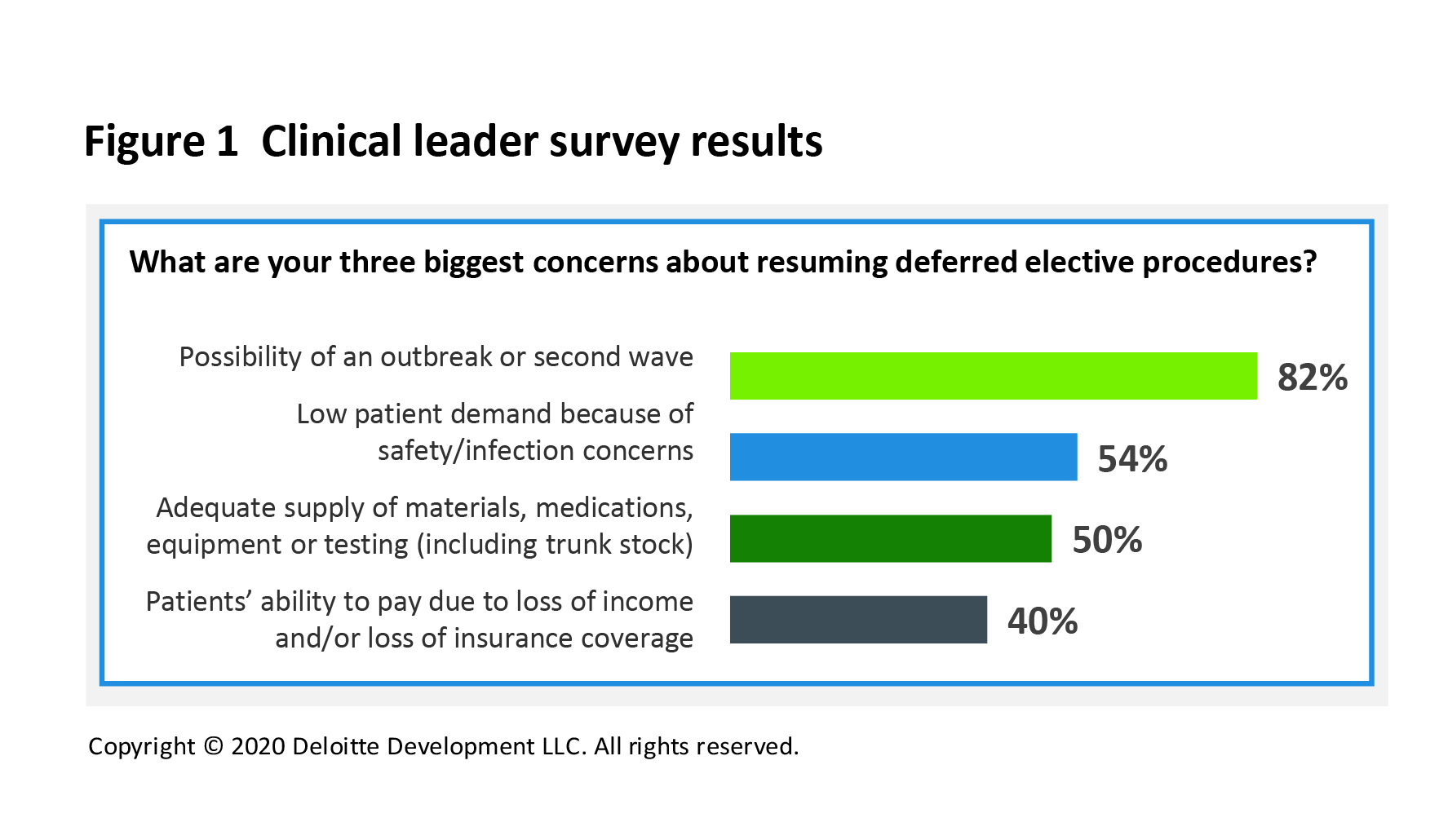 Respondents expect the return to pre-COVID-19 productivity volumes to take two to six months, with three months the typical estimate. When asked to list their top concerns about resuming deferred procedures, providers say a second coronavirus outbreak is their biggest worry (82%), followed by low patient demand due to safety concerns (54%), adequate supply of materials, medications, equipment, or testing (50%), and patients' ability to pay (40%) (see Figure 1).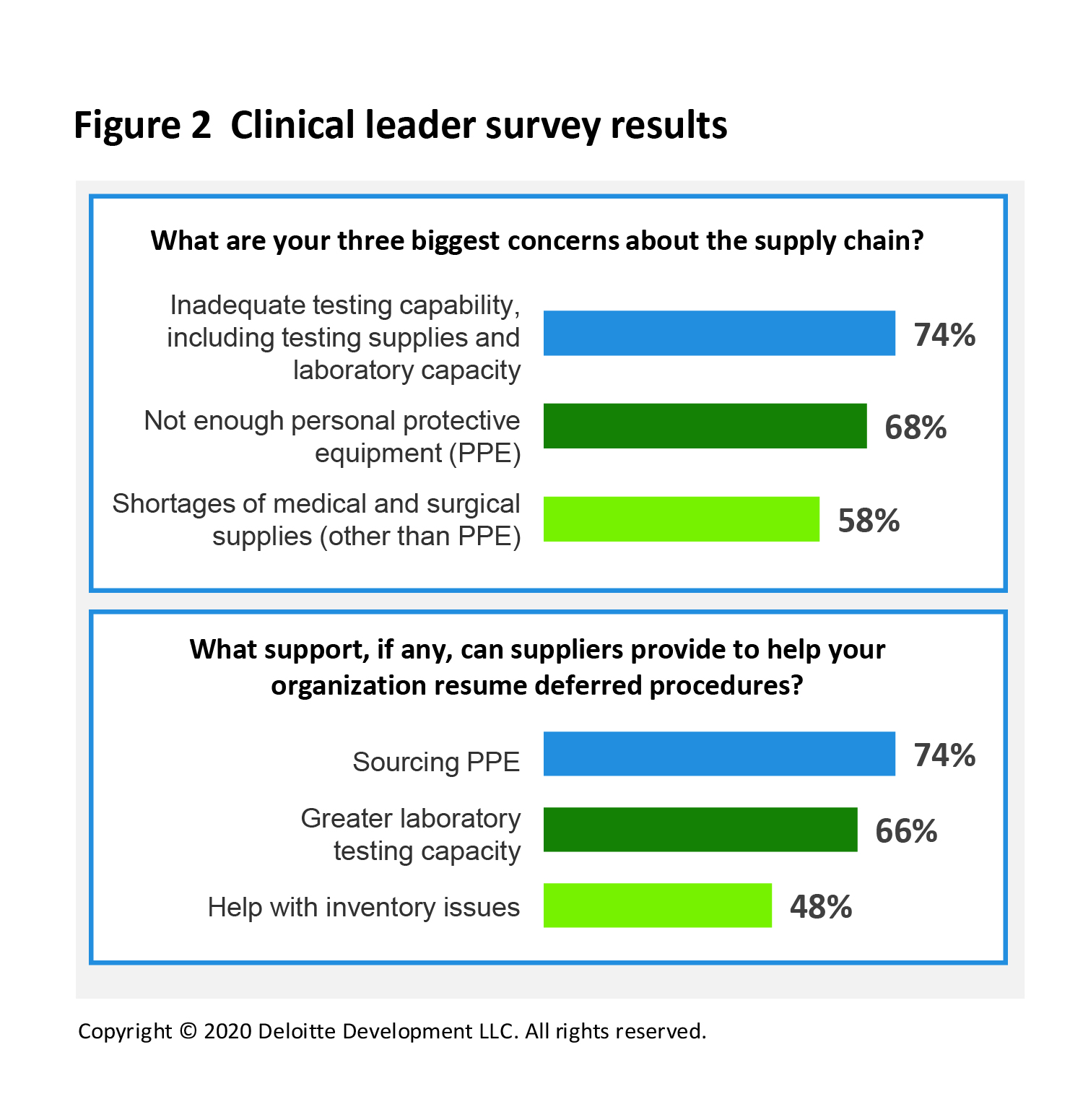 Of importance to medtech companies, providers have a number of supply chain concerns; among them, inadequate testing capabilities, the availability of personal protective equipment (PPE) and other medical and surgical supplies shortages (see Figure 2). Survey respondents say their organizations are planning on implementing many measures to mitigate these key concerns, but they need support from their suppliers.
What Short-term Actions Should Medtech Companies Take?
To help their healthcare customers manage short-term demand surges arising from the deferred career rebound, medtech companies should rethink their commercial effectiveness strategies in three areas (see Figure 3).
Local demand forecast and planning
Medtechs should pay close attention to consumer attitudes and behaviors as well as the steps their provider customers are taking to safely restart deferred procedures and consider if/how they may need to change their traditional engagement and service models. Localizing demand forecasts and incorporating internal and external data in distribution plans can help companies identify and target hospitals with a faster recovery rate (and, therefore, potential capacity issues), align their field force's return-to-work plan with local needs, and be ready to respond to market and/or customer changes.
Optimized inventory and services
The COVID-related shutdowns of nonessential healthcare services increased medtech companies' exposure to the costly issue of stranded and/or expiring inventory. Suppliers supporting their customers during deferred care recovery should optimize their distribution process to be flexible and resilient so they can quickly move products where and when they are needed.Implementing a control tower solution can help medtech organizations predict, sense, and prescribe risk responses to effectively navigate demand during and after the recovery period.
Virtual engagement capabilities
As discussed in our June MedTech Strategist blog post, telemedicine and other digital engagement capabilities have been playing an increasingly important role in enabling healthcare organizations to shift patient care—including presumptive and diagnosed COVID-19 cases—into the virtual space. Medtech companies should evaluate how they can further alleviate clinician constraints to delivering virtual care during and after deferred procedure recovery by enhancing and extending their products' and services' digital connectivity—what we call virtual+ capabilities — to encompass diagnostics, testing, and other applications. This also includes how to effectively sell and service virtually to support physicians, nurses and other care givers.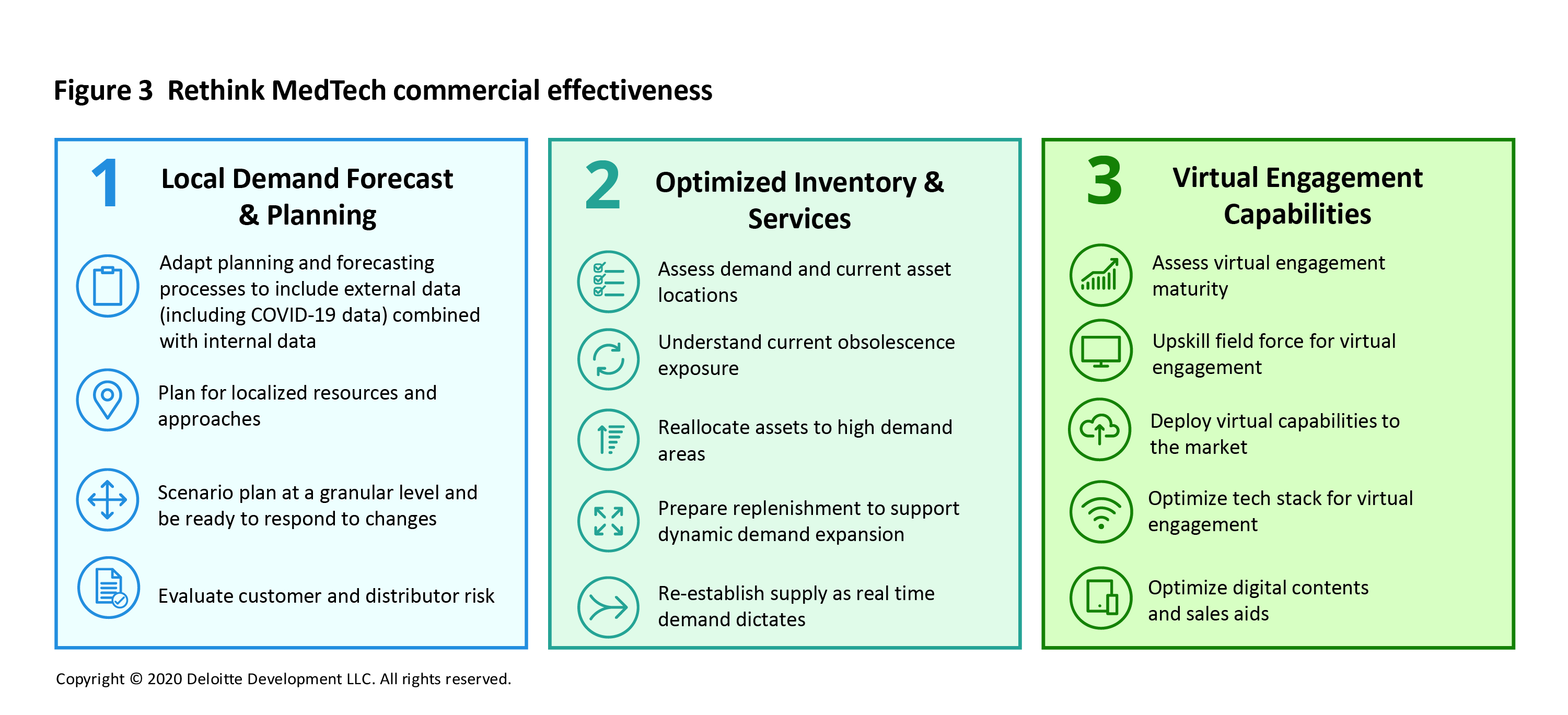 What About Long-term Impacts?
In addition to managing the immediate challenges of a deferred care procedure rebound, medtech companies should assess COVID-19's potential long-term impacts on product, supply chain, and ecosystem capabilities. Organizations developing future-focused strategies should consider the following framing questions (see Figure 4).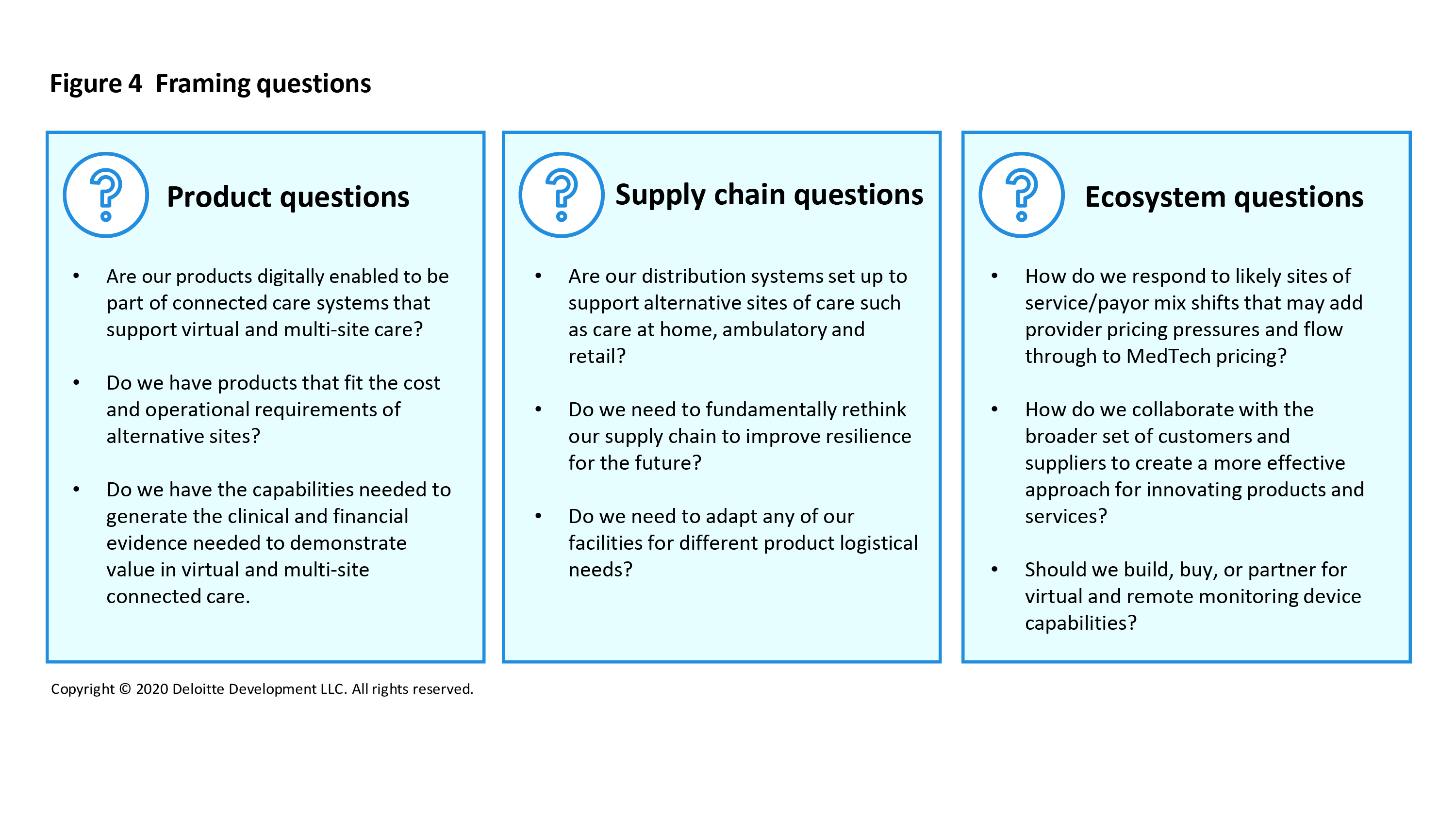 Product capabilities
Provider and patient increased utilization of alternative sites of care and virtual care is likely to continue beyond the pandemic, which presents challenges for medtech companies whose products were not designed to be used outside an acute hospital setting. Some products, such as surgical robots, may be too large for nontraditional care sites; others may require specialized storage facilities or extensive user training, especially for employees of new market entrants. Medtechs will also have to navigate the cost implications of adapting, building, or acquiring products for these new care environments.
Supply chain capabilities
Medtech companies should build agility and resiliency into their supply chain capabilities to help manage what is expected to be an increasingly complex product distribution process. For example, they may need to establish new partnering or outsourcing relationships with technology vendors or other market disruptors to support care at home and other innovative delivery models.
Ecosystem capabilities
Medtech leaders should identify what role(s) they want to play in a healthcare ecosystem being reshaped by COVID-19 and the expansion of care delivery beyond hospital walls—including virtual engagement platforms. Choices may include leading the charge in creating connected care products and services or contributing funding and/or expertise as part of a multi-player partnership.
COVID-19 is fundamentally changing how medtech companies and their provider customers operate. The strategies discussed here are important to address the short-term priorities of managing deferred care recovery. They will be even more important in helping organizations plan a cohesive response that, potentially, enables them to avoid deferring procedures during a resurgence of the virus, and build resilience and agility to respond to longer-term industry changes.
Doug Billings is Managing Director, Deloitte Consulting LLP.
.
About Deloitte
Deloitte refers to one or more of Deloitte Touche Tohmatsu Limited, a UK private company limited by guarantee ("DTTL"), its network of member firms, and their related entities. DTTL and each of its member firms are legally separate and independent entities. DTTL (also referred to as "Deloitte Global") does not provide services to clients. In the United States, Deloitte refers to one or more of the US member firms of DTTL, their related entities that operate using the "Deloitte" name in the United States and their respective affiliates. Certain services may not be available to attest clients under the rules and regulations of public accounting. Please see www.deloitte.com/about to learn more about our global network of member firms.
This publication contains general information only and Deloitte is not, by means of this publication, rendering accounting, business, financial, investment, legal, tax, or other professional advice or services. This publication is not a substitute for such professional advice or services, nor should it be used as a basis for any decision or action that may affect your business. Before making any decision or taking any action that may affect your business, you should consult a qualified professional advisor. Deloitte shall not be responsible for any loss sustained by any person who relies on this publication.
Copyright © 2020 Deloitte Development LLC. All rights reserved
---

Trial MyStrategist.com and unlock 7-days of exclusive subscriber-only access to the medical device industry's most trusted strategic publications: MedTech Strategist & Market Pathways. For more information on our demographics and current readership click here.
SPONSORED BY:

Comprehensive consulting, financial advisory, risk management, audit, tax and related capabilities, along with software products and platforms, deliver value at every step - from insight to strategy to action.
Learn more at Deloitte Life Sciences