ARTICLE SUMMARY:
The medtech company of the future will likely operate in a dramatically altered healthcare landscape. Forward-thinking medtechs are evolving into six winning roles that will enable them to strengthen core capabilities, expand offerings, and enter new spaces to create value and thrive in tomorrow's consumer-centric, digitally powered marketplace. By Pedro Arboleda, and Jay Zhu, Deloitte Consulting LLP.
SPONSORED BY:

Deloitte Life Sciences
Comprehensive consulting, financial advisory, risk management, audit, tax and related capabilities, along with software products and platforms, deliver value at every step - from insight to strategy to action.
Medical technology companies traditionally have focused their business operations and investments on manufacturing and selling medical products such as diagnostic equipment, implantable devices, monitoring devices, or other medical supplies. However, there is growing recognition among industry leaders that rapid market changes—among them, a shift from acute intervention to wellness, radically interoperable data, disruptive competitors, and consumer-driven care models (see Figure 1)—is requiring medtechs to evolve and expand their current product supplier role to thrive in a dramatically different Future of Health marketplace.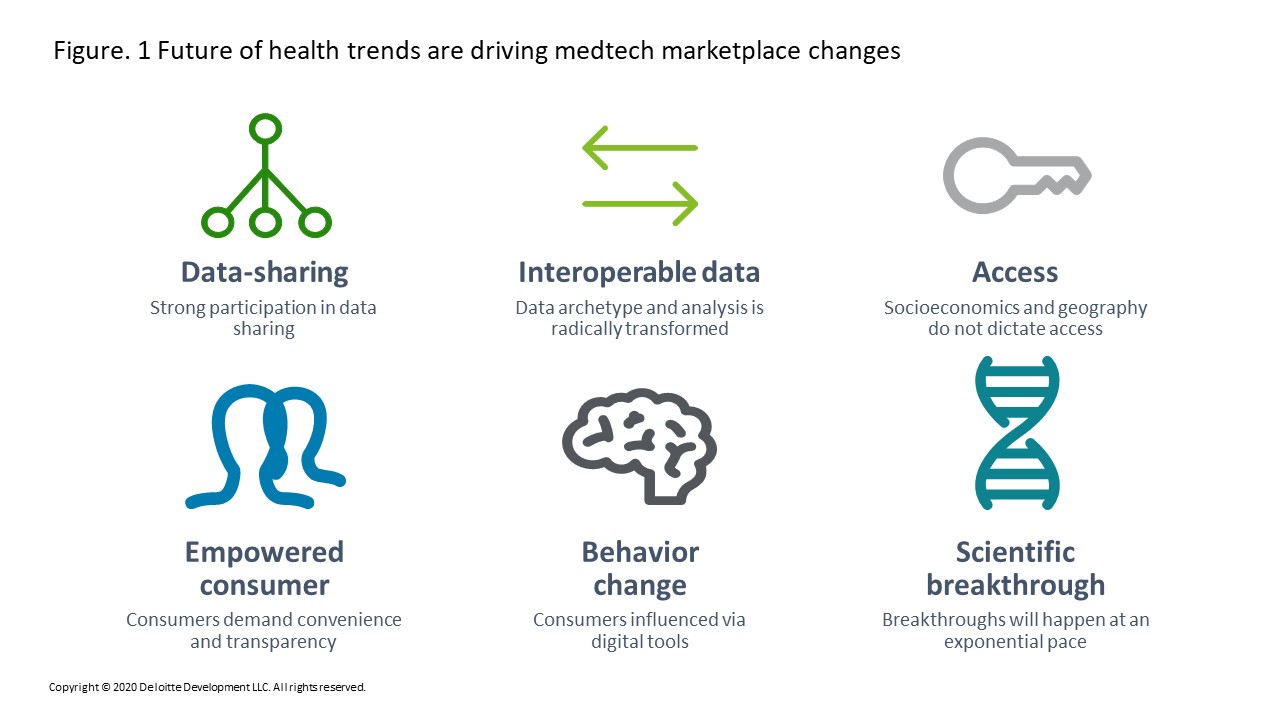 To create sustainable clinical and business value to meet changing customer needs, medtech companies of the future will have to:
Strengthen core capabilities to specialize either as a low-cost, highly efficient supplier or a premium supplier of innovative and differentiated products
Expand offerings to create holistic solutions by either combining products, software, and services to help providers achieve clinical and operational excellence or integrating all products and services required to treat a selected disease via partnerships or acquisitions
Enter new spaces by provide transformative offerings that either facilitate data transfer, insight generation, and decision optimization across the health ecosystem or enable consumers to better and more proactively manage their health.
We envision six future roles that will enable medtech companies to deliver meaningful and differentiated value and thrive in tomorrow's consumer-centric, digitally powered healthcare marketplace (see Figure 2).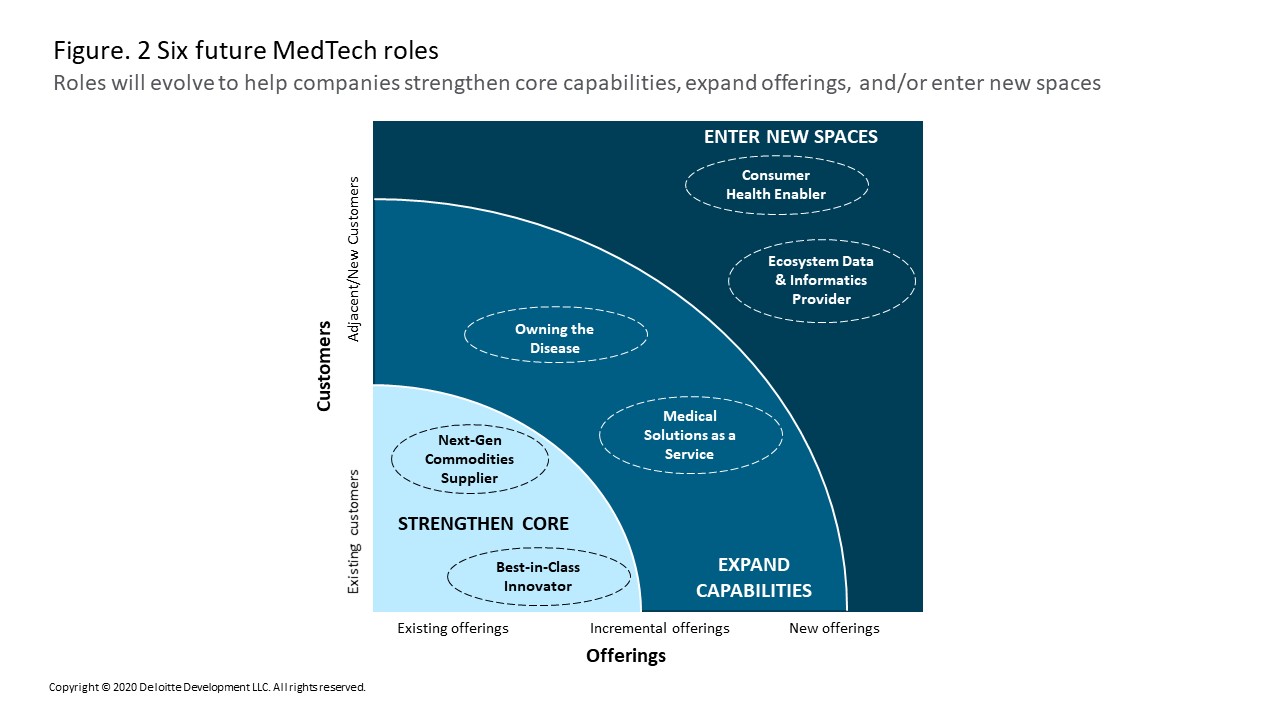 Strengthen core capabilities to differentiate
Future role 1: Next-gen commodities supplier
Similar to the product supplier role most current medtechs hold, the next-gen commodities supplier provides clinically sound products at a much lower price via superior efficiencies that lead to meaningful and sustainable cost advantages. The role takes advantage of digitally enabled supply chain capabilities, access to low-cost supplies and labor, and a global network to achieve an industry-leading cost-of-goods-sold profile. This role is critical to the health ecosystem because it provides "good enough" products at the lowest prices, similar to generics manufacturers in the pharmaceutical industry.
Future role 2: Best-in-class innovator
A best-in-class innovator provides innovative products with substantial clinical and economic differentiation, such as devices that can cure specific diseases, significantly slow disease progression, or enable personalized treatment with higher clinical utilization. Best-in-class innovators excel in the idea-to-market process and deliver superior product innovations via customer-centric, data-driven, open innovation capabilities with significant access to world-class medical researchers and clinicians. Success in this role requires an agile ability to evaluate innovative ideas both internally and with external partners. Although this role is still a product supplier, it adds value to the health ecosystem by regularly and consistently designing, developing, and introducing truly value-enhancing, differentiated products.
Expand offerings
Future role 3: "Medical solutions as a service" provider
A "medical solutions as a service" company elevates the product supplier role to that of a customer business partner via data-driven delivery of holistic solutions, including hardware, software, and professional services (e.g., clinical workflow consulting, analytics, management) enabling customers to optimize clinical, operational, and economic outcomes. Companies that adopt this role will need to embrace outcome-based and/or subscription-based revenue models, as traditional volume-based models are unlikely to be as effective. These MedTechs will be truly integrated into their customers' operations and, eventually assume full responsibility for specific enabling functions and processes (e.g., device data management and analytics). The high-tech industry went through a similar evolution from selling products to delivering solutions a decade ago. Key learnings from that process may be helpful to medtech companies planning to become a service provider.
Future role 4: Disease owner
A medtech company that "owns" a disease provides superior care coordination and a one-stop-shop portfolio of devices, digital tools, services and, potentially, drugs to treat or manage a specific disease across the patient journey from diagnosis, treatment, to ongoing monitoring. We expect to see this role be effective in managing chronic diseases (e.g., diabetes, renal care, cardiovascular, respiratory), and it will be a critical role in the care model transition from fee-for-service to fee-for-value. A capitated payment model could be structured so that payers, providers, and manufacturers have aligned incentives to optimize patient care with minimized costs.
Enter new spaces
Future role 5: Ecosystem data & informatics provider
Many hospitals and health systems make minimal use of analytics due to data availability and interoperability challenges. Data is the new gold in the increasingly digitized healthcare space, given its vital role in improving clinical decision-making and care quality. We expect an ecosystem data & informatics provider role will emerge to collect, curate, and interpret data from various sources, and to enable data interoperability and drive care optimization. Because big health IT companies already may have a competitive edge to win in this role and consumer tech giants are also investing heavily in healthcare, medtech companies interested in this role will need to dramatically transform their capabilities or leverage these same consumer tech leaders via partnerships.
Future role 6: Consumer health enabler
Healthcare is transforming to a prevention and wellness-oriented model, with more care delivery happening in consumers' homes instead of the traditional physician office or hospital. This role empowers consumers to proactively and continuously manage their own health by providing health-related insights or advice via telehealth and virtual physician tools based on the data collected from various connected devices. To succeed as a consumer health enabler, medtech companies will need to shift from a provider-centric to a consumer-centric business model with efficient and effective capabilities to reach and engage a broad consumer customer base.
The time to act is now. We expect the revenue pool for the traditional medtech role to continue shrinking as the value it delivers decreases over time and new roles grow in importance and influence. As medtech leaders plan their migration strategy, some may decide to focus on excelling in a single role while others may choose to leverage investments in new technologies to take on several. In either case, they should quickly assess their current offerings, customers, and unique capabilities—and identify gaps and ways to fill them—or risk being outmaneuvered by competitors.
Pedro Arboleda and Jay Zhu are Managing Directors at Deloitte Consulting LLP.
About Deloitte
Deloitte refers to one or more of Deloitte Touche Tohmatsu Limited, a UK private company limited by guarantee ("DTTL"), its network of member firms, and their related entities. DTTL and each of its member firms are legally separate and independent entities. DTTL (also referred to as "Deloitte Global") does not provide services to clients. In the United States, Deloitte refers to one or more of the US member firms of DTTL, their related entities that operate using the "Deloitte" name in the United States and their respective affiliates. Certain services may not be available to attest clients under the rules and regulations of public accounting. Please see www.deloitte.com/about to learn more about our global network of member firms.
This publication contains general information only and Deloitte is not, by means of this publication, rendering accounting, business, financial, investment, legal, tax, or other professional advice or services. This publication is not a substitute for such professional advice or services, nor should it be used as a basis for any decision or action that may affect your business. Before making any decision or taking any action that may affect your business, you should consult a qualified professional advisor. Deloitte shall not be responsible for any loss sustained by any person who relies on this publication.
Copyright © 2020 Deloitte Development LLC. All rights reserved
---

Trial MyStrategist.com and unlock 7-days of exclusive subscriber-only access to the medical device industry's most trusted strategic publications: MedTech Strategist & Market Pathways. For more information on our demographics and current readership click here.
SPONSORED BY:

Deloitte Life Sciences
Comprehensive consulting, financial advisory, risk management, audit, tax and related capabilities, along with software products and platforms, deliver value at every step - from insight to strategy to action.
Learn more at Deloitte Life Scienceswebsite