ARTICLE SUMMARY:
NASS, the year's biggest spine surgery gathering, begins next week in Los Angeles amid a hot medtech financing market and tides of disruption—if a slow-shifting market like spine can be disrupted. We've put together a crib sheet on the key trends in M&A and R&D we will be watching for at the meeting, based on interviews in recent months with leading spine surgeons, analysts, and industry execs.
Stock prices for the leading public medtech companies are up an average of 12.3% for six months from March-August of this year (including diagnostics and life sciences tools), according to BMO Capital Markets, versus 7.8% for the S&P and 5.8% for the Dow Jones Industrial Average. Amid the enthusiasm, from an industry/exhibitors' perspective, some potential growth drivers are likely to get further fleshed out at NASS.
Robotics Front and Center
Given the recent successful launches of Mazor/Medtronic's and Globus Medical's robotic systems in the US, and newly energized commitment by all the major players to the field, robotics

is going to be a major focus on the exhibit floor. The two-year-old Medtronic/Mazor strategic alliance moves into a new phase this year, as the companies plan to use NASS as an opportunity to introduce the Mazor X Stealth Edition, their first co-developed integrated system, which combines MDT's legacy navigation system with the Mazor X platform; the companies say it will enable 3D planning, robotic-guided execution, and real-time verification of surgical goals. FDA clearance is pending, with plans to market expected late this year or early 2019. Status: We've written about this collaboration, and more on it to come. At NASS, Medtronic, separately, will also be launching an occipitocervical-upper thoracic system (OCT) that streamlines complex posterior cervical fixations using its advanced navigation monitoring, biologics and imaging solutions.
Globus, which launched the ExcelsiusGPS robotic platform last year, bought Nemaris Inc. in September. It is a privately held company that developed Surgimap, which is widely used by in spine surgical pre-planning platforms, and, although Globus assures Wall Street that it does not expect any disruption, it will be interesting to see how this deal plays out for competitors. Further, while robotics generally until now has been limited in spine to pedicle screw placement, some analysts expect Globus could announce additional indications at NASS, such as discectomy, decompression, or rod placement.
Nuvasive, which insisted on holding back from the robotics fray on the conviction that surgical navigation and integration is more important in the near term, is using NASS to unveil its Pulse Surgical Automation Platform, which integrates its monitoring and imaging technologies, moving the company one step closer to surgical automation. It recently announced a partnership with Siemens on imaging, and, longer term, is committed to building a robotics platform.
Meanwhile, Johnson & Johnson CEO Alex Gorsky, in investor meetings this month, highlighted his firm's renewed interest in external medtech business development, after six years of focus on pharma growth and streamlining the medical device portfolio. Drivers, he stated, are renewed medtech device innovation and an improved regulatory environment. And, while it's early, at least one indicator of its interest, albeit small, in spine is the acquisition in September of Emerging Implant Technologies (EIT), a German company, which makes 3D printed interbody implants made of a proprietary cellular titanium material, for spine fusion surgery.
Stryker's K2M Buy
But the big deal dominating the space of course is Stryker's $1.4 billion purchase in August of K2M Group Holdings (4.6x consensus 2019 enterprise value/revenues, which is above the 4x orthopedic average). While Stryker has been going gangbusters across all of its businesses, spine—which represents 18% of its sales—has been just about the only laggard. Why stay committed to a non-core business in a relatively mature market? At fall investor meetings, Stryker execs explained that spine, now part of the company's neurovascular business unit, is critical to its overall strategy, and since that is the case, it wants to play as a leader.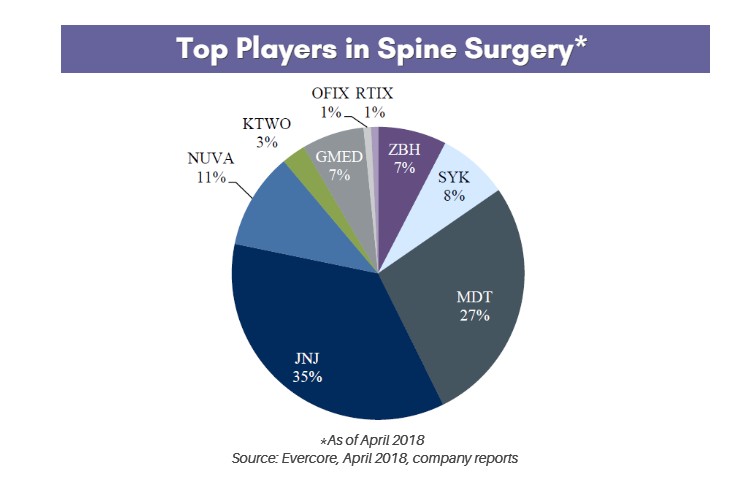 K2M, a small but rapidly growing player (3.5% share of the US spine market, growing more than 10% a year versus 0-2% growth overall for spine, estimated by Leerink's Richard Newitter) brings into Stryker the field's most appealing subsectors—complex spine such as deformity, trauma, and tumor case, as well as a talented senior management team. Spine mergers tend to be disruptive (J&J/DePuy is a case in point), but Stryker executives insist that having made more than 60 deals in the past few years, they are experts at integration.
Standalone Expandable Cages, MIS and ASCs
From surgeons' perspective, excitement revolves around the marriage of navigation and robotics platforms, advances in visualization and imaging, and new implants, such as standalone expandable interbody cages, all of which facilitate MIS and ultimately the move to outpatient surgery procedures. MIS' potential clearly lies in patients' desire for convenience, new, enabling technologies, and physician efforts to move their practices out of the hospital into the less restrictive outpatient setting. The debate over whether advanced materials versus biologics can best promote bony ingrowth, particularly in difficult to heal situations, continues full steam.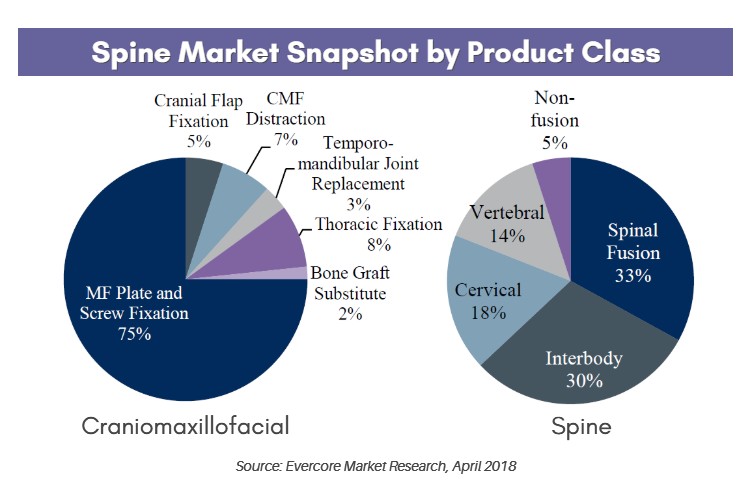 Asked about the technological landscape in MIS, Adam Lewis, MD, a spine surgeon who is president of Jackson Neurosurgery Clinic in Mississippi, explains that standalone expandable cages can be implanted without pedicle screws or rods and may not need nerve monitoring, allowing for faster set up times and less costly procedures. An example is Wenzel Spine's VariLift LX Standalone Expandable Interbody Cage, which gives 8 degrees of lordosis. Wenzel and Joimax are partnering to combine their endoscopy and implant technologies to improve MIS, Lewis says. Publications are forthcoming on cases studies.
Also augmenting MIS surgery is the advent of disposable systems that address value-based medicine issues. The five-year-old Swiss company Neo-Med, for example, sells a percutaneous pedicle screw system that is lightweight and disposable, yet durable and strong, says Lewis, who was first to use it in the US, where it received FDA clearance earlier this year and he now trains others on the technique. It can be used in outpatient settings without washing instruments and there is no need to touch the instrument because the screw is already in place in the screwdriver. The system facilitates a new surgical technique that minimizes and optimizes biomechanical forces in thoracic-lumbar fusion surgery, reducing risk of complications and infections.
Surface technologies and coatings are also of interest, Lewis says. The market is moving from PEEK to titanium-coated PEEK and titanium implants. There is a strong push to 3D-printed implants and instruments, with Stryker and K2M as leaders in spine, and interest in blast coatings to improve bony ingrowth; companies involved in these efforts include Renovis Surgical and Titan Spine.
Lumbar and thoracic spine surgeries are currently done via MIS, but eventually all spine surgery will be, says Jeff Goldstein, MD, a clinical professor in the department of orthopedics and director of spine surgery services at NYU Langone Orthopedic Hospital. He believes new robotics and navigation technologies are bringing the most changes to spine surgery and will facilitate greater use of MIS procedures and more outpatient surgery through enhanced visualization and monitoring capabilities. These trends are taking hold in the community, not just in large cities and academic medical centers, he says.
#MedicalDevice #CommunityBlog #strategy #medtech #medicaldevices #ICYMI #trends #perspective #MedTechStrategist #global #ablation #catheter #Imricor #MRI #imaging