ARTICLE SUMMARY:
Reimbursement and regulatory shifts are driving telehealth adoption, creating opportunities for providers and suppliers, while traditional medtechs try to find their footing in the digital landscape.
In 2019 telehealth has gone mainstream, affecting almost every visible corner of the healthcare system. That's the opinion of leading experts in the field, and, despite a lack of hard numbers, it's not hard to see why.
Enabling technologies are being used in new ways as tools to address some of the healthcare system's most vexing problems: access, variable quality and costs, and inefficiencies. There's a marketing element as well, as providers see telehealth as a way to draw patients into their networks and retain their loyalty. Those with resources and forethought see it as much more.
Multiple drivers are converging, making this possible. Above all, federal regulatory moves going into effect this year and next year reduce or eliminate several longstanding barriers. Cultural shifts also make it easier for contemporary consumers and providers to incorporate the onslaught of digital information into their medical decision making.
Telehealth providers have demonstrated the potential for their services to improve access to treatment for substance abuse disorders and behavioral health, both of which suffer from provider shortages amid urgent need. "Telehealth is an essential part of our strategy, and key to helping to solve the nation's cost and access problems," says Tom Richards, global lead, strategy and business development at Cigna. "Medical costs cannot continue to increase at 2 to 3 times the rate of normal inflation."
Large medtech companies are testing the waters by incorporating strategies that move away from their core expertise and commercial models and toward what is commonly known as "total solution" offerings that rely heavily on digital tools to address care more holistically.
As telehealth services proliferate, the boundaries are merging between traditional medical device manufacturers, which are largely product oriented, and non-traditional computational-oriented companies. Large companies such as Zimmer Biomet, Stryker Corp., and Smith & Nephew PLC are testing the waters by incorporating strategies that move away from their core expertise and commercial models and toward what is commonly known as "total solution" offerings that rely heavily on digital tools to address care more holistically.
Toward a Broader Definition of Telehealth
Telehealth in the popular mind may be a broad concept, but in government circles it is clearly—if some would say anachronistically—defined. At its core, the Department of Health and Human Services defines the term as "the use of electronic information and telecommunication technologies to support and promote long-distance clinical healthcare, patient and professional health-related education, public health, and health administration."
Within HHS, different government agencies, however, have more nuanced definitions, with implications for policy making. FDA and CMS, for example, define the field differently, as they move to regulate it. FDA has aggressively provided clarity on regulations to create an environment in which innovators could develop technologies enabling digital medicine.
Medicare's coverage of telehealth, on the other hand, has been limited, directly impacting interest in committing resources and financing to the field. Until recently, its reimbursement covered only real time, live (thus synchronous) two-way interactive communication between patients and distant-site physicians. Participants had to meet certain requirements and conduct their exchanges at specified sites. The originating site of the beneficiary (the patient) for example, had to be in specific kinds of facilities, like hospitals, doctors' offices, or rural health clinics and federally qualified health centers. The provider had to be a stipulated medical professional. Medicare did not cover remote non-face-to-face patient monitoring services (RPM).
Recently, CMS has been relaxing its rigid requirements related to Medicare's reimbursement of telehealth and doing so with particular zeal since 2017. In 2018, for the first time, the agency took several major steps to incentivize Medicare's support for RPM. It used the rule-making process (as opposed to Congressional legislation) to make changes that Congress had not been able to, namely, it has proposed rules asserting that RPM, although a service that relies on telecommunications, is not a telehealth service and therefore not subject to the strict legal definition of telehealth as outlines in the Social Security Act.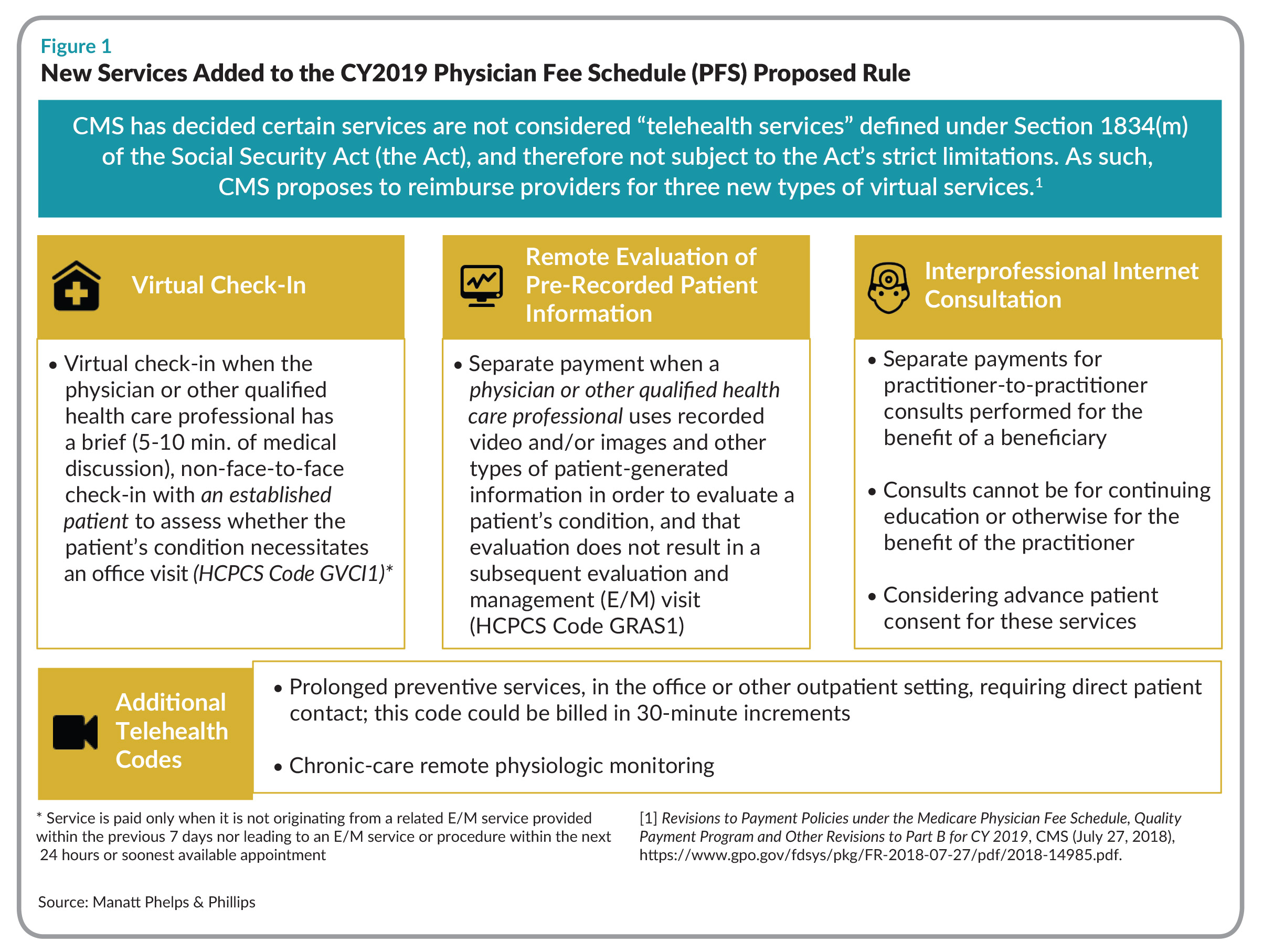 The agency then revised its CPT code policies to cover some of the services associated with it. Instead of using miscellaneous codes that were far from ideal, such as the particularly broad CPT 99019, which does not have an assigned payment, clinicians can now use three new codes aimed at RPM, each with a value assigned to it. These changes went into effective January 1, 2019 and analysts say they are already making a mark.
The second step was to reward clinicians who use RPM while participating in certain alternative payment model programs (specifically merit-based incentive payment system or MIPS). There were still restrictions on clinicians' use of RPM tools, however.
Changes of this kind enable CMS to pay for new types of virtual services: virtual check-ins (brief 5-10 minute non-face-to-face discussions between physician and patient); remote evaluation of pre-recorded patient information (video, images, or other types of patient-generated data); and interprofessional internet consultations for benefit of a patient, a presentation by Manatt Health points out(see Figures 1.)
The Balanced Budget Act of 2018 (BBA), which Congress passed that February, does tackle telehealth, albeit from a high-level perspective by encouraging expansion of its use within certain Medicare programs, notably Medicare Advantage (MA). Taking its direction from the BBA, CMS followed up in April of this year by issuing final rules that smooth the pathway to telehealth utilization. Some of these provisions start in 2020, when MA plans will be allowed to provide additional telehealth benefits to enrollees, and these will be treated like basic benefits under Medicare.
Multiple barriers remain. The new CMS rules for example still do not include payment for buying the required infrastructure and technologies required for bidding on contracts, which could be a stumbling block for some would-be service providers. Further changes in the coding system are needed to accelerate adoption over the long term. The valuation of telehealth services is still mediocre, according to Manatt Health, a division of law firm Manatt, Phelps & Phillips, which points out that Congress has asked a Medicare advisory board to review options to incorporate telehealth services currently covered by commercial payors into traditional Medicare, a move that could provide more relief from restrictive regulations. Licensure laws that clamp down on providers' ability to provide telehealth services across state lines are also under scrutiny, as is the lack of adequate and affordable broadband infrastructure, and the lack of sophisticated leadership.
Many states are working to accelerate adoption of telemedicine, some faster than others. Proponents view telehealth as an opportunity to alleviate strains on physician shortages and overburdened health systems. Manatt estimates that 35 states have passed laws expanding telehealth coverage, parity, and reimbursement in both the individual and group markets and in their Medicaid programs. These mandate telehealth coverage at the same rate as face-to-face visits, and virtually all employers (96%) make telehealth available in states where it is allowed.Most recently, in the 2019 legislative sessions, state legislators introduced more than 80 bills that would increase cross-state licensing for telehealth providers.
Large Healthcare Systems Step Up
It's hard to put numbers on the size of the telehealth opportunities, but clearly many large healthcare systems are engaging in strategies to roll out telemedicine for virtual care, patient engagement, and provider-to-provider consults.
And if their main customers are increasingly seeing virtual health as mainstream and an important solution to the challenge of accessible, affordable care for Americans, device companies need to be thinking about this as well. While they tend to view telehealth as a care delivery issue that is peripheral to their main mission, medtechs have to think more broadly about how their devices are used in the care continuum and how digital technologies can help them improve clinical outcomes, particularly as value-based care impacts the healthcare system.