ARTICLE SUMMARY:
Sales and placements of surgical robotic systems took a near-term hit during the early days of the pandemic, but the rebound has been surprisingly strong, and companies continue to invest in the field aggressively.
In the noisy environment surrounding pandemic-driven market data, sorting out financially stressed hospitals' appetite for investing in expensive technologies is tough.
Clearly, hospital operating margins are down, even as their costs rise, and surveys indicate the majority are putting off capex spending for the foreseeable future (see Figure 1; and "As Hospitals Recover, What is Their Appetite for Device Innovation?," MedTech Strategist, August 20, 2020.)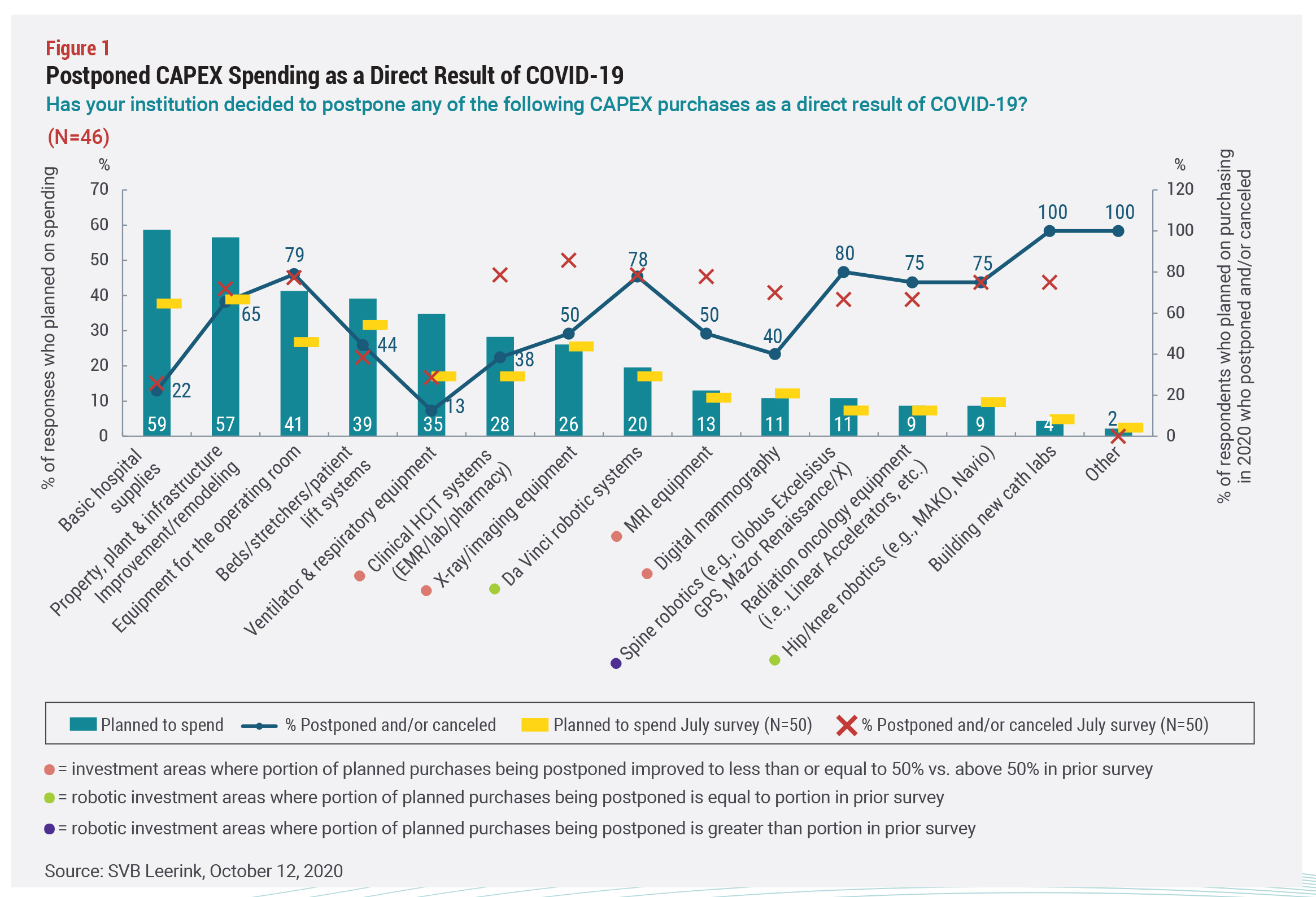 But how that impacts individual manufacturers and new product launches is complicated and varies depending on type of innovation, as well as the individual characteristics of hospitals and companies. Smaller, community hospitals, inevitably are pulling back more than well-endowed academic medical centers and large healthcare systems, for example. The same is true of smaller versus larger companies with broad portfolios. Nowhere has the situation been murkier than in surgical robotics, a field that has drawn much attention and investment dollars in recent years and was accelerating rapidly before COVID-19 hit last March.
While sales and placements were initially down at the start of the pandemic in the US, industry's worries about a prolonged effect seem to be unwarranted. In third-quarter earnings calls, the largest surgical robotics companies reported better-than-expected placements.
Reasons vary for the unexpected depth of this support. Robotics are not only an opportunity in and of themselves, they are also part of companies' broader strategies and critical to gaining and maintaining market share across product portfolios. Therefore, when companies saw their customers under financial pressure, they quickly adapted, offering leasing or SaaS-type financing arrangements for robotic systems, thereby taking purchases out of the hospital capex budget, says Brian Chapman, a principal at ZS Associates. At the same time, hospital customers see robotics as key to their recovery and a way to showcase their technical edge for both physicians and patients.
"Robotics remains a very hot market," says Eric Chapman, PhD, a senior analyst at GlobalData (not related to Brian Chapman), who presents frequently on the topic to investors and manufacturers. He puts the market size for robotic surgical systems at $1.85 billion globally, excluding accessories and disposables, which account for another $3.7 billion in annual sales, and software, which GlobalData does not currently track formally. Of that global number for total systems sales, Intuitive Surgical Inc. has 70% share, while in general surgery alone, it has 92.5% share. Orthopedics is dominated by Stryker PLC and Zimmer Biomet; neurosurgical/spine has Globus Medical Inc. and Medtronic plc as leaders.
Longer term, Intuitive and the others will face competition, Eric Chapman observes, although how those dynamics will play out remains to be seen. The largest companies could buy out smaller competitors, or the smaller players could establish themselves in niche indications.
Excerpted from "Surgical Robotics Uptake: Cutting Through the COVID-19 Noise," MedTech Strategist, December 16, 2020.

Trial MyStrategist.com and unlock 7-days of exclusive subscriber-only access to the medical device industry's most trusted strategic publications: MedTech Strategist & Market Pathways. For more information on our demographics and current readership click here.