ARTICLE SUMMARY:
Back in 1990, the same year that Americans were paying on average $1.34 for a gallon of gas, Space Shuttle Discovery placed the Hubble Space Telescope into orbit, and Tim Berners-Lee of Switzerland published his formal proposal for a concept called the "World Wide Web," the surgical robotics revolution was born.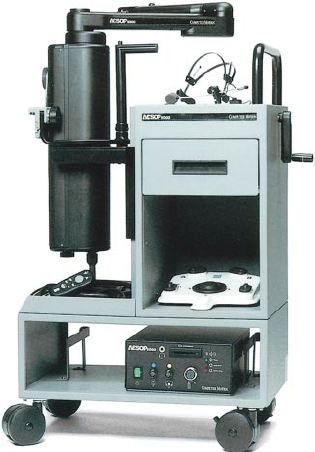 Twenty-eight years ago, the Automated Endoscopic System for Optimal Positioning (AESOP), produced by Computer Motion Inc. (pictured here; company acquired in 2003 by Intuitive Surgical Inc.) became the first robotic, computer-driven system approved by the U.S. FDA for use in endoscopic surgical procedures. A decade later, in 2000, Intuitive Surgical's da Vinci Surgical System broke new ground by becoming the first robotic system FDA-approved for general laparoscopic surgery. This was the first time the FDA had approved an all-encompassing system of surgical instruments and camera/scopic instrumentation. Fast-forward to 2015, when Google parent company Alphabet and medtech giant Johnson & Johnson announced a partnership in Verb Surgical Inc., an ambitious, stealthy start-up project to "create the future of surgery" via a mix of robotics and powerful artificial intelligence (AI) and machine learning tools. (By the way, can it be that Google itself is now 20 years old? Really?)
This amazing progress continues in 2018: Auris Health Inc. (led by Dr. Frederic Moll – physician/serial entrepreneur/founder of Intuitive Surgical, Hansen Medical and Restoration Robotics), is advancing robotics software, data science, and endoscope innovation into the challenging area of lung cancer diagnosis and treatment. Auris' recently FDA-approved robotic bronchoscope system, the Monarch Platform, had its first-in-human use in the US this April, when as part of a clinical trial it viewed the inside of a patient's lungs and obtained a tissue sample. (Auris has since been acquired by J&J for $3.4B; for the very latest on this exciting and rapidly evolving space, see the MedTech Strategist archives.)
This week in MedTech Strategist's Community Blog, in Part 1 of a two-part series, we celebrate the evolution of one of the most cutting-edge markets in the device industry, surgical robotics, by looking at the inspiration for two senior executives to enter the space, as well as their predictions on what the innovative field might look like in the next decade.
Dave Herrmann, VP of Marketing and Business Development at Verb Surgical, whose 20-year medtech industry career includes leading Johnson & Johnson Vision Care's US marketing organization and prior to that, positions of increasing responsibility within J&J's Ethicon and Ethicon Endo-Surgery divisions, was intrigued by the opportunity to meaningfully impact patient care, as well as the possibility of changing the very nature of surgery.
"Surgeons describe surgery as part technical and part judgment. But the tools surgeons use today in these procedures help them only on a technical or mechanical level. When J&J and Google partnered together to develop a digital surgery system, we now had the possibility of changing this paradigm," he tells the Community Blog. "At Verb we are bringing together what we believe are the tools – robotics, visualization, instrumentation, and information – from the world leaders in the healthcare and technology industries, into one platform to help surgeons better learn and apply technical skills while also applying information to aid their judgment," he continues. The company has announced plans to commercialize its first system in 2020.
In the coming decade, Herrmann believes that smart robotics will truly define surgery, and impact patient outcomes. "Robotics technology is going to continuously get smaller, more flexible, and more capable, while also getting less expensive," he tells the Community Blog. "The robot will become a tool in every OR, always there, always on. More companies will enter the space, creating competition that benefits hospitals, and new technologies will become integrated into robots, such as machine learning and advanced visualization," says Herrmann. "All of these factors will combine to create a new and much larger digital surgery market that is truly global in nature and is moving the dial on outcomes," he predicts.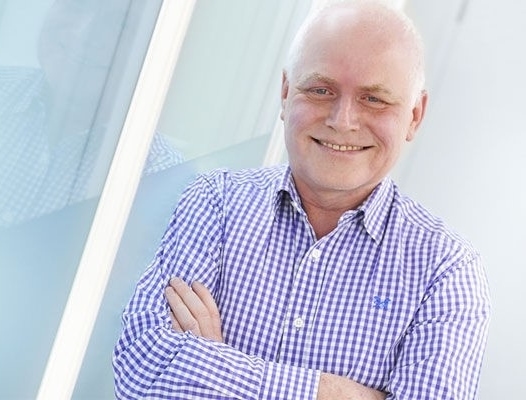 Martin Frost, CEO at four-year-old Cambridge, UK-based CMR Surgical Ltd., developer of the Versius surgical robotic system, tells the Community Blog that the main inspiration for the company's five founders was the limitations of current surgical options and the difficulties of performing manual laparoscopy, according to surgeons they worked with over a number of years.
The company, with a fresh infusion of $100 million in financing announced earlier this month (being heralded as one of Europe's largest medical device financings), has plans to launch its Versius system in Europe later this year. Versius' design is inspired by the human arm, and features a patented four-axis wrist joint that the company says has remarkable dexterity, flexibility and reach across a range of surgical specialties. "What sets Versius apart from other robotic systems is that it was designed from the outset … to fit seamlessly into a modern OR," Frost tells the Community Blog. "Our inspiration for the design comes from the very best equipment already in the OR, which of course is the surgeon and their team."
On June 4, CMR closed its impressive Series B round from new investor, Zheijang SilkRoad Fund, and existing investors Escala Capital Investments, LGT, Cambridge Innovation Capital and Watrium. The funds will be used for completion of validation studies for regulatory approval in Europe and the U.S., international expansion, and commercial scale-up. The new round takes the total invested in the young company to just shy of $150 million; it brought in $46 million in two Series A tranches over the last couple of years.
Over the next decade, CMR Surgical's Frost, in line with Verb Surgical's Herrmann, envisions making minimal access surgery available to all those who need it by breaking down the barriers that currently exist, including the size, cost, and complexity of current robotic systems. The robotics space is full of companies aspiring to lead the way forward; stay tuned for insightful coverage by the MedTech Strategist team!
In next week's Part 2 of this post, we'll highlight these senior execs in the surgical robotics space: David McNally, CEO at Titan Medical, and Christopher Prentice, CCO at Mazor Robotics. We'll also look at key highlights from the annual Society of Robotic Surgery (SRS) conference taking place next week in Stockholm, Sweden.
Thank you for reading!
#ThisWeekinMedtechHistory #CommunityBlog #MedTechStrategist #SurgicalRobotics #RoboticSurgery #Robotics #MinimallyInvasiveSurgery #VerbSurgical #Alphabet #Google #Johnson&Johnson #Ethicon #TitanMedical #MazorRobotics #IntuitiveSurgical #AurisHealth #ComputerMotion #CMRSurgical #SocietyofRoboticSurgery #SRS #medicaldevice #medtech
---

Trial MyStrategist.com and unlock 7-days of exclusive subscriber-only access to the medical device industry's most trusted strategic publications: MedTech Strategist & Market Pathways. For more information on our demographics and current readership click here.