ARTICLE SUMMARY:
Peering into deep space and sending back dazzling, never-before-seen images is but one critical element of the Hubble Space Telescope's accomplishments. High-resolution charge-coupled devices designed for use on the orbiting observatory were also responsible for enabling a breakthrough in digital visualization in the medical technology space: minimally invasive stereotactic breast biopsy.
July 20th marked the 50th anniversary of the history-making NASA Apollo 11 moon landing, when American astronauts Neil Armstrong and Buzz Aldrin became the first humans to set foot on a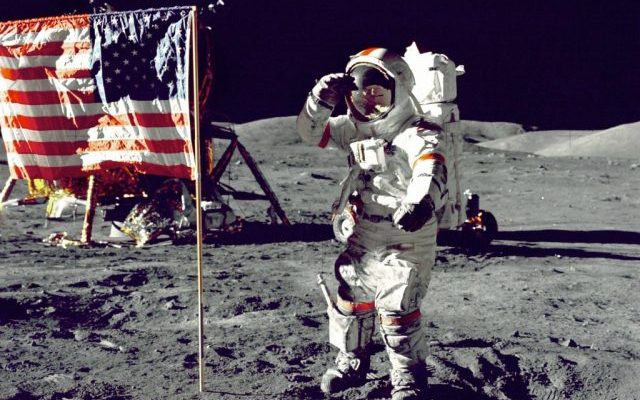 heavenly body beyond our earth. Another monumental achievement, the Hubble Space Telescope, developed jointly by NASA and the European Space Agency (ESA), has allowed us to see far beyond our moon. In addition to providing unprecedented insight into our vast universe, Hubble-derived technology has contributed to life-saving medical device innovations here on earth. This includes digital imaging technology used in minimally invasive breast biopsy, among other important advancements.
The 43.5-foot-long Hubble Space Telescope, named after pioneering American astronomer Edwin P. Hubble, was launched into orbit aboard the Space Shuttle Discovery on April 24, 1990. Since then,in its low-earth orbit at about 340 miles in altitude,it has made more than 1.3 million observations. Astronomers studying its unprecedented data have published more than 16,000 peer-reviewed scientific publications on a broad range of topics including stars and galaxies in all stages of evolution, planet formation, black holes, and locations more than 13.4 billion light-years away from our "Pale Blue Dot"—making it one of the most productive scientific instruments ever built, according to NASA.
For Hubble and its Space Telescope Imaging Spectrograph to succeed in its mission of seeing faint objects such as distant galaxies, researchers at NASA's Goddard Space Flight Center (GSFC) needed to look beyond available technology to meet the instrument's demanding scientific requirements. In the mid-1990s, GSFC contracted with Scientific Imaging Technologies Inc. (SITe) to develop more sensitive and cost-effective charge-coupled devices (CCDs). CCDs are silicon chips that connect light directly into electronic or digital images (rather than photographic film) that can be computer enhanced. In 1997, the breakthrough imaging technology was installed on Hubble during a second servicing mission (the last of five total servicing missions to the telescope was in 2009).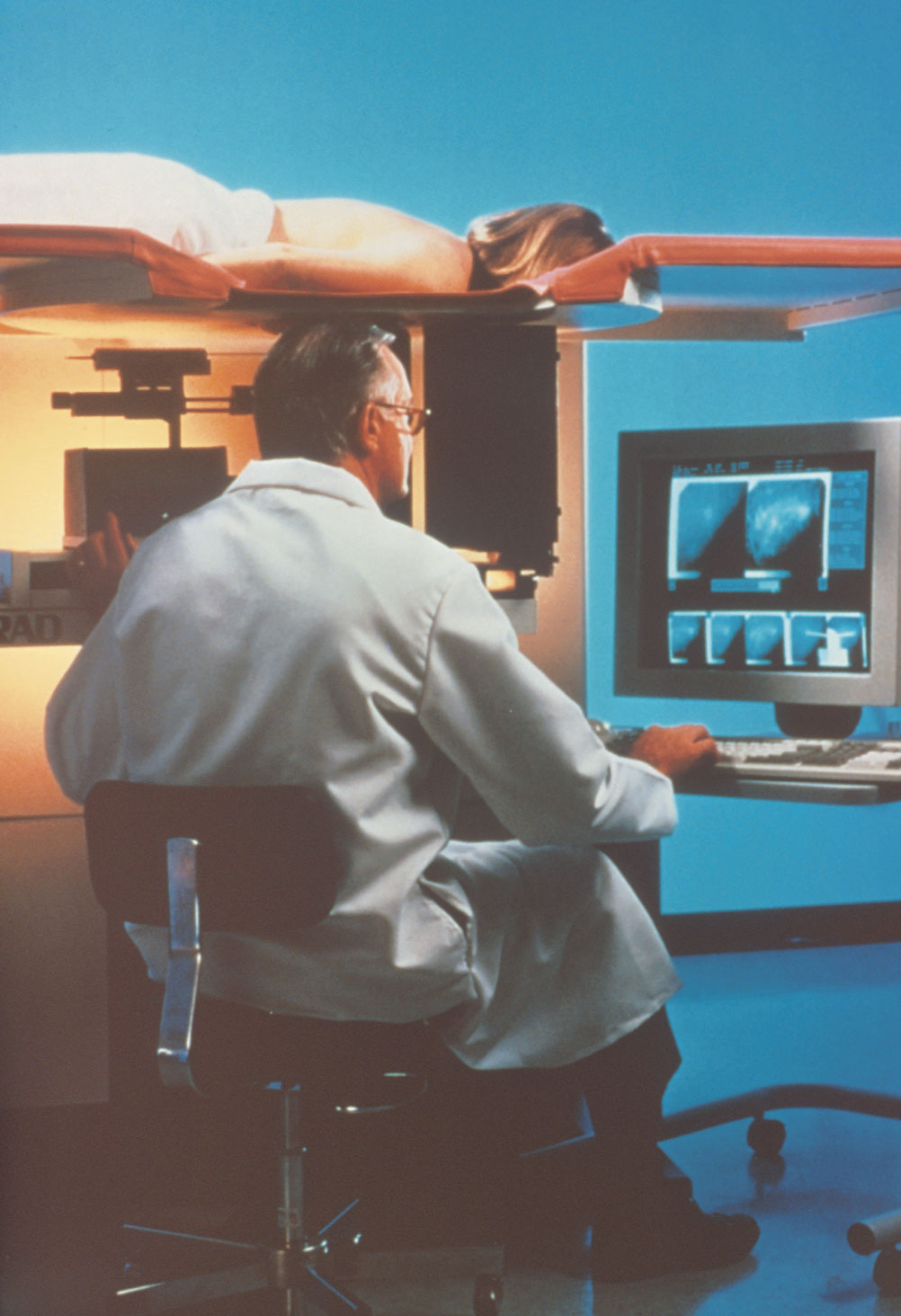 SITe then realized that this high-resolution, low-light-sensitivity imaging technique was ideal for use in a high-need medical application: breast cancer detection. LORAD Corp. and its subsidiary Trex Medical Corp. then adopted the new CCD for use in the first-generation LORAD Stereo Guide Breast Biopsy System (see image here). (In 2000, Hologic Inc. acquired Trex Medical, then a Thermo Electron company, for $55 million.) The LORAD system incorporated SITe's CCD technology (virtually identical to that developed for Hubble) as the key component of a digital camera that scans the breast structure with X-rays. The system was able to image more clearly and biopsy breast tissue with less pain, internal scarring, procedure time, radiation exposure, and cost than conventional X-ray film screen technology and surgical biopsy (and avoiding the latter's breast-deforming results).
Digital radiography and stereotactic needle biopsy systems have since become the standard of care for patients in whom screening mammography or tomosynthesis reveals breast lesions suggestive of malignancy. Breast cancer is a leading cause of death among women in the US, where more than 1 million breast biopsies are performed annually. (See MedTech Strategist's coverage of recent advances in breast cancer-related technology in our archives.)
In 1997, the developers of stereotactic breast biopsy, including individuals from Ball Aerospace, LORAD, GSFC, and SITe, were inducted into the Space Technology Hall of Fame. Created in 1988 by the Space Foundation and NASA, the Space Technology Hall of Fame recognizes significant technologies emerging from global space programs; honors the scientists, engineers and innovators responsible; and communicates to the public the importance of these technologies as a return on investment in space exploration.
With this award, stereotactic breast biopsy joined the ranks dozens of technologies and hundreds of organizations and individuals that have transformed technology originally developed for space exploration into products that help improve the quality of life on earth. This includes innovations in health and medicine, consumer goods, transportation, public safety, computer technology, and environmental resources. Examples of other Space Technology Hall of Fame inductees include memory foam, cordless tools, precision GPS, cochlear implants, satellite radio technology, a heart defibrillator energy source, scratch-resistant lenses, and an improved firefighter's breathing system, among many others.
NASA, along with international partners and the private space industry, is now entering the next Space Age—including a planned return to the moon just five years from now. And, this June,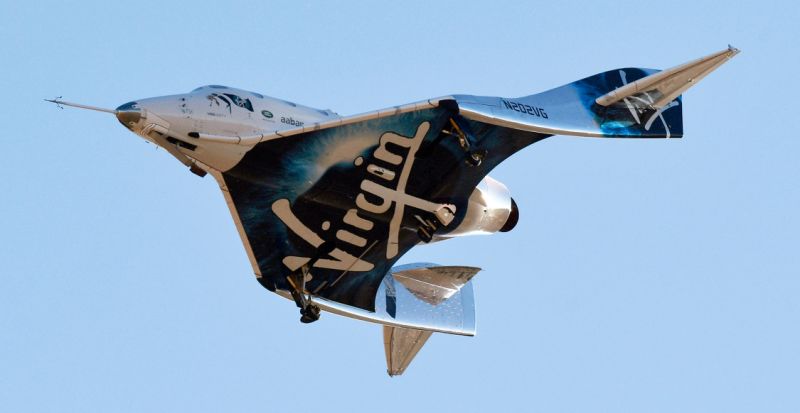 NASA announced that it is opening the International Space Station (which has been continuously occupied by global astronaut scientists since November 2000) for commercial business. This is helping to fuel the already-hot emerging space tourism industry by companies such as SpaceX, Blue Origin, Virgin Galactic, Northrop Grumman Innovation Systems, and others. Other ambitious plans include launching the advanced $8.8 billion James Webb Space Telescope (JWST) in 2021, funded by NASA, ESA, and the Canadian Space Agency, which will complement and extend Hubble's discoveries and deliver never-before-seen views of the universe.
The Community Blog can't wait to see the medtech and other innovations to come from these and other future out-of-this-world endeavors. Remember innovators, if you can dream it, you can do it!
(Source for the NASA Hubble Space Telescope image at the top of this page: NASA and AURA's Space Telescope Science Institute)
#NASA #returntothemoon #moonlanding #Apollo11 #Moon #HubbleSpaceTelescope #Hubble #EdwinPHubble #SpaceShuttleDiscovery #PaleBlueDot #SpaceTelescopeImagingSpectrograph #GoddardSpaceFlightCenter #ScientificImagingTechnologies #chargecoupleddevice #CCD #BallAerospace #breastbiopsy #breastcancer #stereotacticbreastbiopsy #womenshealth #imaging #medicalimaging #digitalmammography #digitalradiography #Hologic #TrexMedical #LORAD #ThermoElectron #SpaceTechnologyHallofFame #SpaceFoundation #spacetourism #ElonMusk #SpaceX #JeffBezos #BlueOrigin #RichardBranson #VirginGalactic #NorthropGrummanInnovationSystems #InternationalSpaceStation #ISS #EuropeanSpaceAgency #ESA #CanadianSpaceAgency #CSA #NeilArmstrong #BuzzAldrin #JamesWebbSpaceTelescope#JWST #ifyoucandreamityoucandoit
---

Trial MyStrategist.com and unlock 7-days of exclusive subscriber-only access to the medical device industry's most trusted strategic publications: MedTech Strategist & Market Pathways. For more information on our demographics and current readership click here.