ARTICLE SUMMARY:
New predictive artificial intelligence tools could enable more timely and effective interventions for cardiovascular diseases. Excerpted from MedTech Strategist's recent feature on Cardiac AI.
Cardiovascular disease continues to be the top cause of death across the world, so it's not surprising that so many initiatives in medical artificial intelligence are focused on improving the detection, diagnosis, and treatment of heart disease, as well as gaining a better understanding of underlying cardiovascular disease processes.
Cardiology has also provided a fertile proving ground for AI in medicine because the diagnosis of various cardiac conditions involves technologies that provide signals, waveforms, and visual patterns amenable to analysis. The diagnosis of coronary artery disease, for example, starts with the ECG at the point of care, after which a patient might be referred for an ECG stress test, followed by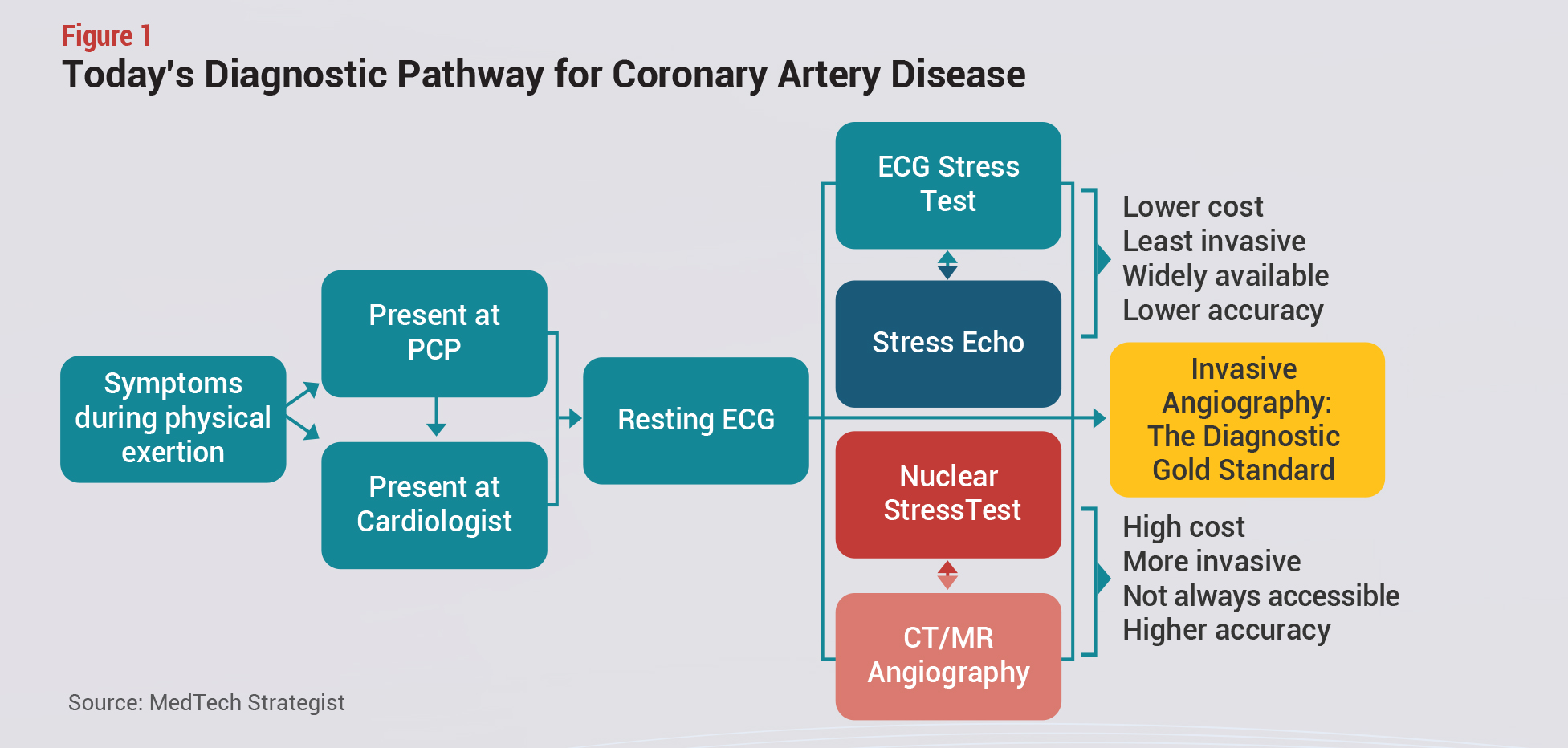 echocardiography (ultrasound), then CT or MRI using contrast, and ultimately—the ground truth in CAD diagnosis—invasive coronary angiography (see Figure 1).
Further, by extracting even more information from first-line imaging tools than humans could ever see and process, AI has the potential to make many point-of-care imaging modalities more predictive of disease requiring intervention, cutting out steps in the diagnostic pathway and enabling clinicians to more confidently and correctly choose the best next step for the patient.
Two of the more promising companies moving into predictive AI are Ultromics Ltd. and Transformative AI Ltd. The first FDA-cleared product of Ultromics, EchoGo Core, simply automates the calculation of some important heart metrics that are usually time-consuming and laborious, even for experts, and in doing so, also removes operator variability from the equation. But the second product, EchoGo Pro, which gained FDA clearance in January 2021, is more predictive, informing clinicians of the likelihood, within a one-year time frame, that a patient will experience clinically treatable stenosis or other indications of ischemia. (See "Ultromics: AI Makes Cardiac Echo More Powerful," MedTech Strategist, January 6, 2021.)
It's an early warning system that helps clinicians take preventative steps to head off a heart attack. At the same time, since the diagnostic pathway for coronary artery disease is, as noted, complex, involving many different imaging modalities and ultimately invasive coronary angiography, EchoGo Pro can help clinicians determine which patients aren't at risk, and spare them and the healthcare system unnecessary tests and treatments.
Transformative AI is developing an early warning system for sudden cardiac arrest that occurs in the hospital, an application that has to offer down-to-the-minute precision because delaying defibrillation more than two minutes after cardiac arrest reduces survival rates (see box). This predictive software goes beyond image recognition and the automation of data analysis, the latter being areas where the FDA has been comfortable enough to grant clearances. (See "Transformative AI: Predicting Cardiac Arrest to Save Lives," MedTech Strategist, January 13, 2021.)
Now the FDA is creating a pathway to help some of the more complex life-saving AI technologies get to market. In early January, the FDA announced an action plan for AI/machine learning-based "software as a medical device," groundwork for draft guidance to be issued this year.
Data still remains the fundamental limitation of AI. More than one company has gone to Europe to access the longitudinal data sets that government-sponsored (single payor) healthcare systems offer. In the US, Transformative AI spent years building the dataset that it needed. Then, as companies scale up, they must take care that the data that trains their AI systems continues to remain representative of the target treatment population.
Medical artificial intelligence is still in its infancy, but it's clear that even clinicians with years of experience in their fields cannot match the ability of computers to detect subtle physiological changes. Aided by the insights AI applications can offer, clinicians will increasingly be able to provide care that's even better than what is humanly possible today.
Excerpted from "Cardiac AI Pushes Past Human Limits," MedTech Strategist, January 25, 2021.

Trial MyStrategist.com and unlock 7-days of exclusive subscriber-only access to the medical device industry's most trusted strategic publications: MedTech Strategist & Market Pathways. For more information on our demographics and current readership click here.
Photo by Adrianna Clavijo on Unsplash