ARTICLE SUMMARY:
Guardant Health presented close to 30 abstracts at ASCO highlighting the technology's myriad applications.
The recent, virtual annual meeting of the American Society of Clinical Oncology, held May 29-May 31, highlighted the status of clinical data supporting liquid biopsy testing's use in mainstream oncology care. Companies, led by Guardant Health Inc., are aiming to replace tissue-based genotyping with blood-based genotyping in a variety of indications. The technology is already gaining ground as an effective tool in therapy selection and clinical trial enrollment, as evidenced by the growing interest in Guardant's Guardant360.
The ASCO meeting also brought to light liquid biopsy's potential in two other highly promising opportunities with multibillion-dollar potential: recurrence monitoring and early detection. While still investigational, companies are charging ahead in these indications and accumulating evidence rapidly. (See "Update from the Liquid Biopsy Trenches: Thrive Earlier Detection's New Paradigm for Cancer Screening," and "Guardant Paves a Commercial Path for Liquid Biopsy in Oncology," MedTech Strategist, February 5, 2020.)
While most of Guardant's 25 abstracts at ASCO concerned Guardant360, the company also had some updates on its LUNAR-1 assay, which is undergoing prospective, interventional clinical trials for recurrence monitoring in colorectal cancer (CRC) patients. The COBRA trial, scheduled for completion in 2024, measures the clinical utility of LUNAR-1 compared to standard of care for active surveillance (CT imaging) in 1,408 stage 2A post-surgical CRC patients. In contrast to competitors that are designing trials with endpoints that correlate to recurrence, Guardant seems intent on the more ambitious goal of proving clinical utility in shifting patient outcomes, an approach that may take several years to play out but is key to physician adoption, according to SVB Leerink.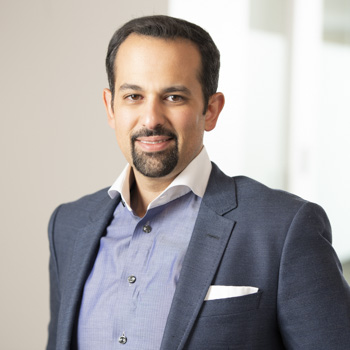 The company also is running head-to-head trials comparing its LUNAR-2 liquid biopsy for early detection of CRC to colonoscopy in average-risk adults, and it presented data earlier this year at another virtual conference showing the test's overall sensitivity of 90.3% and specificity of 96.6%.
MedTech Strategistcaught up in late May with Guardant CEO Helmy Eltoukhy, PhD, for his perspective on the field's status. According to Guardant, fewer than 8% of non-small-cell lung cancer patients (NSCLC) and less than 40% of CRC patients are tested according to National Comprehensive Cancer Network (NCCN) guidelines for biomarkers, a big gap in care. To address this deficiency, in May, the company together with leading cancer patient advocacy groups formed the Clear Your View campaign to educate stakeholders on the role of biomarkers in guiding treatment of newly diagnosed NSCLC patients. Read our conversation with Eltoukhy at MyStrategist.com.
Excerpted from "Catching Up with Guardant CEO Helmy Eltoukhy," MedTech Strategist, June 19, 2020.

Trial MyStrategist.com and unlock 7-days of exclusive subscriber-only access to the medical device industry's most trusted strategic publications: MedTech Strategist & Market Pathways. For more information on our demographics and current readership click here.
*End of article*