ARTICLE SUMMARY:
Robotics were the hot topic at NASS 2018, but discussions also raged about advanced implant materials that have the potential to promote better bone growth and faster healing and reduce reliance on expensive biologics to achieve those goals. An excerpt from Senior Writer Wendy Diller's November 16 feature, "At NASS 2018, Advanced Biomaterials and the Pull of Robots."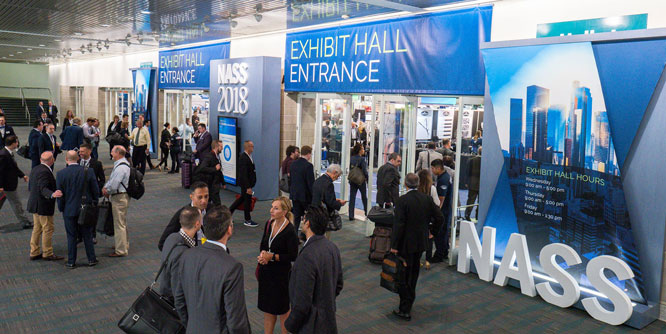 The debate over the best surface technologies and biomaterials to use in implants is heating up and was the focus of several panels at NASS. Talks by surgeons and scientists working in this area highlighted orthopedics' growing understanding of the biological and cellular processes that contribute to successful bone growth as playing a key role in moving these technologies forward.
The goal of these efforts is improvement of bone interface fixation and enhanced osseointegration leading to better stability for early fusion, said Lisa Ferrara, CEO and founder of OrthoKinetic Technologies LLC, a consulting company that does performance testing for musculoskeletal manufacturers.
A lot of new technologies are coming out that improve the endplate interface mechanics, and with them also has come a new era for implant evaluation, which enables closer examination of micro and nano-mechanics and biology to understand better what is happening with the new devices, she said.
Multiple factors can influence bone stabilization, including implant design, surface coatings, treatments and textures and manufacturing techniques, she continued. The advent of 3-D additive manufacturing enables building devices with complex open architectures but comes with trade offs, for example, between bulk and local modulus. These open structures have greater surface area, enabling localized loading of bone deep within an implant and optimization of strength, stiffness and durability.
But porous printed cages can be weaker than non-porous. That said, if balanced properly, the result is a device that is similar in stiffness and modulus to bone, she noted.
Better Biomaterials Yields Better Osseointegration
Corporate data show that surgeons are using titanium cages and titanium coated polyetheretherketone (PEEK) cages more than smooth PEEK, as the spine world's preferences have shifted over the years, based on better understanding of the shortcomings of the latter and improvements in titanium, said Wellington Hsu, MD, the Clifford C. Raisbeck Distinguished Professor of Orthopedic Surgery at Northwestern Medicine, and an expert in advanced spine materials and biologics, who sits on the system's biologics VAT committee.
"Nuvasive bought Vertera a year ago for an undisclosed sum on the basis of preclinical data supporting better bone ingrowth elicited from its "highly innovative interbody implants for spinal fusion using patented porous PEEK technology."
Still, PEEK's appeal remains strong. A porous PEEK that overcomes the limitations of the older, smooth-PEEK iterations, was the premise behind the founding of Vertera Spine in 2013. Based on a decade of work by researchers at Duke University, it developed a porous PEEK implant technology, which has been shown to be comparable to porous titanium structures in terms of adherence and bone integration, and just as durable, said Ken Gall, PhD, a co-founder of Vertera Spine and a professor biomechanical engineering and materials science at Duke. Nuvasive Inc. bought Vertera a year ago for an undisclosed sum on the basis of preclinical data supporting better bone ingrowth elicited from its "highly innovative interbody implants for spinal fusion using patented porous PEEK technology."
Vertera Spine's porous plastic is extruded from the surface of a PEEK implant and enables a normally hydrophobic material to become hydrophyllic via a salt leeching process, Gall said, reviewing data from a series of pre-clinical and early clinical studies showing radiographic fusion at six and 12 months and no implant migration in patients implanted with the Vertera devices, including 13 that had failed prior cervical fusions. The company used high resolution imaging to determine if the porosity of the cages encourages earlier fusion on the premise that bony surface ingrowth reduces micromotion that prevents or slows the fusion process. While, on the negative side, the ingrowth appeared to be only at the endplates, not through the entire implant, that may be enough to improve fusion rates, Gall pointed out. The porous PEEK is very durable, even if it is 'spongy' or deforms, and while it is weaker than titanium, that difference may be irrelevant, he added.
Hsu, on the other hand, is a proponent of titanium alloy cages and has served as a consultant to Stryker Corp. on the design of its tritanium cages. Metal cages aren't new, but their radiographic footprint has been problematic, and their cage design limits their use in very tight structures. Nevertheless, titanium is winning out because it is more biocompatible, inert, and has the best imaging artifact profile, which is extremely important for patients, Hsu said. Most titanium implants today are made of alloys that address shortcomings of pure titanium and are ideal for 3D printing because, of all metal alternatives, they are hydophyllic, can be printed in porous fashion, and are great for bony ingrowth and wicking of fluid in the cage itself. If you place titanium alloys in presence of osteoblasts, you create more tribilar bone and BMP production, and bone remodeling continues, even after the implant is put in, Hsu said.
Titan's Tight Spot in the Spine World
Better understanding of the biological mechanisms behind implant shortfalls led Titan Spine Inc. to develop what it believes is a first of its kind interbody fusion device based on nanotechnology. The nanoLOCK interbody fusion technology combines titanium with a kind of subtractive surface process that results in rapid promotion of bone growth factors necessary for fusion, said Paul Slosar, MD, an orthopedic spine surgeon and president of Spinecare Medical Group in northern California and chief medical officer at Titan Spine. Slosar argued that, as good as 3D printing is, it does not yet allow printing at the nanoscale level, which would better enable osseointegration. The biological basis for Titan's design was based on work conducted in the laboratory of Barbara Boyan, PhD, dean of the school of engineering at Virginia Commonwealth University and a leading expert on advanced biomaterials.
"Slosar argued that, as good as 3D printing is, it does not yet allow printing at the nanoscale level, which would better enable osseointegration."
Separately, Titan's machined titanium implants were cited as the most differentiated implants by a surgeon thought leader who participated in a recent Leerink survey of medical device innovation because it is the only FDA approved device in spine that can boast nano-level bony ingrowth without a biologic aid to deliver faster fusion and less inflammation, Leerink analyst Richard Newitter wrote in a recent report.
Titan is now ramping up sales as it transitions from a first-generation product to its next-generation nanoLOCK Surface Technology. The nanomaterials surface got FDA 510 (K) clearance in 2014, and a new technology code for nanotextured surface on an interbody fusion device from CMS in 2016—the first and so far only company to do so. That was an extensive process, but it gives the company an advantage over future competitors who come into the market with nanotechnology alternatives. The code enables Titan Spine to track use of its device and collect the data, says Andrew Shepherd, VP, marketing for Titan.
Most recently, Titan closed a substantial round of Series B financing with its current investment partner, Southlake Equity Group, and said it will primarily use the proceeds to drive the next stage of growth of the company through product line additions, sales team expansion, research and development, and to accelerate the transition from its original surface technology to nanoLOCK.
#MedicalDevice #CommunityBlog #strategy #medtech #medicaldevices #ICYMI #trends #perspective #MedTechStrategist #global #regulatory #technology #NASS #spine #TitanSpine #orthopedics #robotics #biologics #OrthoKineticTechnologies #biomaterials #bone #PEEK #Nuvasive #VerteraSpine #stryker