ARTICLE SUMMARY:
US hospitals are struggling to cope with the end of government pandemic relief, Medicare reimbursement cuts, rising operational costs, and a changing caseload mix. As a result, hospitals are rethinking strategies and looking for ways to improve operational efficiencies, deliver lower-cost care, and standardize across vendors, processes, and procedures. Excerpted from our recent feature article.
The key trends affecting hospitals—all well-known and ongoing—include labor shortages, the elimination of federal pandemic relief, volatile volumes of highly profitable surgical cases, and pressure to diversify large hospital systems away from inpatient settings to lower-cost, closer-to-patient care models of delivery. These pressures, along with shifting demographics, are leading even large hospital systems to consider cost reduction planning and consolidation opportunities.
Although healthcare systems were somewhat buttressed in 2022 by the record levels of cash accumulated from the government's pandemic relief funding, that cushion is depleted, according to Fitch Ratings. For the US hospital sector to return to health, the staffing crisis, particularly the acute shortage of nurses, will have to be demonstrably addressed, Kevin Holloran, Fitch senior director and sector leader, US Not-for-Profit Healthcare group, said in a January 11 online presentation. Regulatory policies that constrain mergers need to be revised, and local economic considerations also play an important role in individual hospital financial health.
The magnitude of dollars spent and the unique nature of the pandemic have had intended and unintended consequences for US healthcare. The federal government budgeted $114.9 billion in 2020 for public health, including vaccine development and facilities, and $78.8 billion in 2021. In addition, the provider relief and paycheck protection funding programs in 2021 were a combined $71.9 billion, down roughly 63% from 2020—enormous sums of money that are going to be substantially lower going forward.
The impact of government pandemic relief can be seen from another angle: total US healthcare spending was up only 2.7% in 2021 from 2020, compared with a 10.3% rise from 2019 to 2020, but the latter was buttressed by a $193.1 billion distribution of federal funds to providers to offset losses from the pandemic. Excluding public health spending, national health expenditures in 2021 grew 7.6%, compared with 2.3% in 2020 from 2019, CMS says.
These dollars had a big impact on the 6,093 hospitals in the US, with their almost one million beds. About 84%, or 5,139 of these hospitals are community focused; the remainder are a mix of nonfederal, psychiatric, federal, and other types of institutional structures. And most of the community hospitals, about 75%, are nonprofit, whereas the remainder are investor-owned, for-profit institutions.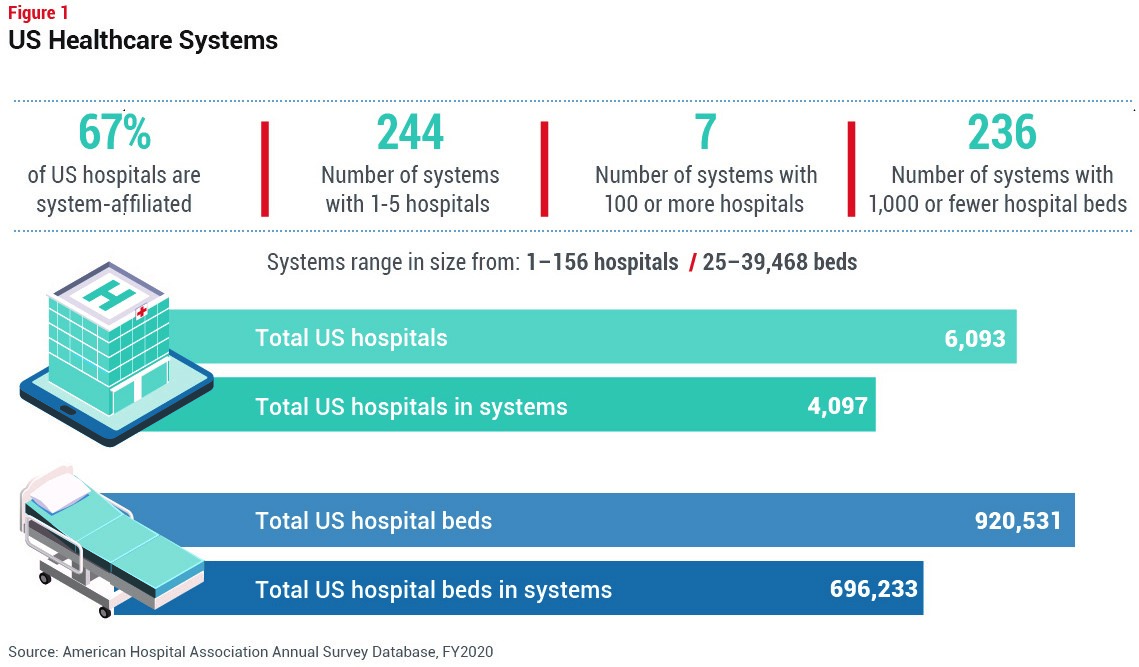 Of the 6,093 hospitals, about two-thirds, or 4,100, are affiliated with hospital systems. The American Hospital Association defines systems in two ways: a single, diversified system involving one inpatient hospital and auxiliary facilities, and a system consisting of multiple hospitals. The US currently has about 410 hospital systems. Of these, 244 consist of one to five hospitals, while seven include greater than 100 hospitals (see Figure 1).
Although hospitals are not on the verge of widespread bankruptcies, more reported financial losses and negative margins in 2022, even as costs rose, a trend that is not likely to go away soon, according to Kaufman Hall's Fall 2022 State of Hospital Finances report. Ultimately, US hospitals are likely to lose billions of dollars in 2022, under optimistic and pessimistic scenarios, the Kaufman Hall report states. The firm estimates that between 52% and 68% of hospitals are likely to have negative margins in 2022.
As of October 2022, the median hospital operating margin index was negative 0.5% compared with positive 4% a year earlier, the consulting firm calculated in its monthly flash report, which is based on the national median of data from more than 900 hospitals. Optimistic projections from that report were for hospital margins to decline by 37% in 2022 compared with pre-pandemic levels (2019); negative projections are much steeper–133%.
In addition to the loss of federal pandemic relief funds, rising costs due to labor shortages, which reached crisis proportions in early 2022, and supply chain challenges are hurting hospitals' bottom lines. Job openings at hospitals were at an all-time high as of September 2022, according to Fitch Ratings, with a nearly 10% vacancy rate. That is more than double the 4.2% average between 2010 and 2019. A record number of doctors, nurses, and allied professionals quit their jobs during the pandemic and have yet to return to work. Hospital executives repeatedly cite staffing as an emergency that is hurting margins and raising concerns about patient access and quality of care.
Excerpted from US Hospital System Update: 2022 Was Tough—Will 2023 Be Better?" MedTech Strategist, February 2, 2023.
Trial MyStrategist.com and unlock 7-days of exclusive subscriber-only access to the medical device industry's most trusted strategic publications: MedTech Strategist & Market Pathways. For more information on our demographics and current readership click here.