ARTICLE SUMMARY:
In the early 1950s, American surgeon Charles Hufnagel began saving lives with a first-of-its-kind plastic aortic assist valve. Today, thanks to his pioneering work, transcatheter aortic valve implantation (TAVI) is firmly established as a safe and effective procedure for treating symptomatic patients with severe aortic stenosis. And the transcatheter mitral valve repair (TMVR) space is advancing quickly.

Let's take a brief journey in the Community Blog time machine, back 67 years, to 1952. Harry Truman was the US President, a 25-year-old Princess Elizabeth became the Queen of England, and one out of every three US homes had a television. A first-class postage stamp was three cents, a new house cost an average of $9,000, and a new car was about $1,700. In September of that year, the era of one of the most important medical device advances of this century began: the artificial heart valve.
Charles Hufnagel, MD, then director of the Georgetown University Medical Center's surgical research laboratory in Washington, DC, implanted an aortic "assist" valve that he had developed into the circulatory system of a 30-year-old woman. The valve consisted of a pea-size ball of plastic inside a chambered tube—an inch and a half long and an inch thick—that regulated blood flow through the heart (see Hufnagel valve image at the top of this page). The free-moving plastic ball was dislodged by the pulsing blood with each heartbeat, then fell back to close the tube between pulses. The device, which made an audible clicking noise with each heartbeat, did partially relieve aortic regurgitation by reducing left ventricular load by about one-third to one-half. The device was placed in the descending thoracic aorta instead of in the heart itself, as heart-lung bypass wasn't yet available. (Side note: Hufnagel also made significant contributions to the development of the modern heart-lung bypass machine.)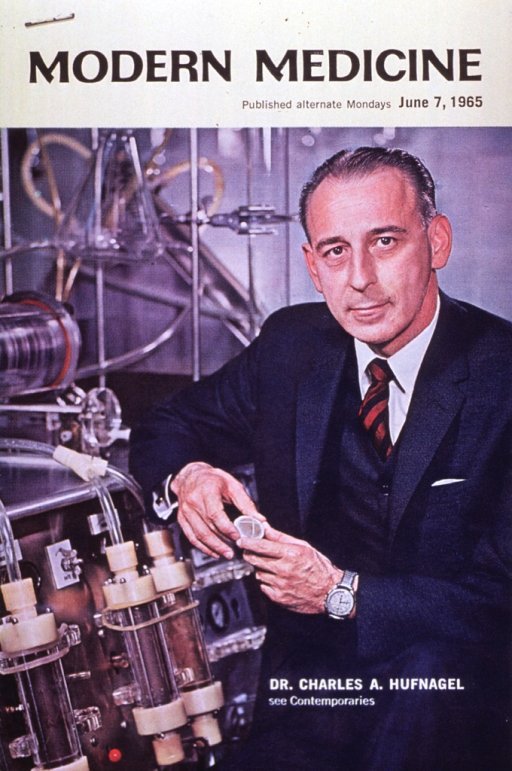 This first patient to receive Hufnagel's plastic implant had rheumatic fever, which had severely damaged her aortic valve to the point where she was given little chance to live. Shortly after the implant, she was able to resume a normal life and lived for almost a decade with the valve before dying of unrelated causes. In subsequent years after this implant, several hundred other patients received Hufnagel valves. The device was a significant achievement because it proved for the first time that synthetic, chemically inert, biocompatible, and nonthrombogenic materials could be used to create heart valves.
Jumping back in our time machine to the present day, thanks to the groundbreaking work by Hufnagel and many others, including cardiac stent developers, transcatheter aortic valve implantation (TAVI) is now firmly established as a safe and effective procedure for treating symptomatic patients with severe aortic stenosis. The minimally invasive procedure is trending toward use in lower-risk patient populations as an alternative to surgical valve replacement. The first proof-of-concept TAVI case was reported by French interventional cardiologist Alain Cribier, MD, and colleagues 17 years ago, in April 2002, using the Cribier-Edwards (previously PVT) balloon-expandable valve from Edwards Lifesciences Corp. (for more on the remarkable PVT/Edwards story, see the MedTech Strategist related articles below.)
Building on the years of experience with TAVI, the transcatheter mitral valve repair (TMVR) space is now advancing quickly, with a vast array of new techniques and designs. There is a huge unmet clinical need in this space, as mitral regurgitation (MR) is the most prevalent valve disease in the US, affecting 6% of people over 75 years of age. Transcatheter tricuspid and pulmonary valve therapies are also under investigation.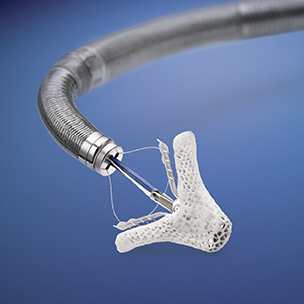 The innovative Abbott Laboratories Inc. MitraClip, the world's first TMVR device, was CE marked in 2008 and received FDA PMA in 2013. Today, more than 30 dedicated TMVR systems are in development, and a flurry of M&A, investments, and consolidation have taken place in this market (for more information, see the MedTech Strategist archives).
The MitraClip, an edge-to-edge repair technology, is the only FDA-approved transcatheter device to repair the mitral valve. It is manufactured from cobalt chromium with a polyester cover to reduce regurgitation of blood. By approximating the anterior and posterior leaflets together, the MitraClip mimics the 'Alifieri stitch' and achieves a double-orifice mitral valve, which reduces MR severity. The latest iteration of this system provides cardiologists with advanced steering, navigation, and positioning capabilities, making it easier to use in difficult anatomies.
MitraClip was originally developed by the pioneering team at percutaneous valve repair company Evalve Inc., founded in 1999. Evalve was the first portfolio company spun out of the device company incubator, The Foundry. Ten years later, in 2009, Abbott acquired Evalve and its MitraClip technology for $410 million in cash and milestone payments. All of us at MedTech Strategist honor the memory and achievements of Evalve's President and CEO, Ferolyn Powell. (Read about the impressive and inspiring Ferolyn Fellowship program at the Fogarty Institute for Innovation here.)
#artificialvalve #heartvalve #valve #mitral #aortic #tricuspid #pulmonary #Hufnagel #rheumaticfever #transcathetervalve #MitraClip #Abbott #TAVI #TAVR #TMVR #Cribier #Evalve #PVT #FerolynPowell #Fogarty #womeninmedtech #EdwardsLifesciences #GeorgetownUniversity #TheFoundry #ThisWeekinMedtechHistory #medicaldevice #medtech #CommunityBlog #MedTechStrategist #tracyschaaf
---

Trial MyStrategist.com and unlock 7-days of exclusive subscriber-only access to the medical device industry's most trusted strategic publications: MedTech Strategist & Market Pathways. For more information on our demographics and current readership click here.