ARTICLE SUMMARY:
gBETA Medtech Accelerator, launched this past March, is the first accelerator of its kind to tap into the rich medical device, digital healthcare, diagnostics and biotech ecosystem that exists in the Midwest Medical Alley region. Its goal is community building, and fostering innovation among the most promising of today's early-stage start-ups. The program is funded by Boston Scientific, with additional support from Mayo Clinic, University of Minnesota, and Medical Alley Association.
Growing a promising medtech research innovation into a full-fledged company is a tremendous endeavor even for the most experienced device entrepreneur. When that inventor is a university student, engineer or scientist, without industry connections, business experience or investors, the challenges are especially daunting. In the last several years, an increasing number of medtech accelerator programs have sprouted up across the country, some backed by large device manufacturers, medical centers, major universities and others, to facilitate the start-up process. Within these programs, promising early-stage companies are able to access seasoned medical device executives, angel investors, venture capitalists, industry experts, and service providers who provide insight on how to build a viable company, attract seed funding, and bring their product to market in today's challenging medtech market.
In this post we are highlighting gBETA Medtech Accelerator, launched just this past March by startup accelerator gener8tor. gBETA is the first accelerator of its kind to tap into the rich medical device, digital healthcare, diagnostics and biotech ecosystem that exists in Minneapolis and the surrounding Midwest Medical Alley region. What makes the organization especially interesting – in addition to its free, seven-week, equity-free, no-catch accelerator program – is the caliber of its backers. It is sponsored by Boston Scientific Corporation, with support from Mayo Clinic, University of Minnesota, and Medical Alley Association.
So how and why did these organizations come together? It comes down to community building, says gBETA Medtech director Adam Choe, in an interview with the MedTech Strategist Community Blog. "Medical Alley Association is a great ecosystem connector. They were familiar with gener8tor, a local start-up accelerator just getting off the ground. Late last summer, Medical Alley Association introduced us to the Boston Scientific team, who were looking to potentially collaborate with a program like ours, and we agreed to work together," says Choe. Mayo Clinic and the University of Minnesota came on board as additional sponsors of the program. All four supporters share an interest in helping to validate and scale an ecosystem of exceptional start-up companies – and boost the overall medtech community. What's more, the program not only gives young companies the opportunity to tap into diverse skill sets represented by the people they meet within the sponsoring companies, but it also exposes sponsors to important high-need or emerging sectors within the medtech space, some of which might not be their area of expertise.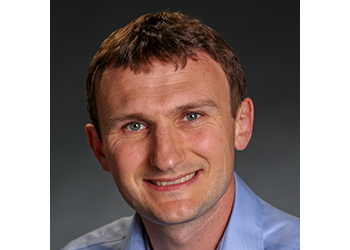 The Community Blog also spoke with Bryan Clark, Corporate Research Fellow at Boston Scientific, who was a driving force in seeing that the gBETA program got off the ground from the Boston Scientific side. "Our goal is to help foster innovation, and help bring these early-stage start-ups to their next key milestone here in the local medtech ecosystem of the Twin Cities," says Clark. "One of Boston Scientific's core values is collaboration, and our leadership in global research asked me mid last year to take a look at the local ecosystem here and see what we could do to help foster innovation. We looked at a number of different models, and ultimately decided that collaboration with other external entities to take a broader view at helping to foster innovation among early-stage start-ups was the way to go," he continues.
"Before gBETA, there wasn't something that served the proto-entrepreneur in our region who needed this type of support and guidance. So there's a real gap that they're filling," says Frank Jaskulke, Vice President of Intelligence for Medical Alley Association, in an interview with the Community Blog. "Our sponsors really took a leap in being willing to provide their expertise but not having financial control of the start-ups coming out of the program," he continued. (Note that MedTech Strategist and Medical Alley Association co-host the Medical Alley Innovation Summit investment and networking conference).
gBETA was launched out of and is ran by the six-year-old startup accelerator, gener8tor, that has offices in Minneapolis as well as Madison and Milwaukee, WI. gener8tor invests in high-growth start-ups in the areas of software, information technology, web, SaaS, life science, medtech, e-commerce and hardware. As of March 2017, gener8tor was ranked as the eleventh top startup accelerator out of more than 150 accelerator programs in the US by the Seed Accelerator Rankings Project. Accepted startups into gener8tor programs receive $90,000 ($20,000 of that as a cash investment in exchange for 6-7% common stock equity) and 12 weeks of mentorship-driven programming. The accelerator has 76 alumni companies that have cumulatively raised more than $150M in follow-on financing. Of these alumni, 58% have raised more than $1M in follow-on financing or have been acquired.
The gBETA Medtech Accelerator program is offered three times a year, and it accepts applications from companies around the globe (at least one founder from each start-up needs to be located in Minneapolis for the duration of the program). Over the course of the seven-week program, gBETA facilitates multiple introductions to over 30 local entrepreneurs, executives, service providers, or others who may be of benefit to the start-ups. All companies also receive individualized coaching and mentorship from the experienced gener8tor and Boston Scientific teams, office space, and access to $1M+ in deals and perks from vendors such as SoftLayer, Rackspace, Amazon, PayPal, Zendesk and Microsoft. "Following our program, we're hoping for these companies to raise a pre-seed or seed round of funding, or get into an equity-based accelerator program," says Choe.
The first cohort of six start-ups that graduated from the program this past May include ExpressionMed, which has developed medical tapes that help wearable devices last longer; Kobara Medical Inc., developing cardiac rhythm management procedures and neuromodulation therapies to address heart failure and cardiac arrhythmias; NeuroVASx, which develops interventional assist devices and therapies for treating cerebral aneurysm and stroke; Quench Medical Inc., developer of novel formulations of approved inhaler medications to significantly decrease symptoms of lung diseases; Soundly, developer of a gamified, app-based therapy that aims to reduce snoring; and Vitrose Health, which has developed an efficient way to diagnose common illnesses through a direct-to-consumer testing solution.
In late July, six new medtech start-ups were selected out of more than 50 applications to participate in gBETA's second cohort (see the graphic below summarizing the 12 companies accepted into the program to date). These include Intershunt Technologies Inc., which is developing a catheter-based procedure for the treatment of heart failure; Lucia Health Guidelines, which is using artificial intelligence and machine learning to improve adherence to American Heart Association and other health association guidelines; Morari LLC, developer of a neuromodulation-based device to treat male sexual dysfunction; SuraMedical LLC, which is developing technology to increase chronic leg wound treatment consistency through remote monitoring; Noleus Technologies Inc., developer of a device to accelerate patient following abdominal surgery by removing the intestinal wall swelling that drives long patient stay; and Sunrise Health, developer of an anonymous, group therapy text app integrated with artificial intelligence to help support mental health or substance abuse patients. This second group graduated from the program in August.
The gBETA Medtech Accelerator program is currently accepting applications for its Fall 2018 cohort through October 12, 2018.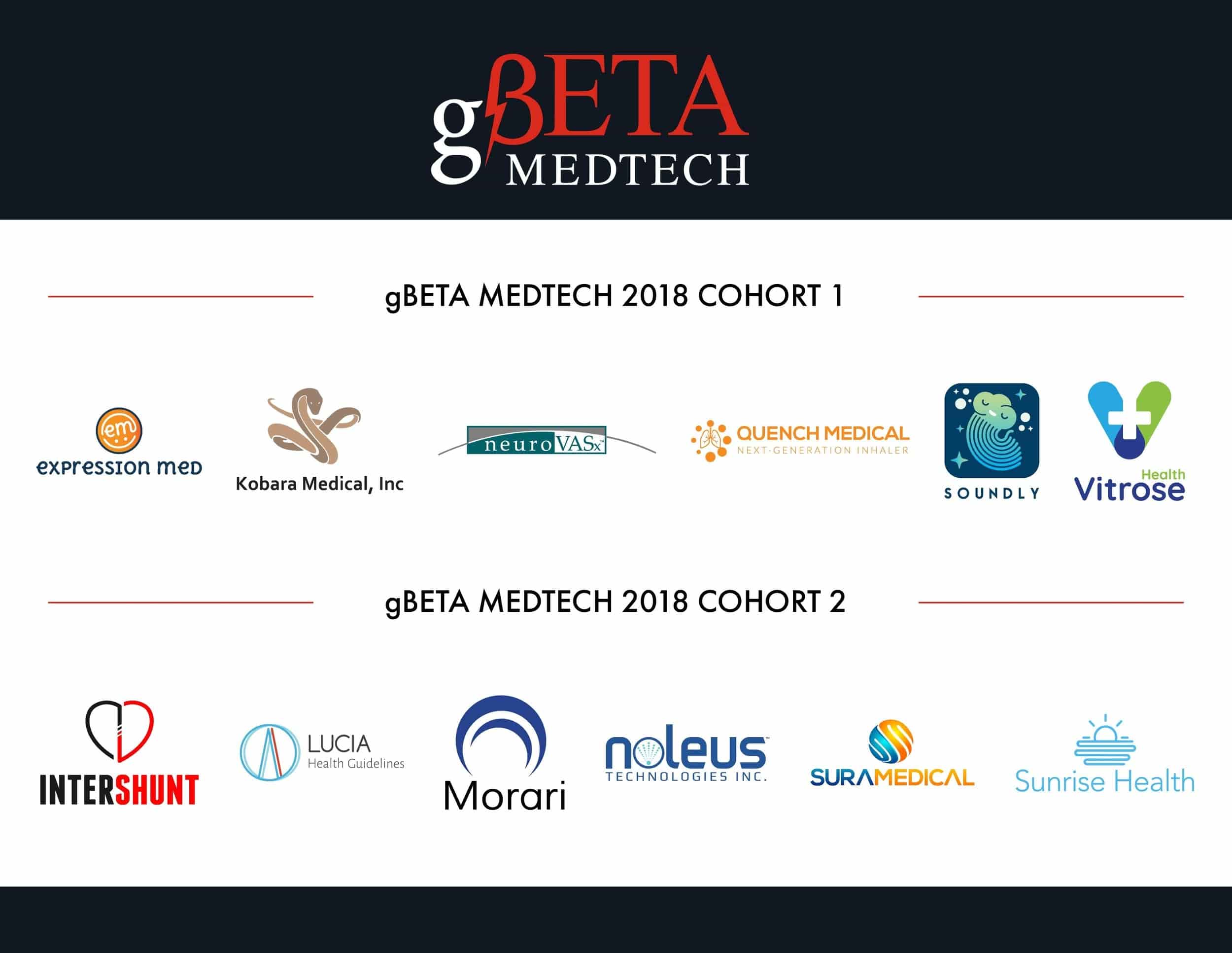 #gBETA #gener8tor #accelerator #incubator #MedicalAlley #TwinCities #BostonScientific #MayoClinic #UniversityofMinnesota #Minneapolis #MedicalAlleyAssociation #SoftLayer #Rackspace #Amazon #PayPal #Zendesk #Microsoft #startup #digitalhealth #diagnostics #medicaldevice #medtech #CommunityBlog #MedTechStrategist #tracyschaaf