ARTICLE SUMMARY:
As hospitals and other providers deal with the economic fallout from the COVID-19 pandemic, medical device companies are facing a potentially prolonged softening in demand for their surgical and interventional products. However, there are several steps medtech companies can take to survive and even thrive in the coming months.
The COVID-19 pandemic has many US healthcare providers under severe financial strain as lucrative elective surgical procedures have been cancelled or postponed, a frightened public shuns ER and office visits, and hospitals focus on treating complex and costly emergent coronavirus cases. Faced with declining revenues and increasing expenses, some hospitals have been forced to furlough or lay off staff, and all are keeping a close eye on their device budgets.
And the situation could worsen before it improves. According to a recent survey of US hospital administrators conducted by SVBLeerink, it could be some time before surgical caseloads return to pre-COVID levels; as a result, even larger provider revenue declines are anticipated in Q2. Although hospital administrators expect to reschedule 90% of postponed elective surgeries within six months of a COVID peak, according to Leerink, those procedures deemed more medically necessary—such as cardiac and cancer surgeries—are likely to be prioritized to come back first, while those considered less critical, such as hip, knee, and spine surgery, could see longer delays (see Figure 1; For a detailed discussion of how COVID-19 is impacting patient volumes, see "Inpatient and Outpatient Visits Wither in Face of COVID-19," MedTech Strategist, May 4, 2020.)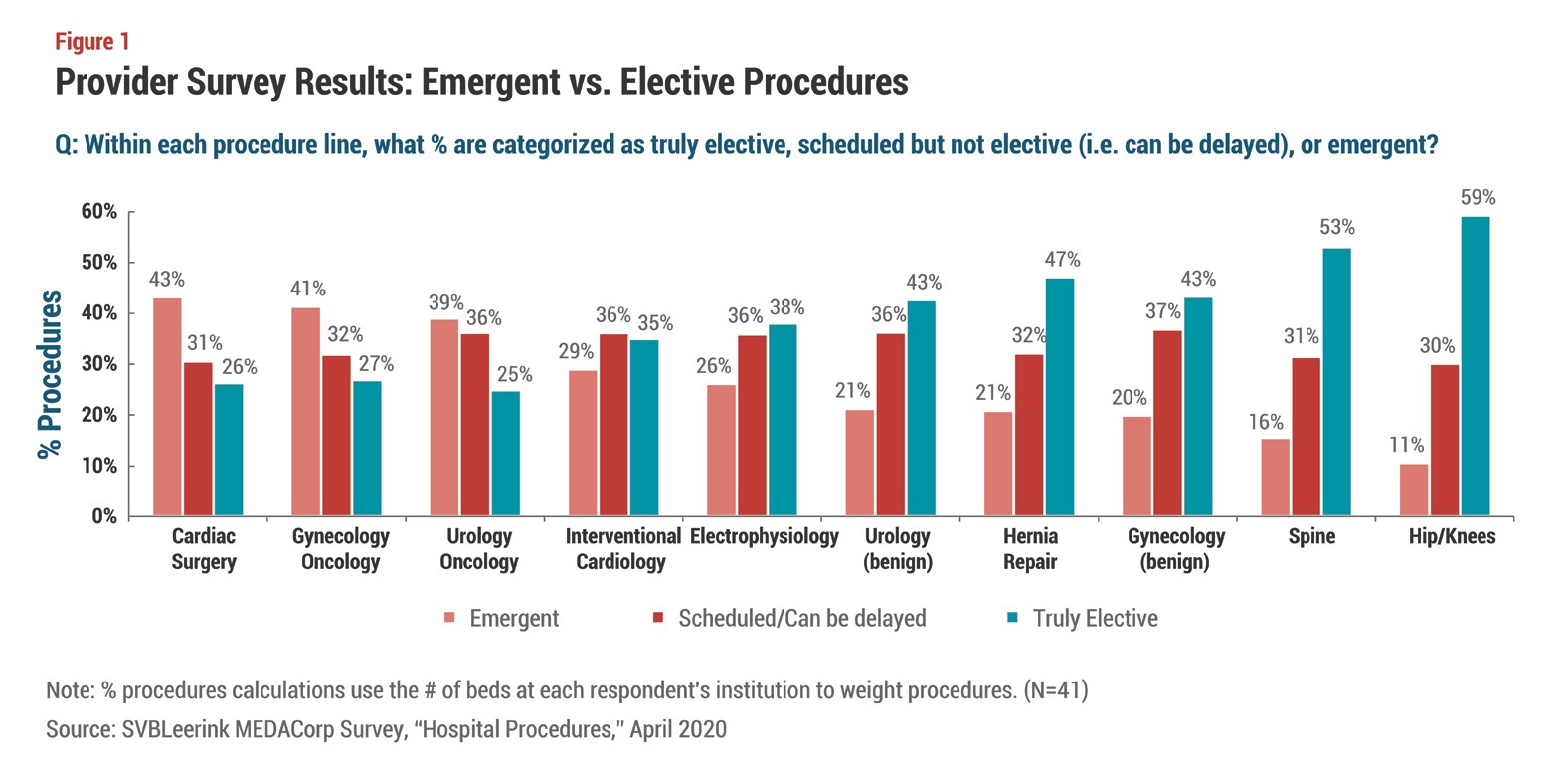 To make up for the current revenue shortfall, hospitals are retooling their near-term CAPEX spending plans in order to conserve capital, and many are postponing or cancelling plans to acquire high-ticket items such as robotic surgery systems, MRI and other imaging equipment, and new cath labs. In fact, 100% of the hospitals in the Leerink survey who had pre-COVID plans to buy a general or spine robotic surgery system said they had decided to postpone those purchases, and 80% who were planning to purchase a hip/knee robot said they were holding off on those plans.
All of this has had a chilling effect on the medical device industry. Although companies offering telemedicine services and digital remote patient monitoring technologies stand to greatly benefit as patients, providers, and payors all move toward virtual care options (see "COVID-19: A Pivotal Moment for Telemedicine and Remote Care Technologies," MedTech Strategist, April 21, 2020), and the diagnostics sector will profit from the push for increased COVID testing (see "COVID Diagnostic Testing Ramp-Up Meets Reality," MedTech Strategist, April 21, 2020), companies that compete in traditional surgical and interventional markets have seen demand for their products plummet over the past couple of months.
Those with substantial exposure to elective procedures include some of the biggest names in medtech. For example, Medtronic plc said recently that it has seen weekly US revenues drop by about 60% year/year and revenues from China fall about 50% due to COVID-19; and Edwards Lifesciences Corp., the leader in transcatheter heart valves (TAVR), lowered its FY 2020 sales guidance after it recorded a precipitous decline in TAVR procedure volumes beginning in early March. Meanwhile, robotic surgery market leader Intuitive Surgical Inc. noted about a 50% decline in da Vinci robotic procedures at the end of Q1. Some customers also postponed capital contracts, according to the company, which expects to rely more on leasing arrangements in the future. (Intuitive Surgical recently announced that it will provide financial support to its customers during the pandemic, including service credits, warranty extensions, and more flexible payment terms.)
It's not all bad news, though. As restrictions on elective surgeries begin to ease, and the long-term impact of the COVID-19 pandemic becomes clearer, unique opportunities will arise for medtech companies willing to think outside the box and adapt to their customers' needs during this transitional period and beyond. (See "For Medtech Companies, Will 2020 Be a Lost Year?" MedTech Strategist, April 30, 2020.)
In the following Q&A, we discuss the challenges and opportunities ahead for the medtech industry with Glenn Snyder, Principal, MedTech Practice Leader with Deloitte Consulting. Snyder recently co-authored a blog post detailing six ways that medtech companies can "respond, recover, and thrive" during and after the COVID-19 pandemic, many of which build on pre-COVID trends and thus have long-term implications for the industry.
Snyder's list includes being agile and ready when product demand ramps-up again; employing digital sales, service, and training tools; utilizing digital tools, real-world evidence, and data analytics to help keep clinical trials on track; helping customers address efficiency and supply chain issues; embracing artificial intelligence and analytics; and finding ways to support the ongoing movement toward digital and virtual care. (Also see "The Shift to Digital Primary Care: What Medtech Needs to Know," MedTech Strategist, October 30, 2019 and "As Digital Health Hits a Tipping Point, New Medtech Models Emerge," MedTech Strategist, October 4, 2019.)
Right now, there's a "huge incentive" to get elective procedures going again, Snyder notes, and medtech companies have an important role to play. Device manufacturers can recover and thrive, he says, but creativity and flexibility are key.
MedTech Strategist: You recently co-authored a blog post detailing six ways medtech companies can "respond, recover, and thrive" in the era of COVID-19. The first thing you mention is that companies need to be agile and ready because once this crisis subsides, there is likely to be a robust increase in demand for their products and services. States and hospitals are just now beginning to ease restrictions on elective procedures. Do you have any projections for how long it might take for this to play out? Is there anything medtech companies can do to help smooth this transition?
Glenn Snyder: We are in the process of doing a collaborative study with a market research firm, but at this point we've not done a database study or a projection. There is going to be a huge incentive among multiple stakeholders—patients, hospitals, and surgeons and clinicians—to try and wrap this up as quickly as possible.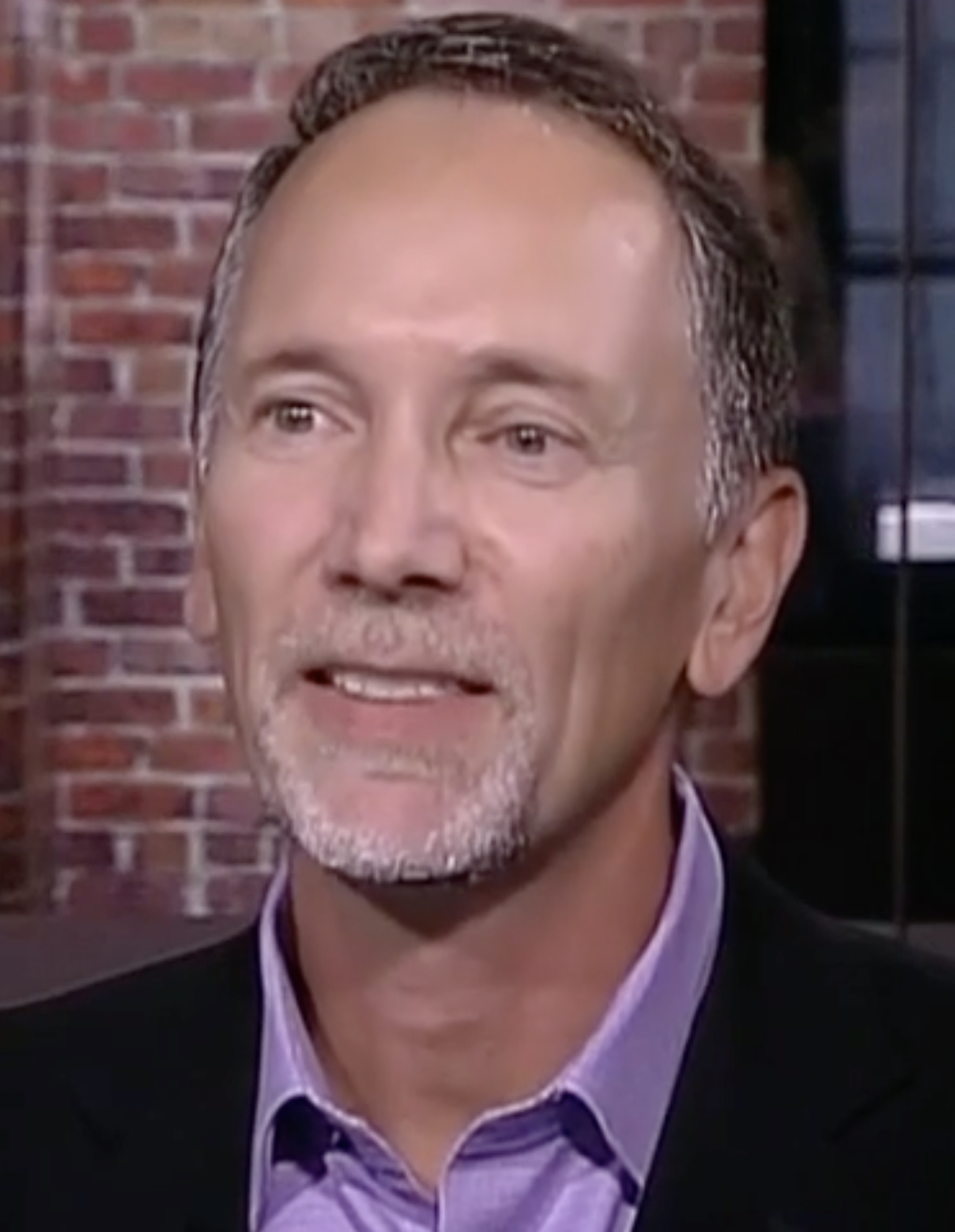 We're talking to our [medtech] clients about what they can do to help. And a lot of that has to do with helping hospitals be more efficient in their surgical procedures, so they can potentially squeeze more procedure volume out of an operating room. At the same time, this will likely impact OR suite sterilization procedures going forward, given the virus situation. That may add some additional legwork and actually decrease OR productivity.
Are there specific opportunities for medtech companies to provide additional value-added support to their hospital customers during this time?
Well, again, the biggest opportunity would probably be in procedure optimization: improving surgical procedure turnaround time and reducing points of exposure. One example of a technology that could have an impact here is digital presurgical planning. This tool can potentially reduce procedure time by enabling clinicians to plan the surgery in advance, anticipate different scenarios, and make sure they've got the right products available. That's something a medical technology company can do just in terms of inventory on hand, to make sure there aren't any delays at the actual point of procedure. Through presurgical planning, the surgeon knows exactly what they want to do, and theoretically can get in and out quicker. Medtech companies can help hospitals and surgeons understand how to leverage some of these planning capabilities and make sure they get the right tool to the right place at the right time.
Medical device companies are already doing that to a certain degree; do you think this crisis is going to push procedure optimization and efficiency planning to the forefront?
Yes. There are always early adopters of many of these different techniques. But most medical technology companies say they'd like to be doing more of that and have more of their customers take their guidance on procedure optimization. And I think this is the time for medtech companies to be offering this guidance.
In your blog, you also discuss unique ways medtech companies can positively impact the hospital supply chain—for example, by enabling hospitals to produce some devices or replacement parts on-site using 3D printers. In addition, medical device companies could develop products and technologies that enable more procedures to be performed on an outpatient basis, which reduces the demand for hospital beds. Given ongoing COVID-19 infection risks in the hospital, which may make some patients reluctant to go in for an elective procedure, how big of a push do you think there will be going forward to move inpatient procedures to the outpatient setting?
That trend has already been pretty significant; there were some new reimbursement mechanisms put in place at the beginning of this year for certain cardiovascular procedures done in outpatient settings. Every year we continue to see some shift in this direction, and I expect that will continue. Of course, there will be some natural limits as to what procedure types you can shift to the outpatient setting, but I think this crisis will put a focus on that trend.
I don't expect this to happen overnight, but I do think it's possible that some hospitals will start to consider separating their surgical from their medical care. Some are already doing that, and of course you have some hospitals that are dedicated surgery hospitals. It's possible that the COVID-19 crisis may accelerate that trend. Again, is that something that can happen overnight? Not necessarily. But I think there will be pressure on those levers, for sure, as we come out of the lockdown.
What else needs to happen before we can fully restore elective procedures? Will it require more widespread testing for the virus and/or perhaps putting special protections in place so that both clinicians and patients feel more at ease?
My colleagues who are clinicians and are working with the health systems believe it is going to require testing patients and physicians. It's also going to be, again, sterilization procedures, more elaborate sterilization to try and lower the incidence rate of the virus, which seems to have a pretty incredible staying power on some surfaces. So I think that will ramp up substantially. And for some of the medtech companies who specialize in that area [sterilization], that will be a big growth opportunity.
And then personal protective equipment—making sure that everybody has adequate PPE. In addition to that, I would expect to see some operational changes in the hospital, much like those that have occurred in the grocery store, where they now have arrows on the floor to indicate the direction of travel down certain aisles to maintain social distancing. You might expect something similar in the hospital directing the flow of patients in a certain way so that the likelihood of exposure from one patient to another will be significantly decreased. And family waiting areas are probably going to be ruled out for now. So maybe family members will be sent a text when their loved one is done with a procedure.
Given these many elements, how do you see this all playing out? Do you foresee a rapid or a more gradual elective surgery ramp-up?
As lockdowns are loosened, health systems and state and local governments will be trying to balance the benefits and the risks—calculating the probability of an increase in COVID-19 ICU patients as a result of that loosening, which will impact hospital bed capacity, and balancing that with the need to perform elective procedures.
I think that will continue to be a balancing game for a period of time. So it won't be an immediate return to normal volumes, but there are incentives in place that will push this to happen as quickly as is possible—from patients needing to get their procedures done to physicians wanting to get revenue-generating procedures back into the system.
As you know, the COVID-19 pandemic has also created a new emphasis on remote care and remote triage, which is benefitting telehealth and remote patient monitoring companies. This is something you also discuss in your blog—noting that this has essentially ushered in a "new normal" for physician-patient interactions and that medtech companies need to consider how they can support this move to digital health. What impact will this have on healthcare delivery over the longer term, and what opportunities might this open up for traditional medtech companies?
The new way to look at patient triage is a sequence of three steps: digital, virtual, and then physical. With Medicare now reimbursing telemedicine, we're going to see a dramatic shift towards this triage of digital, virtual, physical. The digital step is just a consumer interacting with an app or a website—so algorithm based and nothing more than that. Then the next step is virtual, where the patient has a virtual interaction with a clinician or physician. And then, if needed, the last step is a face-to-face full interaction with a healthcare provider. Just in my own personal experience, I've had a virtual chat with my orthopedic doc since the lockdown and I've had two virtual physical therapy sessions since the lockdown. So I think all these normal procedures are going to move that way.
The new way to look at patient triage is a sequence of three steps: digital, virtual, and then physical.
Now that doesn't necessarily present an immediate opportunity for a medical technology company, but if you start to then imagine what are some things we can do from a device standpoint to capture information that goes along with that virtual visit, to collect data that's helpful with either pre- or post-surgical intervention, I think there are opportunities there. Companies need to look at the entire patient journey and ask where along that patient journey they want to play that involves some element of post-acute or pre-acute care—where can they help with monitoring and data collection?
As an example of how remote monitoring might be used in this context, I was just reading an article about the importance of measuring blood oxygen levels with pulse oximetry for early detection of deterioration in people with COVID-19. So here is a relatively inexpensive, home-based monitoring technology that can be employed for situations like this and that can potentially impact survival in these patients.
In general, testing and monitoring is where we see healthcare moving in the future. We previously published a 20-year view on this, but our belief is that the COVID crisis will probably dramatically accelerate this. What we projected would happen in 20 years [commoditization of most medical hardware and a greater emphasis on data collection and analysis] might now occur much sooner than that.
Part of that is leveraging pervasive sensors in you, on you, and around you. Those sensors can be anything from a COVID test device—for example, detecting COVID antibodies in a drop of blood—or as things get more sophisticated, they could be implantable sensors. You never know. But in the near term, testing and monitoring across a number of different areas will be an adjunct to these virtual visits. The challenge will be keeping those types of solutions and their cost point feasible for widespread use. And that's going to be a function of how quickly the industry can innovate and ramp-up those technologies. But the winners are going to be the ones who really nail the monitoring and testing capabilities.
I assume AI will also play a crucial role here in analyzing all the data that will come from these sensors, identifying patterns, and flagging outliers. How important might this be when it comes to planning for, detecting, and managing future pathogen outbreaks?
AI tools will be essential when it comes to analyzing these diverse sets of data we are now collecting. If you combine and analyze all the available data—population data, social data, economic data, and individual case information—all of a sudden you get some very robust signals about what's going on in our health environment. We absolutely expect to see that growing in importance going forward.
There are a lot of different technologies/devices in use or in development right now to monitor people's health remotely, ranging from smart watches to more sophisticated on-body and tableside technologies. Is there one form factor that you think will win the day? Or is it too early to tell at this point?
I have a personal bias. I believe that keeping things simple makes a big difference in terms of persistence, compliance, and adoption. And there is something simple about being able to put on a watch that happens to have a bunch of other sensors in it, that has multiple functionality, that I think for a lot of people has some benefits. But if you have to supplement that with a bunch of other things that you wear or carry with you, then that becomes a little bit more burdensome. Then it comes down to individual utility of how important is that data or that information to you to go through that extra step, that extra process. And of course, not everybody likes to wear a watch, so it's not going to work for everybody.
I also believe there is room in the market for implantables. I know that's somewhat controversial, but I think wearables are only going to be able to measure so much. The innovation that's happening around implantables—the size of implantables, and the types of things they can measure in body that potentially could communicate with a watch or a phone to enhance the measurement capability—is something that will be very interesting to track. If the sensors in a watch could do the same thing as an implantable, then obviously you don't need the implantable. But my guess is that it will be difficult to do everything from outside of the body.
As we look toward loosening restrictions and resuming elective surgeries, we also know that the COVID-19 health crisis has already taken a big financial toll on hospitals, one that no doubt will affect their purchasing power going forward. How might this impact the medtech industry in the months ahead?
Well, let's talk about what we know. We know that there's a huge budget crisis for hospitals. We know that this latest stimulus round is explicitly supposed to include some help for hospitals. Will that be enough? My guess is there's still going to be a big gap. We know that hospitals not only don't want to, but also are going to have a hard time, cutting any labor costs because that's where all their clinical care is. And typically, labor costs represent about 60% of a hospital budget. So it's really the 40% that is non-labor that is going to be the target for cost reductions.
But also, as we talked about earlier, hospitals are going to be looking for ways to increase revenue and make up for the revenue losses. So, I think expanded utilization of OR capacity is going to be a key focus going forward in order to make up for this. And whatever medtech companies can do to help hospitals use those OR suites and other revenue drivers that are capacity constrained is going to be extremely helpful.
That said, medtech companies should expect a tightening of budgets in non-labor areas, just because it's going to have to come from somewhere. So frankly, whether it's capital or expense, the bottom line is hospitals are going to be tight for money to fund things going forward. And that means medtech companies will need to get creative about how they're structuring contracts. Can you pay for a medical device, particularly a reusable piece of technology, in a different way, such as on a pay-per-use basis? There are a few reimbursement mechanisms like that already in place, but perhaps they have now become a critical imperative for some companies.