ARTICLE SUMMARY:
New AI technologies can sift through the mountains of data generated by cardiac monitors, enabling physicians to focus on clinically relevant cardiac events. Sponsored by Medtronic plc.
SPONSORED BY: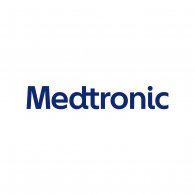 Medtronic
Medtronic plc, headquartered in Dublin, Ireland, is the leading global healthcare technology company that boldly attacks the most challenging health problems facing humanity by searching out and finding solutions.
In today's "always-on" digital world, we can leverage the power of AI technology to improve how we live. From the temperature of our homes to the speed of our vehicles, AI has touched virtually every aspect of daily life. Today, it can even be used to monitor our single most important lifeline: our heartbeat.
Cardiac arrhythmias, or irregular heartbeats, can often go undetected. For patients with abnormal heart rhythms who experience infrequent symptoms, including dizziness, palpitations, syncope (fainting) and/or chest pain, insertable cardiac monitors (ICMs) may be used to uncover what might be an underlying heart condition through continuous monitoring.
ICMs are extremely sensitive in their ability to detect abnormal heart rhythms, which is a good thing. Because of the sensitivity, they can also generate a large quantity of data, including false alerts, which clinicians and staff must review daily. But with the availability of new AI capabilities, doctors are able to focus solely on the cardiac events that have clinical significance.
AI Breakthroughs Are Making a Difference
One such AI innovation, AccuRhythm AI, which is automatically applied to all Medtronic plc LINQ II ICMs through a cloud-based update, is helping weed out false alerts while maintaining sensitivity to the alerts that are most clinically relevant.
AccuRhythm AI has shown to reduce the number of false alerts for the most common ICM false alerts, atrial fibrillation (AF) and pause (asystole) by as much as 84%, saving clinicians 319 hours of clinic review time (for every 200 LINQ II patients followed).[i], [ii]
AI in Action: Scripps Clinic's Story
Clinicians at the nationally ranked Scripps Clinic in San Diego are experiencing, first-hand, the impact of AI in the hundreds of ICM patients who are followed through their clinic each year.
Before AccuRhythm AI, false alerts were a part of Scripps' everyday reality. There were a number of patients who frequently had multiple daily false alerts—some patients with as many as 128 in a one-month period–who suddenly had zero when AccuRhythm AI was applied in December of 2021.
"In looking at the charts, the impact was immediate and significant," recalls Kate Bordonaro, a nurse practitioner for the electrophysiology group for Scripps Clinic."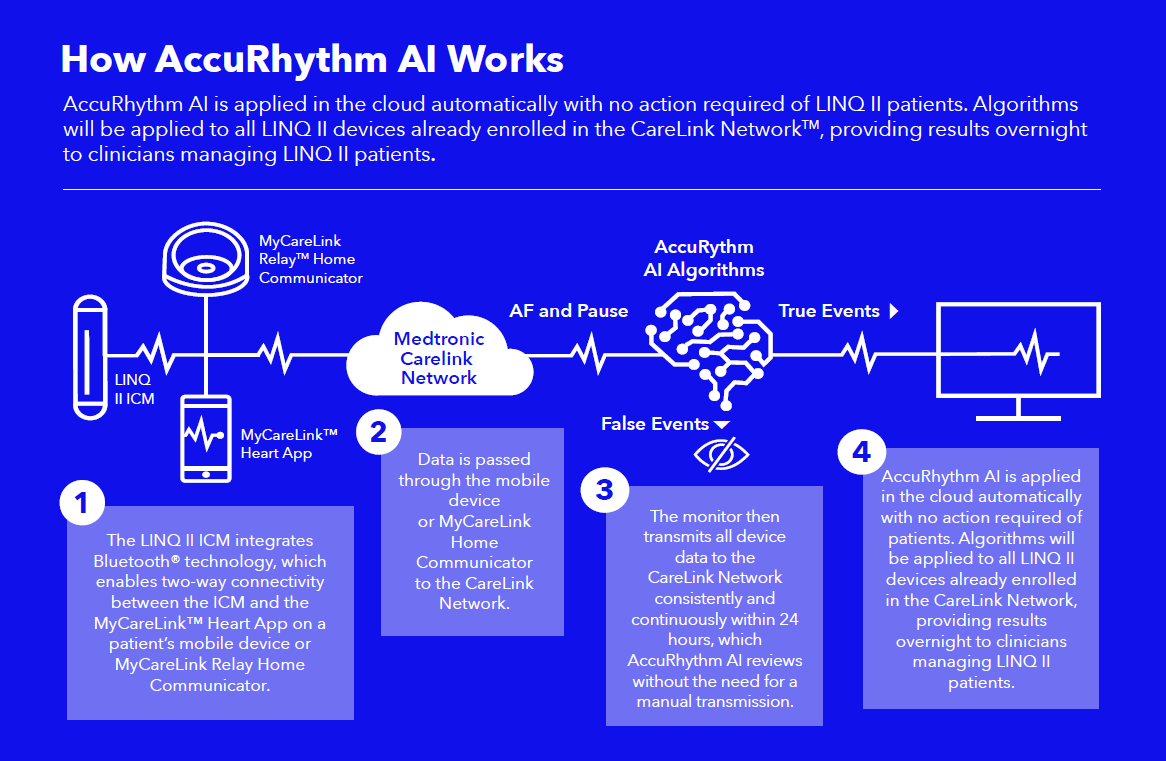 While the impact on detecting false alerts was quick and eased clinician workload, the most important result was that the quality of the data did not suffer. In fact, Scripps reported they saw the types of AF and Pause episodes that were being removed early on and gained confidence in what was being removed. There was no sacrifice to diagnostic yield–only the removal of false positives (see image).
John Rogers, MD, an electrophysiologist at Scripps Clinic who has witnessed the evolution of cardiac innovation over his more than 25 years of practice adds, "we are confident in the data knowing that these algorithms were developed using more than one million adjudicated electrocardiogram heart rhythm episodes and were then further validated with additional data it had never seen before."
Broad Implementation Means Better Outcomes
Reducing clinician burden is more important than ever during a time when hospitals are still grappling with staffing shortages caused by the COVID-19 pandemic. Managing ICM data more seamlessly through AI technology produces benefits for clinicians that are revolutionizing the way they spend their time–ensuring they can focus in on only the episodes that are clinically relevant.
Click here to learn more about the AccuRhythm AI Platform.
Precaution: The AccuRhythm AI ECG classification system may incorrectly adjudicate a true positive episode as an AI false episode, causing that episode to be suppressed in the remote monitoring system. For more safety information, click here.
Notes
[i] Ousdigian K, Cheng YJ, Koehler J, et al. Artificial Intelligence Dramatically Reduces Annual False Alerts from Insertable Cardiac Monitors. Presented at AHA Conference 2021.
[ii]Radtke A, Ousdigian KT, Haddad TD, et al. Artificial Intelligence Enables Dramatic Reduction of False Atrial Fibrillation Alerts from Insertable Cardiac Monitors. Heart Rhythm Journal. Published online August 1, 2021.
SPONSORED BY: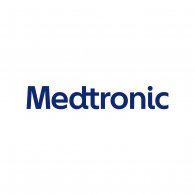 Medtronic
Bold thinking. Bolder actions. We are Medtronic. Medtronic plc, headquartered in Dublin, Ireland, is the leading global healthcare technology company that boldly attacks the most challenging health problems facing humanity by searching out and finding solutions.
Learn more at Medtronicwebsite