ARTICLE SUMMARY:
In keeping with its proactive stance on establishing a regulatory framework for the upcoming wave of AI-based software technologies, the FDA in February granted de novo authorization for the first AI-based product for acquiring cardiac ultrasound images. Deployment has begun in high-need acute point-of-care settings, including those treating COVID-19 patients.
Artificial intelligence (AI)—a rapidly expanding field that is impacting disease detection, personalized medicine, and other areas within healthcare through the power of data—has huge potential in the field of imaging. While previously, the information provided by AI-based algorithms has augmented the tasks performed by radiologists, software developments can now enable devices to perform certain tasks autonomously. One area in which the technology is proving to be particularly useful is heart disease—a problematic, leading cause of death. A San Francisco Bay area healthcare software company, Caption Health Inc., is focused on empowering healthcare providers (even those without prior ultrasound experience) to acquire and interpret high-quality cardiac ultrasound exams quickly and accurately, using real-time AI guidance, automated interpretation, and quality assessment.
This February, the FDA granted de novo approval for the seven-year-old company's Caption Guidance software, the first software as a medical device (SaMD) authorized to guide a broad range of healthcare professionals to acquire optimal images using cardiac ultrasound. The technology, designated as a Breakthrough Device by FDA in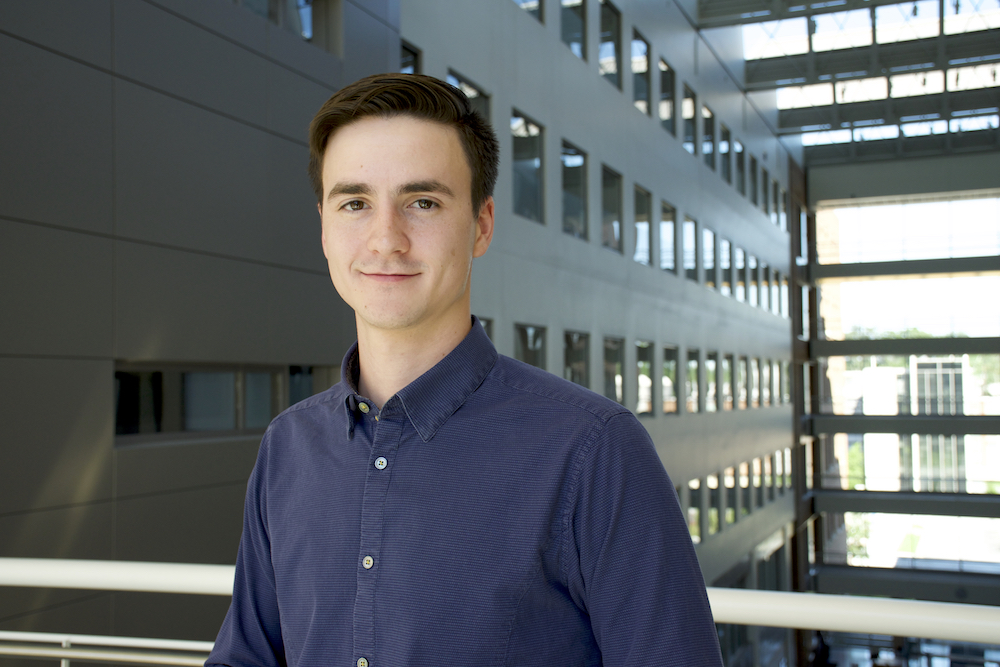 September 2018, is indicated for use in two-dimensional transthoracic echocardiography examination of the heart, in adult patients. Market Pathways spoke with Sam Surette, Caption Health's Head of Regulatory Affairs and Quality Assurance and a former FDA reviewer, about the company's regulatory journey and challenges while blazing a new trail with its novel technology and FDA's recent AI in Radiological Imaging workshop.
Echocardiogram "Co-Pilot"
Conventional ultrasound is a safe, noninvasive, and powerful diagnostic tool that relies on an expert eye to recognize anatomical structures, limiting interpretation to a subset of clinicians with years of specialized training. And, cardiac ultrasound/echocardiograms are one of the most widely used tools in the diagnosis and treatment of heart disease. Caption Health's Caption Guidance technology includes features that together act as a "co-pilot" for clinicians when performing an ultrasound exam. The software emulates the guidance that an expert sonographer would provide to optimize the image, including providing real-time instruction on how to manipulate the transducer, and automated feedback on diagnostic image quality (see Figure 1).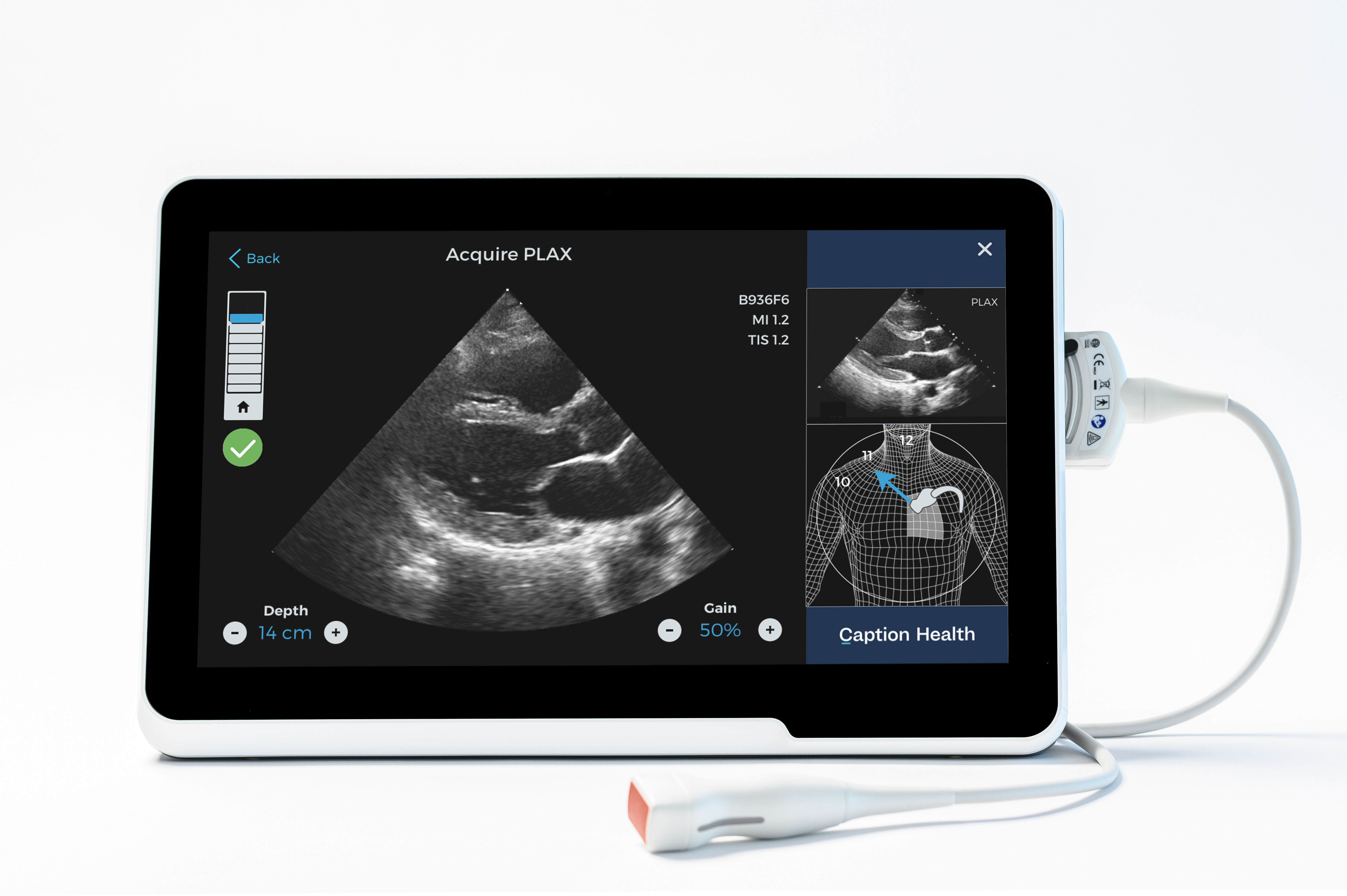 "We developed deep learning technology that emulates the expertise of sonographers, cardiologists, and other clinicians, to provide that in places where it doesn't exist currently or that could benefit from having some of that expertise," says Surette.
Caption Health, founded in 2013, is led by former head of Livongo Health and 23andMe Inc., Andy Page. Surette joined the company in 2018 to help the firm navigate a new regulatory paradigm with a technology that he felt could truly impact public health. Prior to joining, he spent four years as an FDA reviewer specializing in cardiac electrophysiology devices. This gives him a dual perspective on the device regulatory process. "It's been my mission to bridge the gap between Silicon Valley and Washington, DC," he says.
Caption Health's software was developed using machine learning, so that it can differentiate between acceptable and unacceptable image quality. It can be used to acquire images to facilitate quick and accurate evaluation of patients' left ventricular size, left and right ventricular function, and pericardial effusion by providing real-time guidance, quality assessment, and a fully automated assessment of ejection fraction. The AI interface provides real-time feedback on potential image quality, can auto-capture video clips, and automatically saves the best video clip acquired from a particular view (see this brief company video). Importantly, a cardiologist still reviews the images and videos for the final patient evaluation.
FDA's de novo pathway is reserved for novel devices for which general controls alone, or general and special controls, provide reasonable assurance of safety and effectiveness for the intended use, but for which there is no legally marketed predicate device. Caption Guidance is the first medical software authorized by the FDA that provides real-time AI guidance for medical imaging acquisition. In September 2018, the FDA granted the company Breakthrough Device designation, as its technology provides a more effective diagnosis of a life-threatening or irreversibly debilitating disease or condition, and there are no approved or cleared alternatives.
"I can't speak highly enough about the [Breakthrough Devices] program because it's a way for companies who are doing something that typically would require a lot more regulatory thinking to have more extensive interaction with FDA," says Surette. "We were able to align on some of the key aspects of the de novo before we conducted a clinical study or nonclinical bench testing. Throughout the process, the FDA demonstrated a sophisticated understanding of AI and its unique regulatory considerations."
Caption Guidance is the first medical software authorized by the FDA that provides real-time AI guidance for medical imaging acquisition.
In its review of Caption Guidance, the FDA evaluated data from two independent studies. In one, trained sonographers scanned 50 patients, with and without the assistance of the Caption Guidance software. The sonographers were able to capture comparable diagnostic quality images in both settings. The other study involved training eight registered nurses who are not experts in sonography to use the Caption Guidance software and asking them to capture standard echocardiography images; five cardiologists then assessed the quality of the images acquired. The results showed that the Caption Guidance software enabled the nurses to acquire echocardiography videos of diagnostic quality. The Caption Guidance software currently can be used with a specific FDA-cleared diagnostic ultrasound system produced by the Terason division of Teratech Corp., with the potential to be used with other ultrasound imaging systems.
Caption Health's software, its first commercial-stage product, is initially being deployed in acute point-of-care settings, including emergency and anesthesiology departments and critical care units, with plans to expand to additional areas. These settings serve a high volume of patients; emergency rooms alone are visited by one in five US adults at least once per year. In these environments, ultrasound can be used to triage, monitor, and assess patients who have chest pain, shortness of breath, cardiac arrest, and many other conditions, as well as for the detection of heart disease. "We've had an overwhelming response from the clinical community in requesting this product and seeing the benefits in a number of different clinical settings," says Surette.
This Just In: Addressing a Global Pandemic
The company announced on March 16 that Caption Guidance is also being deployed to select healthcare partners that are dealing with the COVID-19 pandemic, to enable rapid assessment of cardiac function in patients, help reduce the risk of exposure for personnel, and stretch limited resources. A clinical bulletin posted by the American College of Cardiology on March 6 states that the case fatality rate for COVID-19 comorbid patients is materially higher than the average population: for patients with cardiovascular disease, it is 10.5%. Acute cardiac complications of the novel coronavirus that have been published or reported anecdotally include arrhythmia and acute cardiac injury, acute onset heart failure, myocardial infarction, myocarditis, and cardiac arrest. The report further states that echocardiography is recommended for patients demonstrating heart failure, arrhythmia, ECG changes, or cardiomegaly.
"Our guidance technology is uniquely suited to expand heart ultrasound scanning capacity, which may be especially useful during times when hospitals are under tremendous stress. Our company is working around the clock to find opportunities to assist those on the front lines in fighting the pandemic," Surette tells Market Pathways.
FDA Workshop, and IDx Technologies as a Case Study
In addition to Caption Health's first-of-a-kind authorization, FDA is taking a close look at the safety, effectiveness, and benefit-risk profiles of other rapidly evolving applications of AI in radiology, and is seeking innovative and consistent ways to leverage ways of validating AI-based algorithms in collaboration with stakeholders. To that end, on February 25 and 26 (prior to the COVID-19 pandemic declaration), FDA convened a public workshop, entitled "Evolving Role of Artificial Intelligence in Radiological Imaging." In more than 35 presentations and panels over two days, held at the National Institutes of Health in Bethesda, MD, the workshop brought together experts and stakeholders from FDA and across the clinical and device manufacturing space. Discussions covered emerging applications of AI in radiological imaging, including AI devices intended to automate the diagnostic radiology workflow, as well as guided image acquisition, and the benefits and risks of these rapidly evolving applications. The agency is looking to determine best practices for the validation of AI-automated radiological imaging software and image acquisition devices. Caption Health founding team member Ha Hong, PhD, presented on the company's technology on February 26 at the workshop.
"I really enjoyed that they brought together a diverse group of people, from industry to investors to academia to patient perspectives," says Surette. "The workshop was framed positively around the understanding that AI is coming, and it's going to be used to improve patient care. We've been working on our product for a number of years and to see FDA speak highly of it, citing it as a new realm in AI and medicine was really, really memorable."
Caption Health cites IDx Technologies Inc., which was one of the first companies with an AI diagnostic system to be approved via FDA's Breakthrough Devices Program, as a case study. IDx, mentioned by several speakers at the workshop, is one of the companies at the forefront in forging new FDA regulatory and reimbursement pathways for AI in medtech. (See "IDx: AI Meets Market Access with a Breakthrough Diabetic Retinopathy Detection Device," Market Pathways, June 27, 2019.) "We looked at the IDx de novo as an instructive case study for us, because it's an AI-based software that was designed to bring something that was previously reserved for experts in a specialized medical setting to primary care or to settings that don't have that. You can see a lot of parallels between IDx and Caption Health that were useful when we were thinking about how we would verify and validate the safety and effectiveness of our device," says Surette.
Navigating Through FDA with a Novel AI Technology
Caption Health, with its first-of-a-kind deep learning image analysis algorithm, did have to overcome hurdles as it forged a novel path through the FDA process. Surette points to existing AI technology in which there is an MRI or CT, or some other form of imaging that's already been collected, and the technology looks for some sort of pathology or lesion in the data. The methods for computer-assisted detection (CAD) or diagnosis are well established; in particular, for mammography, for which they date back to the first PMA approval for mammography CAD technology in 1998. "The difference between those types of devices and ours is that this is a deep learning image analysis algorithm that's operating several times per second and providing feedback to a user who then incorporates that feedback into their actions, which then precipitates a new prediction from the algorithm," he explains.
For FDA, Caption Health's team had to sort out how to show the effectiveness of an algorithm that operates as a co-pilot alongside the clinician, and this was a key challenge. "We had to think hard about the clinical endpoints, about human factors and also the algorithm and clinical testing. How do we show that the algorithms are functioning when the overall product relies on the user?" says Surette. As an example, in its clinical study involving eight nurses, he says "It was really a study of the nurses, not so much the technology. Do the nurses, when using the technology that augments their skills, are they able to acquire diagnostic-quality images? It's definitely something we had to think through from scratch, which is challenging, but ultimately a privilege for us."
Going along with Caption Health's FDA authorization, the agency is establishing special controls for devices of this type, including requirements related to labeling and performance testing. Special controls provide consistency and transparency on the expectations for the validation of safety, effectiveness, and risk mitigations in future 510(k)s.
Surette assessed the situation from his viewpoint as a former FDA reviewer. "I would think of not only that device, but the precedence it sets for future devices. Does it open a Pandora's box that I didn't want to open as a reviewer?" says Surette. "I think there's value in understanding that dynamic from the other side and thinking about a de novo, which is explicitly the creation of a device type that opens the door to other devices. How do we propose special controls and propose evidence to demonstrate the effectiveness of the product that allows FDA to be comfortable not only with our product but with future products?" he says. "We worked through the Pre-Sub process on special controls and ultimately it became much clearer when we submitted it as a de novo because they were able to look at our specific evidence, which I think is more in FDA's comfort zone."
Helpful Hints from a Former FDA Reviewer
Surette says one of the highlights of the company's experience with FDA was demonstrating the Caption Guidance software to the FDA review team. "We had several members of the FDA review team scan a volunteer model using our system and they were able to acquire diagnostic-quality views, even those who had never held an ultrasound transducer before. That was a very positive experience," he says. "It's a little risky, but I think it really paid off in terms of helping them understand the product and how all the features work together to enable a user to acquire diagnostic quality images. It's one thing to see a paper submission basically describing the device and it's another to see it in action—especially something as dynamic as Caption Guidance."
Another critical point that companies need to think about with FDA, and also ultimately when it comes to commercialization, is clinical expertise. FDA reviewers think very similar to how a clinician thinks, Surette says.
He also points to the importance of the Pre-Sub process on the company's regulatory journey, as well as the helpful sprint discussions offered through the Breakthrough Devices program. These enabled the Caption Health team to have more frequent, focused discussions with FDA and obtain feedback quickly. And, the company had informal discussions with FDA regarding its product's de novo status prior to being accepted into the Breakthrough Devices program, so the two classifications worked hand in hand. "It's important to get in front of FDA, talk about your product, and ask them questions.You have to come up with a plan for FDA and say, 'Do you agree or disagree?'" says Surette.
"As a former reviewer, the thing that I always told companies was, it's better to understand what FDA's perspective is before you do the test because the worst thing is that you submit something that isn't satisfactory and FDA has to decide whether or not they want to send a very burdensome deficiency, or something else," he says.
Another critical point that companies need to think about with FDA, and also ultimately when it comes to commercialization, is clinical expertise. FDA reviewers think very similar to how a clinician thinks, Surette says. "If you're a start-up that has a bunch of engineers, I highly encourage getting some clinical expertise on your team and figuring out how to demonstrate the performance of your product in a way that makes clinical sense. A lot of times companies that are very engineering-heavy fall into the trap of designing endpoints or metrics that, when you try to explain to a clinician, don't necessarily make a lot of sense."
---

Trial MyStrategist.com and unlock 7-days of exclusive subscriber-only access to the medical device industry's most trusted strategic publications: MedTech Strategist & Market Pathways. For more information on our demographics and current readership click here.
*End of Article*