ARTICLE SUMMARY:
As surgical robotics moves away from the bulky and costly systems of the past toward more affordable, flexible, portable, smarter, and interconnected alternatives, we could see a dramatic shift in both how and where surgeries are performed. Memic is one of the young companies pioneering in this space. Excerpted from our MedTech Strategist profile of Memic.
Memic Innovative Surgery Ltd., founded in Israel in 2013 with US sales and marketing headquarters in Fort Lauderdale, FL, has initially set its sights on common gynecologic procedures, including hysterectomy. The company offers a robotic technology designed to facilitate a transvaginal surgical approach, which has numerous advantages over traditional robotic-assisted or laparoscopic surgery, including no visible scars, shorter recovery time, and less post-procedure pain.
Memic's Hominis robot-assisted surgical system is the first soft tissue surgical robot platform granted US FDA marketing authorization under the de novo pathway, setting a new precedent for subsequent competitors in the field. The FDA's February 2021 decision granted US market approval for Hominis in benign single-site, natural orifice laparoscopic-assisted transvaginal gynecologic procedures, including total hysterectomy, salpingectomy, oophorectomy, adnexectomy, and ovarian cyst removal. Memic also has filed for European CE mark approval, which it expects to receive later this year for the same range of gynecologic procedures.
Hominis features "humanoid-shaped" robotic arms with joints at the shoulder, elbow, and wrist that are designed to mimic the movement of the surgeon's arms. The robotic arms, with tissue graspers at their tips, provide multiplanar flexibility and 360-degrees of articulation, and they can be positioned in a retroflexed fashion, all of which improve surgical access and ease. This allows surgeons to perform procedures through a single site, whether via a natural orifice (as in transvaginal or transoral procedures) or transabdominal, enabling less-invasive approaches that are difficult or impossible to do using existing surgery technologies. During a Hominis procedure, imaging is accomplished using a standard laparoscopic camera system introduced through the umbilicus, with no other abdominal ports required. Thus, unlike other existing options—including standard laparoscopy and robotic-assisted laparoscopic surgery—a Hominis transvaginal procedure, such as a benign hysterectomy, leaves no visible scar.
With Hominis, Memic is seeking to change that paradigm by leveraging robotic technology to "enable surgical procedures that are currently off-limits to manual or robotic technologies," notes CEO Dvir Cohen, who points out that the system marries the potential benefits of transvaginal access and the precision and ergonomics of robotic technology with the familiarity of traditional laparoscopic surgical techniques.
Additionally, unlike other larger, more expensive surgical robots, Cohen says Hominis' low-cost, small footprint design makes it ideal for use in a variety of clinical settings, including small community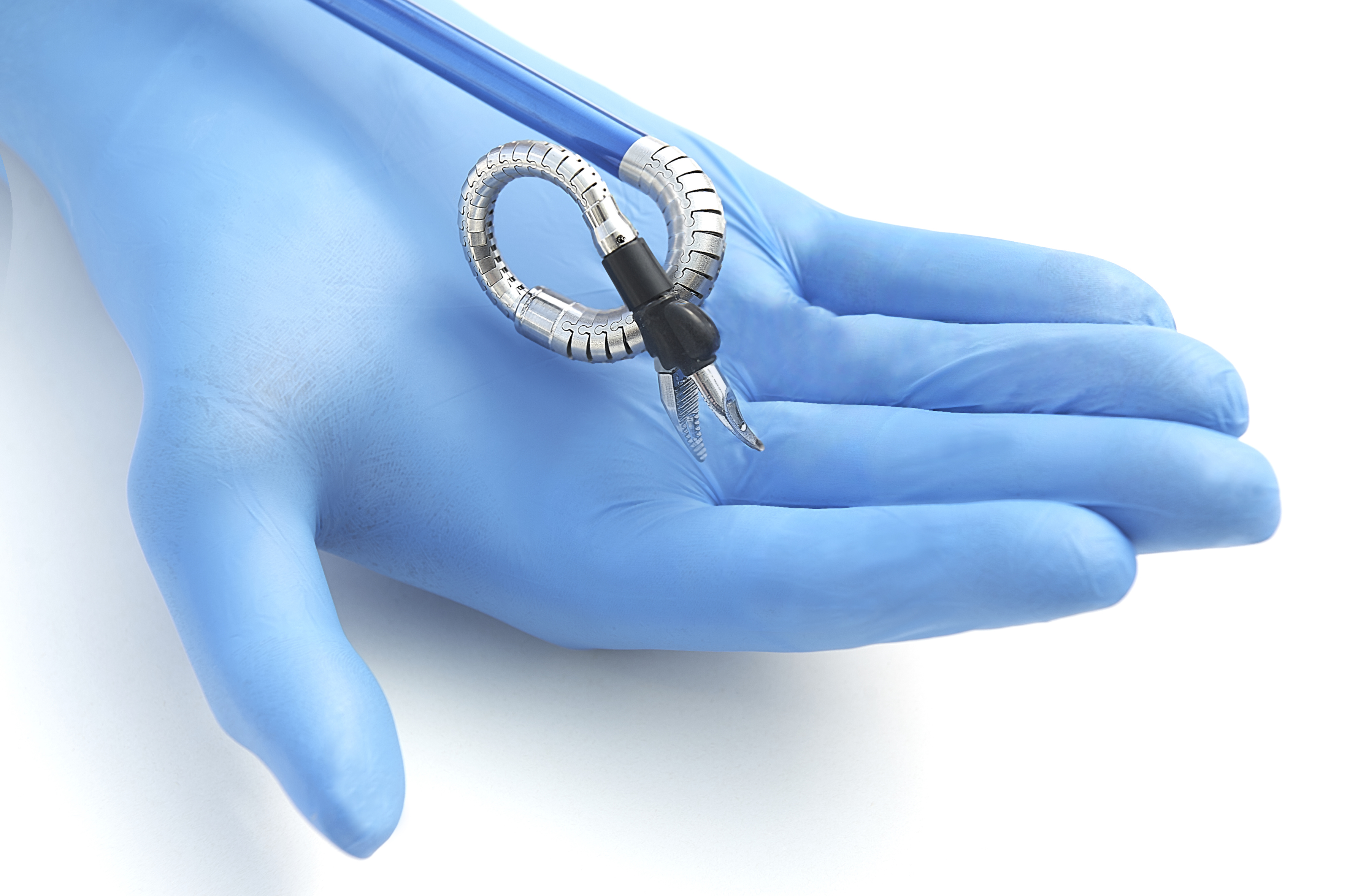 hospitals and outpatient surgery centers. Cohen asserts "The capital equipment required is so small I can actually hold it in my hands, and it is attached to the surgical table, which improves access to the patient. That is why this is such a paradigm shift (see photo). And because the system is so small, it's a fraction of the cost of other robotic technologies." To make it even more affordable, the company plans to offer various sales models, including a per-use lease arrangement, to ensure the technology is accessible to a variety of healthcare providers.
Memic recently closed on a $96 million Series D financing round, led by Peregrine Ventures and Ceros, with participation from Ourcrowd and Accelmed. The funds will be used to support commercialization of Hominis as well as R&D efforts into additional applications for the technology. In addition to venture investors, the company also attracted the interest of Maurice Ferré, MD, founder of orthopedic robotics company Mako Surgical (acquired by Stryker in 2013 for $1.65 billion), who was appointed Memic's Board Chairman in 2018. According to Cohen, when Ferré first heard about Memic, he "saw a lot of similarities with the Mako story." Ferré is a staunch advocate of digital surgery, which he believes has the potential to dramatically change how procedures are performed in the future, and he points to Memic as a "true game-changer" in the field.
Excerpted from "As Surgery Market Evolves, Memic Offers a Glimpse of the Future," MedTech Strategist, April 14, 2021.
Trial MyStrategist.com and unlock 7-days of exclusive subscriber-only access to the medical device industry's most trusted strategic publications: MedTech Strategist & Market Pathways. For more information on our demographics and current readership click here.