ARTICLE SUMMARY:
Miach Orthopaedics' implant is designed to remodel and regenerate ACLs, providing a non-surgical fix that may help ward off arthritis that afflicts many who undergo standard ACL surgery.
Miach Orthopaedics Inc.—the name comes from that of an ancient Celtic healer who magically restored the arm of his king who had been injured in battle—gestated for more than two decades, before founder Martha Murray, MD, turned what had been a research project into an actual company.
She calls her research "a life-long dream," focused on a core biological problem: Why doesn't the ACL heal the way other parts of the body do?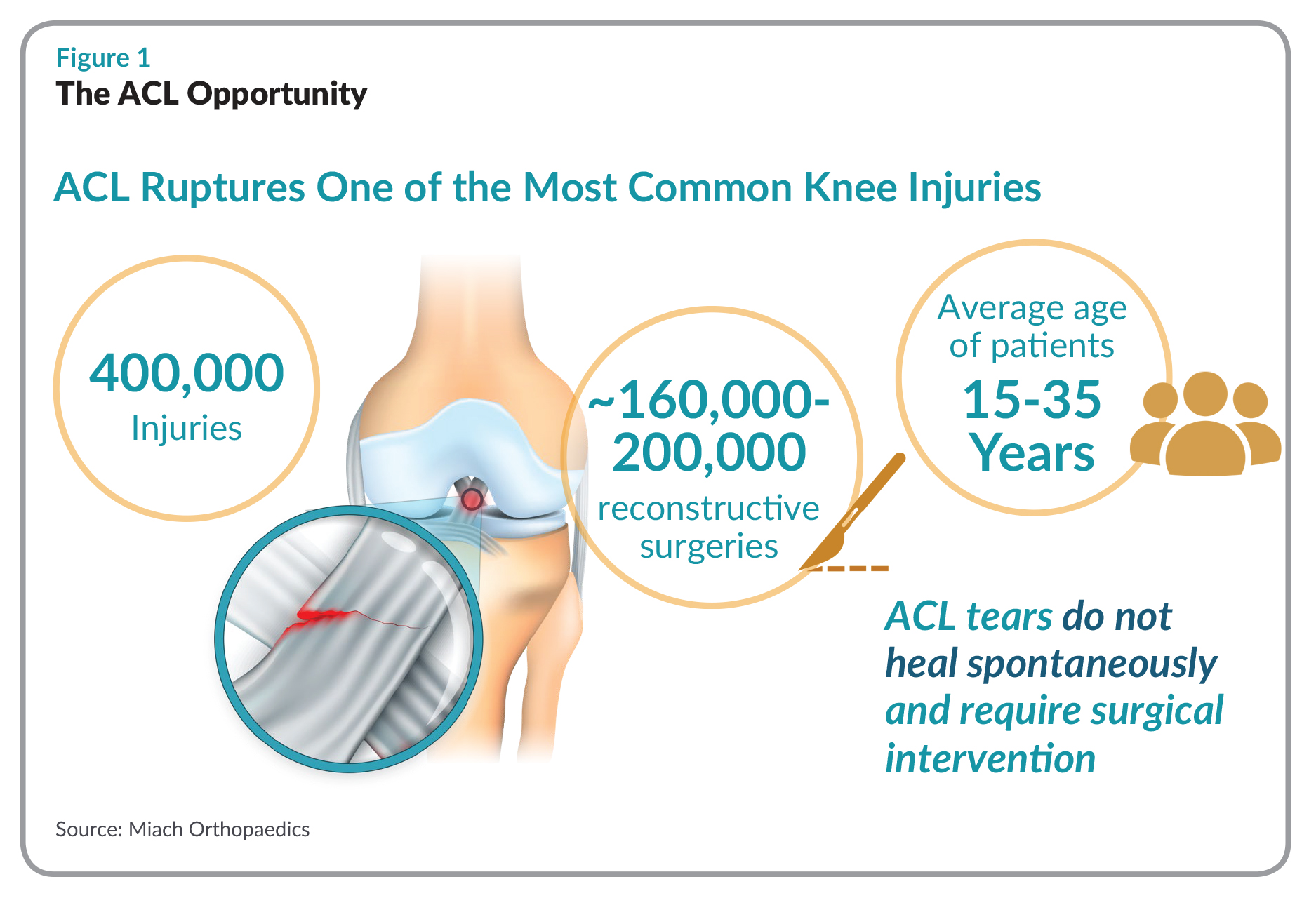 Knees are filled with fluid to keep the joint lubricated. When the ACL tears, the fluid in the joint actively washes away any blood and dissolves any blood clots in the gap; if it didn't, the tear would heal but the clotting in the rest of the joint would render the knee stiff. "The challenge as Murray saw it, was to "put something between those torn ends [of the ACL]," a surgical implant that could send the right biological signals to induce the ligament ends to grow back together through the scaffold.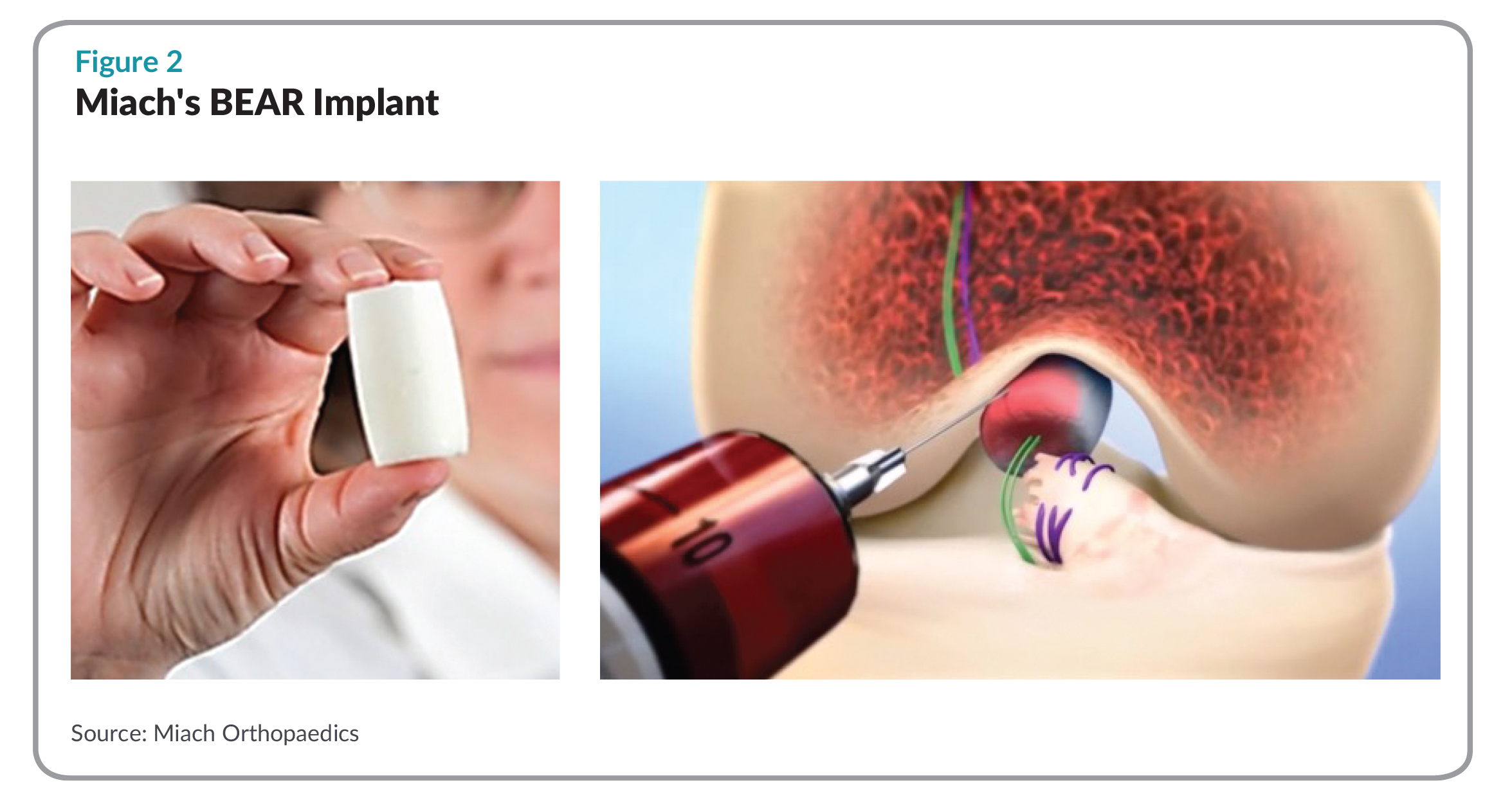 Miach's BEAR Implant, for Bridge Enhanced ACL Repair, is a decellularized bovine, collagen scaffold that replaces the traditional mechanical approach based on tendon harvesting, instead promoting the healing of the patient's own ligaments via regeneration. According to Miach officials, BEAR is placed between the two torn ends of the ACL and injected with the patient's blood to create a favorable healing environment. Creating a native healing environment, the BEAR implant does not require harvesting healthy tissue and usually reabsorbs within three months of implantation. The procedure is done minimally invasively, using traditional suture repair. The implant is able to maintain a blood clot at the wound site and encourage ACL cell and tissue in-growth
In 2013, after more than a decade of research, finishing the development of the scaffold implant and figuring out how to do the procedure, Murray completed a one-year, large animal study, comparing the strength of Miach's BEAR Implant to an ACL graft, which showed that the two approaches were similar in terms of ACL strength at one year. "We thought, 'OK, that's pretty good,'" she recalls. "And then a couple of weeks later a graduate student came and said, 'Did you see the cartilage data?'" When unblinded, the data from the cartilage group showed no arthritis in the BEAR group.
That surprised Murray and her team. The mechanics of normal repair would suggest that arthritis should be present; in the BEAR group, there was none. "About 75% of people who have an ACL injury develop some kind of arthritis within 10-15 years, the findings suggested the Miach implant wasn't just equivalent to conventional ACL repair, it was better. "It was the best result we could possibly imagine," she says.
For the next three years, she worked with the FDA to finish the data in preparation for a human clinical trial. All of this was done before Murray had even formed a company and all on non-dilutive grant money, mostly from the NIH, Boston Children's Hospital, and the National Football League Players Association. Murray launched Miach in 2016, and, recruited by investors in the company's $22.5 million Series A round, Martha Shadan joined the company in January 2019 as CEO.
To date, Miach has done three clinical trials and published six peer-reviewed articles. Begun in 2015, the BEAR I trial was a controlled cohort study of 20 patients, half of whom had conventional ACL repair, the current gold standard, and half the Miach implant. Two years out, the BEAR implant has shown equivalence to conventional ACL reconstruction in terms of knee stability and patient satisfaction. In addition, there were no infections and no rejections, the kind of crucial safety issues that led Miach to do a small study in the first place, as well as no failures and no need for re-operations.
To date, Miach has done three clinical trials and published six peer-reviewed articles.
With positive results from BEAR I in hand, Miach launched BEAR II, a non-inferiority, randomized trial designed to see how the implant would work in a larger group, this time with 100 patients, 65 receiving the BEAR implant, 35 the gold standard surgery. Two-year follow up data was completed this past summer and while results have not been published, they are, says Shadan, "very promising."
A year into BEAR II enrollment, Miach was finding no infections or inflammation in patients, so the company asked the FDA if they could start enrolling more patients in a trial, "to get more experience with the device," says Murray. A third trial, BEAR III, began enrolling in 2018. The trial is intended to expand the age range to study older, less active adult patients. A fourth trial, BEAR MOON, is scheduled to start enrolling this year.
Miach's implant will go through a de novo 510(k) regulatory process. Martha Shadan calls BEAR III "a kind of post-marketing survey," and notes that the $22.5 million raised will go to finishing BEAR III and then scaling up manufacturing and starting Miach's commercialization. "We feel like we've got enough runway for a long time," she says. The size of the Series A "just demonstrates to us the bullishness of our investors," says Shadan. "It's a lot of money but one thing it does for us is to keep us focused on operating the company and not have to worry about fundraising, which can be a huge distraction."
With its focus on healing and remodeling rather than reconstruction, Miach's technology is, says Martha Shadan, a potential platform, applicable for other injuries, though she is reluctant to say which. "That's one of the things we'll be looking at in the future," she says. "We're a small organization and want to prove principle first. As we gain traction, if it's a big enough market with unmet clinical needs that make sense, we'll be looking at other anatomies."
Miach, however, is interesting not just for its potential as a platform technology but for the way it re-imagines medtech development more broadly speaking. For years, a common trope in medtech is that device development is analogous to building a house: devices are all about plumbing (interventional devices like angioplasty catheters); electricity (implantables like cardiac rhythm devices); or carpentry (surgical instruments or orthopedic implants). More recently, many device executives insist we're entering a new era, in which medtech will be less about mechanical arts and more about biology—less about repair of existing anatomies and more about changing the fundamental biology or physiology in search of solutions to clinical problems.
---

Trial MyStrategist.com and unlock 7-days of exclusive subscriber-only access to the medical device industry's most trusted strategic publications: MedTech Strategist & Market Pathways. For more information on our demographics and current readership click here.