ARTICLE SUMMARY:
An Advisory Board report predicts that millions of dollars in hospital revenue could shift to freestanding facilities over the next few years.
About one-third of hospital outpatient revenue and 18% of volume is at risk of shifting to non-hospital sites, such as freestanding ambulatory surgical centers (ASCs) and office-based laboratories (OBLs), according to a report published earlier this year by Advisory Board, a healthcare systems consulting firm.
Some 30 subservice lines (out of 174 subservice lines tracked by Advisory Board) have the potential to migrate from the HOPD (hospital outpatient department) setting to freestanding facilities in the next few years, with the greatest transitions occurring in orthopedics, radiology, and cardiology, the report says. The number of ASCs in the US grew by 7.1% between 2016 and 2020, compared with 1.75% for hospital outpatient departments, according to Advisory Board—noting that those growth rates vary highly by geography.
Well-documented drivers of these trends are the pandemic and reimbursement rate changes, but other factors, such as consumers' demand for greater convenience, are playing roles as well, even as physician caution, particularly around more complex procedures, continues to put temporary brakes on parts of the transition. Medicare reimbursement changes also have a strong and rapid influence on decisions about sites of surgery.
Because it reimburses freestanding facilities far less than HOPDs, the government can raise reimbursement rates for ASCs while maintaining or lowering rates for HOPD and/or inpatient procedures, and still expect these changes to save it substantial sums. And the effects are compounded in the private sector because historically, commercial payors have followed CMS' lead when it comes to payment and site-of-care policy, says Colin Gelbaugh, Advisory Board's director of strategy and planning research, who led the study.
As a baseline, in total, an estimated 28% of all orthopedic outpatient procedures and 13.5% of spine procedures were performed in ASCs in 2021 in Advisory Board's claims sample. TKA highlights this trend. Only 6.5% of outpatient TKA procedures were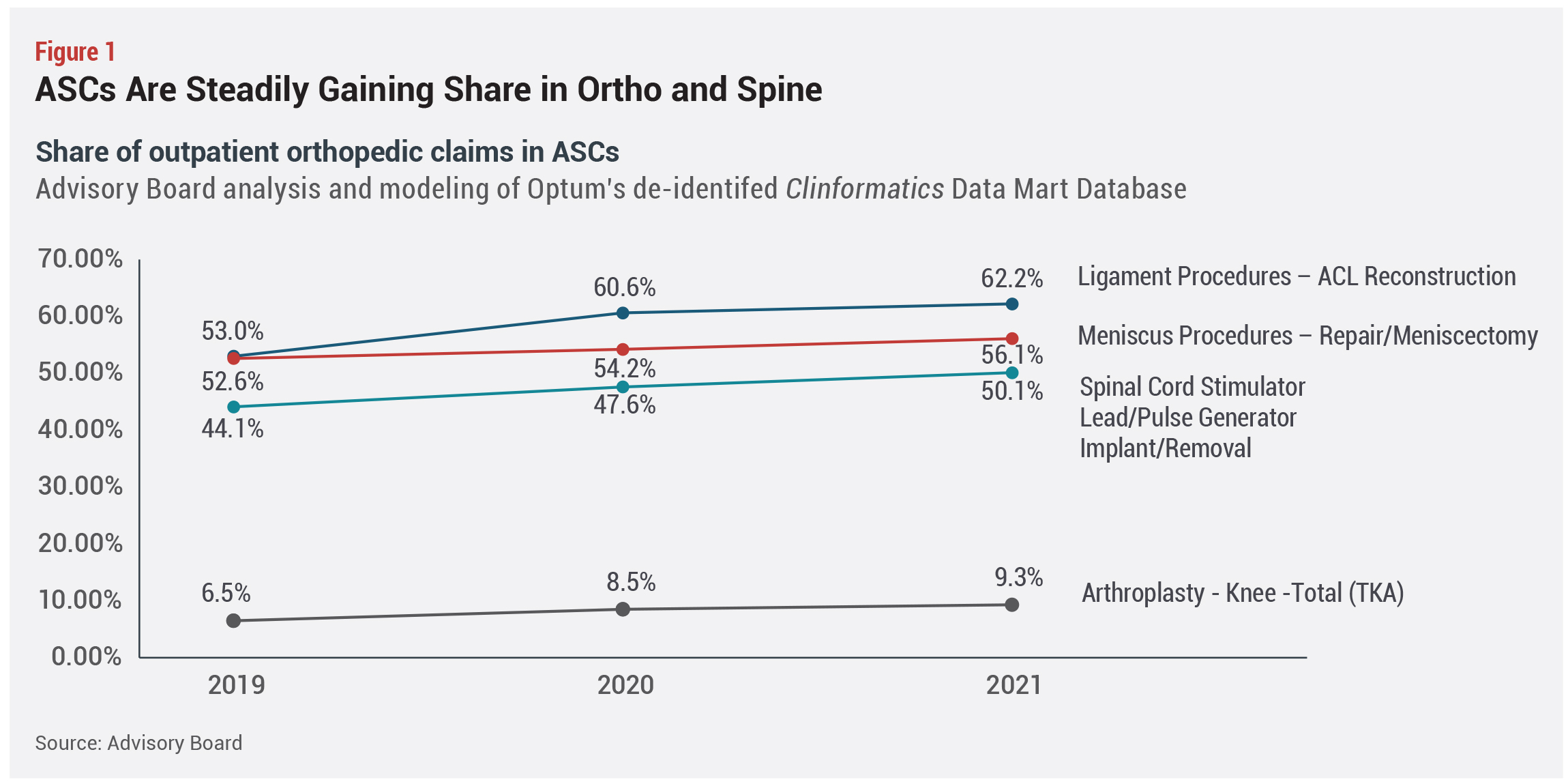 done in ASCs in 2019—prior to the addition of TKA to the ASC CPL—rising to 9.3% in 2021 and projected to grow to 16.5% by 2026, based on a conservative estimate, Gelbaugh says. But that varies by geographic region, with the 90th percentile market already performing nearly 20% of TKAs in the freestanding ASC setting (see Figure1).
Hospitals have a lot at stake from these shifts, and the question for them is how to manage the ongoing transition. They can compete effectively with ASCs, despite the latter's lower overhead by delivering superior outcomes and value, based on total episodes of care, says Gelbaugh, adding that they must look beyond pricing to deliver better pre- and post-operative care and ensure avoidance of unnecessary utilization.
For medical device manufacturers and other vendors, responses have to take into account different decision makers at freestanding facilities and how margin and space pressures affect the portfolios they sell to those customers. There is also a danger that ASCs will cut the number of vendors they are willing to work with, as their margin pressures increase, and if there is wide price variation or discount opportunities with current suppliers, Gelbaugh points out.
Trial MyStrategist.com and unlock 7-days of exclusive subscriber-only access to the medical device industry's most trusted strategic publications: MedTech Strategist & Market Pathways. For more information on our demographics and current readership click here.