ARTICLE SUMMARY:
The TCT MedTech Innovation Forum focused on the business side of innovation. Excerpted from MedTech Strategist's recent feature article.
Pictured above at the TCT Medtech Innovation Forum: Standing L-R: Marty Leon, Andrew Cleeland, Juan Granada. Seated L-R: Mariell L. Jessup, Clyde W. Yancy (moderators), Ian Meredith, Jane Leopold, Reza Mohebi, Haider Warraich.
Major clinical congresses like TCT and EuroPCR play an acknowledged role for medical device companies in advancing medical technology and showcasing valuable innovation. But their primary focus on clinical issues such as safety and efficacy leaves little time to explore many of the business aspects of innovation that play an essential role in bringing new technologies to market. In an effort to address that broader context, Fogarty Innovation (FI) and Cardiovascular Research Foundation (CRF), the nonprofit organization behind the TCT meeting, joined forces in a one-day program to address many of the nonclinical issues that innovation-driven companies must address.
The genesis of the program, called the TCT MedTech Innovation Forum, came about several years ago in a discussion over drinks between FI CEO Andrew Cleeland and CRF President and CEO Juan Granada, MD. "The conversations actually date back to before the pandemic in San Francisco," Cleeland recalls. "We were talking about how the medtech ecosystem was becoming more complex, with more stakeholders playing larger roles. And we wanted to help innovators understand and address the needs of each of those stakeholders." This session took place on September 16, the first day of the TCT meeting that ran in Boston September 16-19.
"This event was in response to the need we saw to bring a diverse group of professionals together for an open and interactive discussion to address some of the key obstacles to advancing innovation in the ecosystem. We were very pleased to see such a high level of engagement and genuine interest in collaborating to move the industry forward," said Andrew Cleeland. Of the 1,300 attendees, just over a quarter were industry executives; the balance were clinicians, and mostly physicians.
As for which of the program's sessions the audience found most interesting, Fogarty Innovation officials noted a "consensus" that the last panel, entitled Pain Points in Healthcare: Challenges and Opportunities, was "the most resonant and engaging,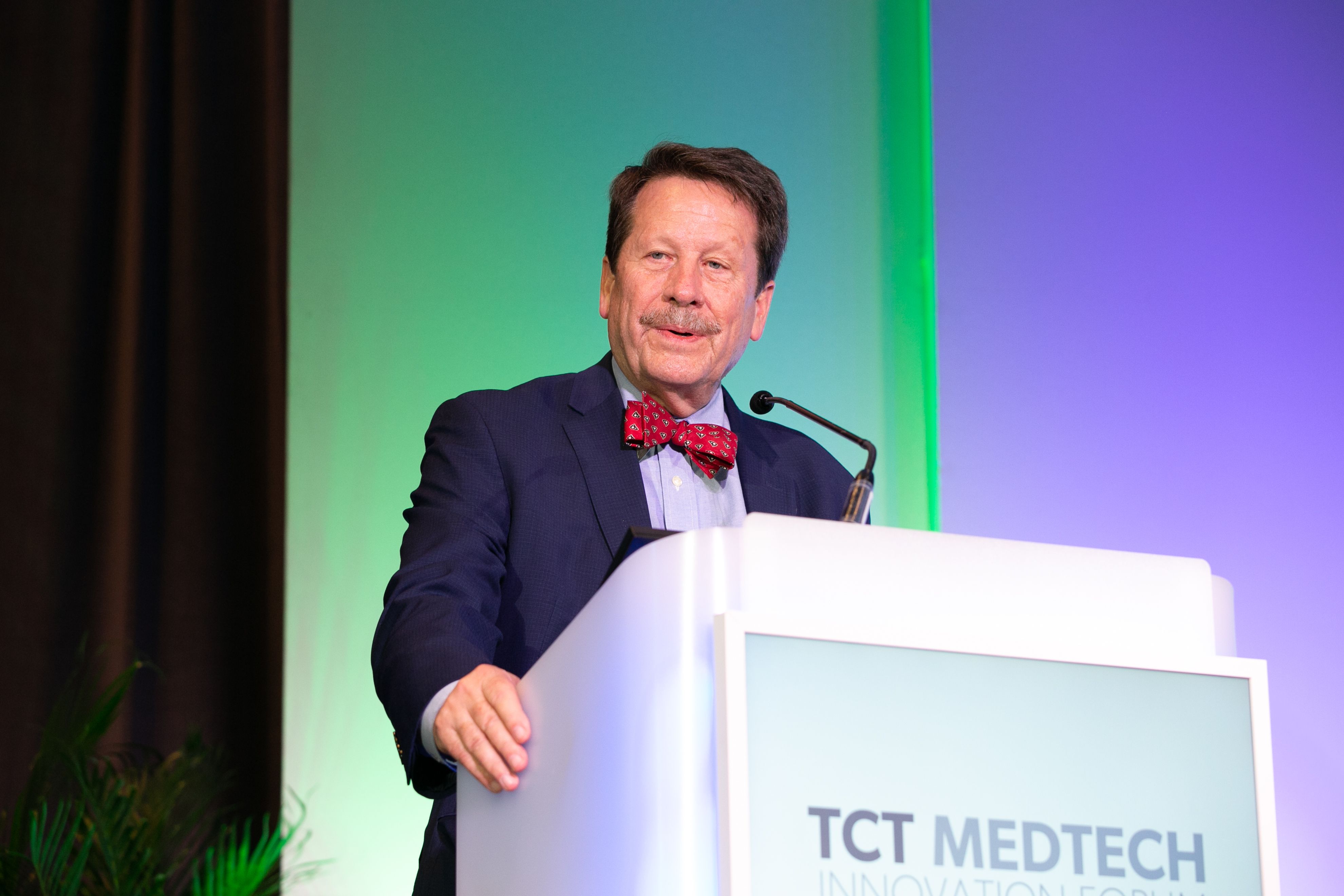 starting with FDA Commissioner Robert Califf's keynote. The moderator of this panel was Andrew Cleeland, and Jon Salveson, vice chairman of investment banking at Piper Sandler, served as co-moderator. Panelists were John Banta, president and managing director, Blue Venture Fund, VP investments and NEBA, Blue Cross and Blue Shield Association; Robert Califf; Lisa Earnhardt, executive VP at Abbott; Alexa Kimball, MD, CEO of Harvard Medical Faculty Physicians; Marty Leon; Mike Mahoney, CEO of Boston Scientific; and Sean Salmon, executive VP of Medtronic. The panel, which provided "a cross-synthesis of challenges to be addressed in medicine," and offered a "big picture, ecosystem-wide focus on innovation and on the pain points experienced by each different stakeholder was particularly insightful and relevant," says Gregorian.
In addition, Valentin Fuster, MD, winner of the Career Achievement Award at this year's TCT, in his presentation titled What's Good for the Heart is Good for the Brain: The Neuro-Cardiovascular System as a Target for Innovation, addressed the need to balance the lure of precision medicine and basic care needs at an earlier stage. "It made everyone take their eye off the shiny new toy and think about the right thing to do," says Marga Ortigas-Wedekind, Fogarty Innovation chief commercial strategy officer.
The special program at this year's TCT was, even in the planning stages, intended as just the beginning of other collaboration opportunities between Fogarty Innovation and CRF. "We are exploring other opportunities to partner on physician education about innovation, and to potentially enable our innovators to leverage resources at CRF's Skirball Center for Innovation in New York," says Cleeland. "And we will definitely collaborate again at TCT next year," which will be held in San Francisco. Though the program was branded the TCT MedTech Innovation Forum to make clear the link to the TCT meeting, the collaboration, says Andrew Cleeland, "goes beyond the meeting." Indeed, the September program was, says Juan Granada, "just the first of many things we hope to do together."
Trial MyStrategist.com and unlock 7-days of exclusive subscriber-only access to the medical device industry's most trusted strategic publications: MedTech Strategist & Market Pathways. For more information on our demographics and current readership click here.