ARTICLE SUMMARY:
Digital health investment is now at an all-time high, according to Rock Health's most recent report on H1 2021 funding trends. Excerpted from MedTech Strategist's recent feature, "Digital Health Deals Soar in First Half of 2021."

Investors pumped $14.7 billion into digital health start-ups in the first half of the year. That a number that surpassed the funding total for all of 2020, and 2021 is on pace to more than double the previous year in terms of number of deals and companies funded, the report notes.
There were 372 start-up funding deals completed during the period, with an average deal size of $39.6 million, including 48 "mega deals" that accounted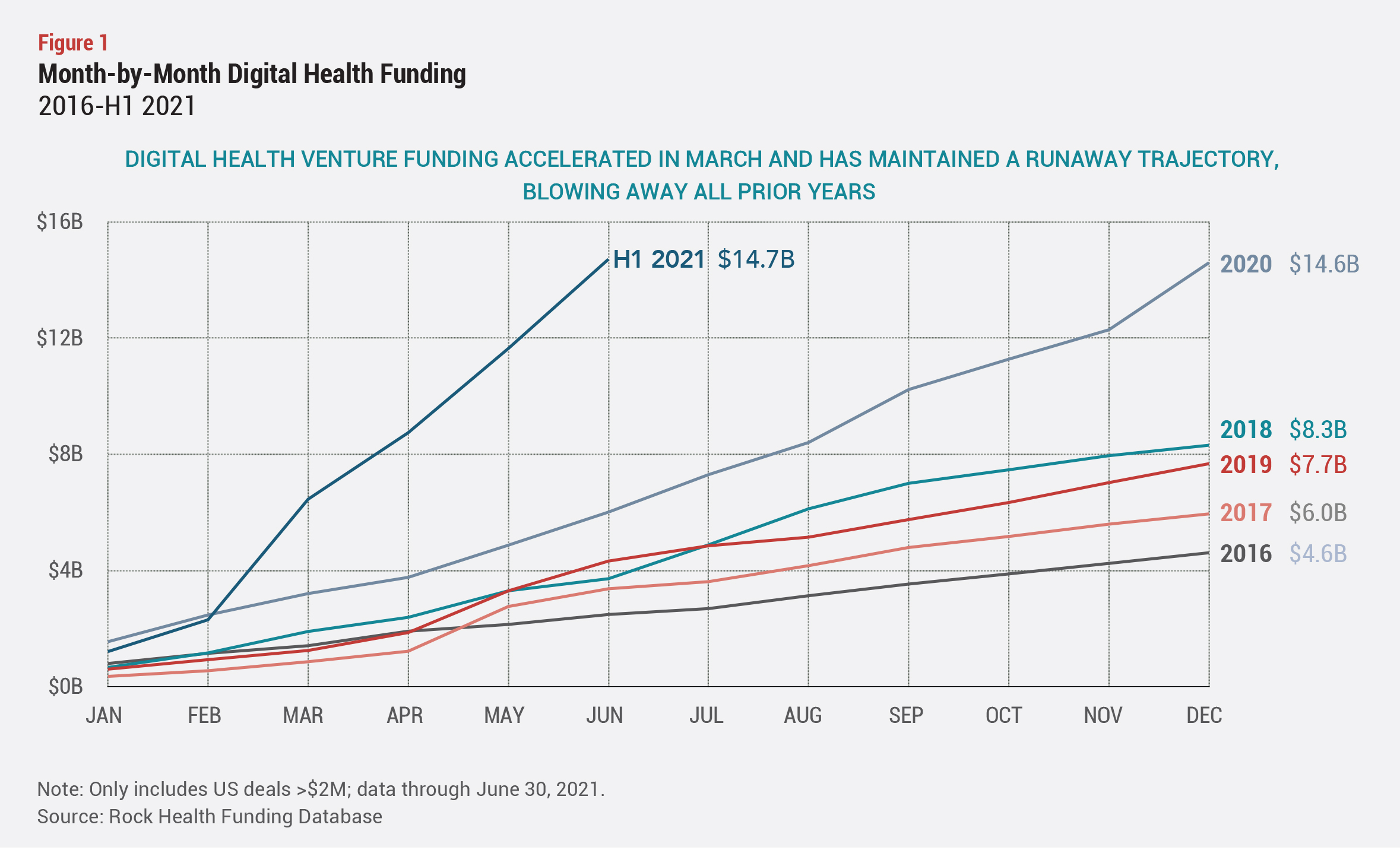 for 59% of the total investment (see Figure 1). Leading the mega deals was Noom's (consumer weight loss app) $540 million Series F, which Rock Health says is "one of the largest single rounds in digital health history." Investors have been putting more money into later-stage rounds in 2021, the report notes; in H1 2021, Series C and D rounds increased by 1.1X and 1.7X, respectively, over 2020 levels.
The top-funded clinical indications during the period included mental health/substance abuse, cardiovascular disease, and diabetes, and the pace of funding in these top areas was "turbocharged," according to the report. In the first six months of 2021, total funding for each of the top six areas (mental health, cardiovascular disease, diabetes, primary care, substance use disorder, oncology) had already "blown past" full-year 2020 funding levels, the authors note.
Excerpted from "Digital Health Deals Soar in the First Half of 2021," MedTech Strategist, August 9, 2021.

Trial MyStrategist.com and unlock 7-days of exclusive subscriber-only access to the medical device industry's most trusted strategic publications: MedTech Strategist & Market Pathways. For more information on our demographics and current readership click here.