ARTICLE SUMMARY:
Long an adherent of organic growth, Olympus went on a buying spree during the pandemic, acquiring four companies to support and grow existing business lines. Excerpted from MedTech Strategist's recent feature on Olympus.
OlympusCorp.'s flurry of deals over the last year comes after many years of a reliance on organic growth, with little outreach to acquire.VP of Business DevelopmentTownsend Goddard concedes that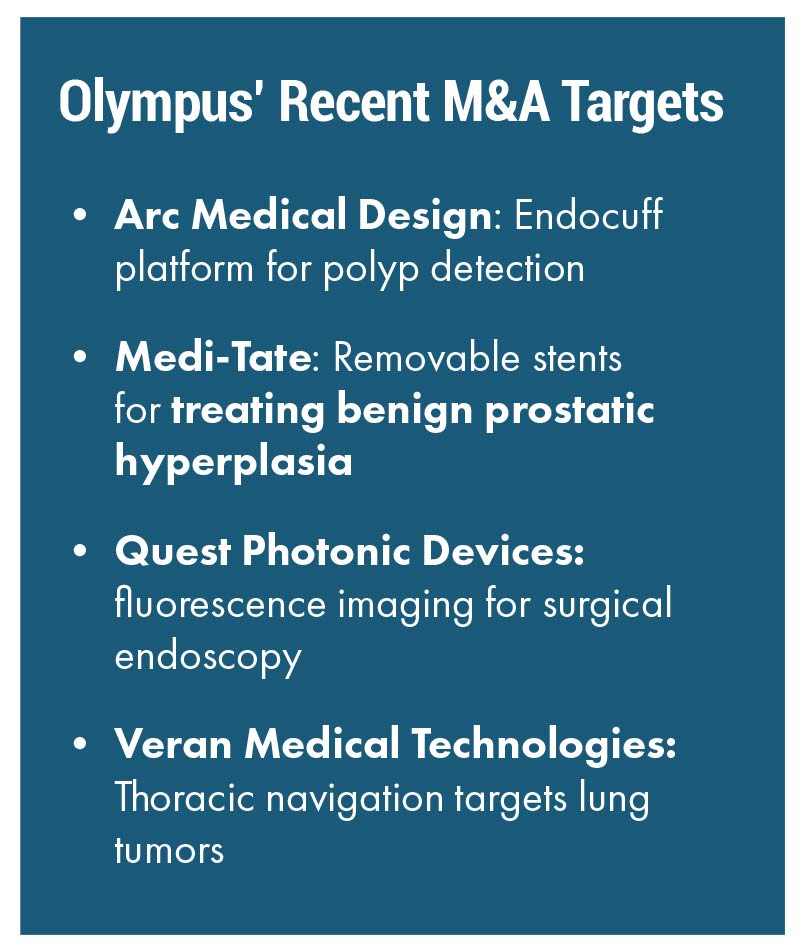 notwithstanding the company's leading market position in its core lines, start-ups and their investors haven't always thought of Olympus as a likely acquirer. "A lot of emerging growth companies and bankers have been waiting for another strategic to enter the mix as an acquirer," he says. "When we started this journey, I think there was a lot of interest [in Olympus as potential acquirer], but not a lot of belief." Olympus had no trouble getting preliminary meetings, he continues, "but it was more to see whether we were serious or not. I can say that in the last few months, as we've completed a few of these deals, we're getting a lot of call backs from people we talked to a few years ago who now realize that we're serious."
COO Nacho Abia agrees. When Olympus started to knock on the doors of the bankers to start conversations, people were willing to meet, he says. "But they looked at Olympus and said, 'You've never been active in this space, so we'll talk to you but we don't have many expectations.' Obviously in the last six months that conversation has changed significantly." Olympus is getting more and more calls from start-ups and bankers now, he says. "And they're calling us. It's much different from two years ago," when Olympus ramped up its business development efforts with the hiring of Goddard who in turn, says Abia, put in place a team of experienced dealmakers who have made a more concerted effort to reach out to those in the dealmaking ecosystem. "And this didn't happen by chance," says Abia. "It's the product of a very serious approach to engage with the main stakeholders and our customers. What we've been seeing in the last six months is the outcome of a process of identifying a number of targets and going after them."
Excerpted from "Olympus Embraces M&A to Fuel Growth," MedTech Strategist, May 11, 2021.
Trial MyStrategist.com and unlock 7-days of exclusive subscriber-only access to the medical device industry's most trusted strategic publications: MedTech Strategist & Market Pathways. For more information on our demographics and current readership click here.