ARTICLE SUMMARY:
'Perspectives' - US Medtech IPOs Rebound
For the past couple of years, the idea of a US medtech/diagnostic public market has been just that—an unrealized hope. Despite quarter after quarter of promising signs, the US IPO window remained basically closed to device and diagnostic companies. That inactivity continued through the first quarter of this year, but Q2 brought several deals and prompted increased optimism that the public market would once again be open to medtech offerings.
The promise of a resurgence in initial public offerings was not just an industry hoping for the best; it was based on consistently robust follow-on offerings and companies confidentially filing to go public, which historically are leading indicators of an impending burst of IPO activity. But that has not been the case up until now in medtech. One only need look at data for the comparable period in the first half of last year when there were no device or diagnostic IPOs (see Figure 1). Indeed, there were only four such deals in all of 2017, whereas we saw three device deals in Q2 of this year alone.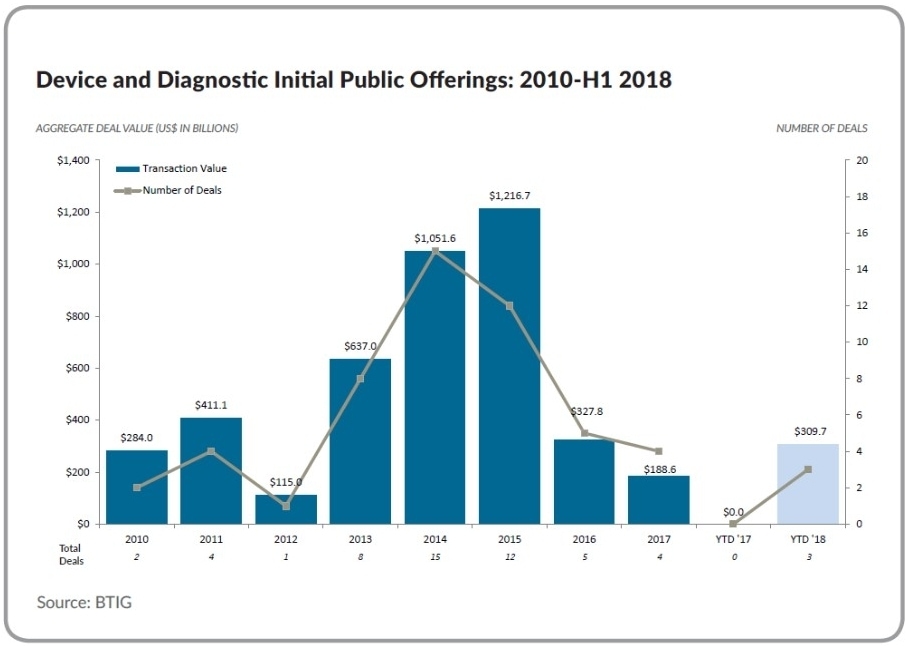 This recent flurry of medtech IPOs could indicate the resurgence of a steady flow—notice I didn't say a flood—of US device public offerings. That level of consistent activity would be most welcome for an industry that has largely been running without the benefit of public investors since 2015. Even 2016 saw only five device and diagnostic IPOs, as compared with a dozen in 2015 and 15 in 2014.
In addition to an uptick in the number of deals, an optimistic outlook is further bolstered by an increase in average deal valuation, which in Q2 of this year was back up at just over $100 million per deal. That was around the level achieved in 2015, whereas in 2017 the average deal value was roughly $47 million, down from $66 million in 2016.
A closer look at Q2's medtech IPOs provides additional basis for optimism that public investors will continue to maintain their interest in this sector. Inspire Medical Systems (obstructive sleep apnea therapy) broke the ice in early May, raising $124 million at $16/share, which was at the top of its range, on annual revenue of $33 million. In late June, ElectroCore (non-invasive vagus nerve stimulation to treat the pain associated with migraine headaches) and Neuronetics (non-invasive transcranial magnetic stimulation—a form of neuromodulation—to treat depression) followed with IPOs a week apart. Neuronetics, with annual revenue of $43 million, raised $108 million, going out at $17/share, which was above the company's expected $14-$16 range. And ElectroCore, which only had $800,000 in revenue, raised $78 million, going out at $15/share, the middle of its filing range. Each of these companies checked off many of the expected boxes for a successful IPO—innovative therapy for an unmet clinical need, strong management team, etc.—but perhaps the most compelling element they had in common was that they addressed huge potential markets in looking to treat sleep apnea, migraine headaches, and depression. And in the case of ElectroCore, the promise of an effective therapy for the large migraine patient population apparently overcame any concern about not hitting the $25-$50 million revenue threshold that public investors often prefer.
Perhaps the most promising sign that this recent series of medtech IPOs will be more than just a short-term phenomenon is that investors have stuck with these companies. Inspire's stock price was up 93% one month following its IPO and 123% at the close of the first half of this year. Neuronetics was up 57% and ElectroCore 10% at the conclusion of the same period, giving rise to the feeling that this long-expected US medtech public market may be around for a while.
#CommunityBlog #MedTechStrategist #medicaldevice #medtech #stephenlevin #strategy #financings #ipo #initialpublicoffering #m&a #deals #unitedstates #perspective #neurostimulation #neuromodulation #migraine #headache #depression #sleepapnea #Neuronetics #ElectroCore #inspiremedicalsystems
---

Trial MyStrategist.com and unlock 7-days of exclusive subscriber-only access to the medical device industry's most trusted strategic publications: MedTech Strategist & Market Pathways. For more information on our demographics and current readership click here.