ARTICLE SUMMARY:
Digital health funding data from the first half of this year mark a return to more historical norms after a record-setting 2021. Excerpted from our recent MedTech Strategist feature, "Bubble Bursts for Digital Health."
After attracting record investments in 2021, digital health start-ups face a reckoning in 2022 as concerns about the global economy and frothy valuations, among other things, dampen investor enthusiasm. (See "Digital Health Deals Soar in the First Half of 2021," MedTech Strategist, August 9, 2021.)
According to CB Insights' most recent State of Digital Health report, global funding for digital health companies declined for the second consecutive quarter in Q2 2022,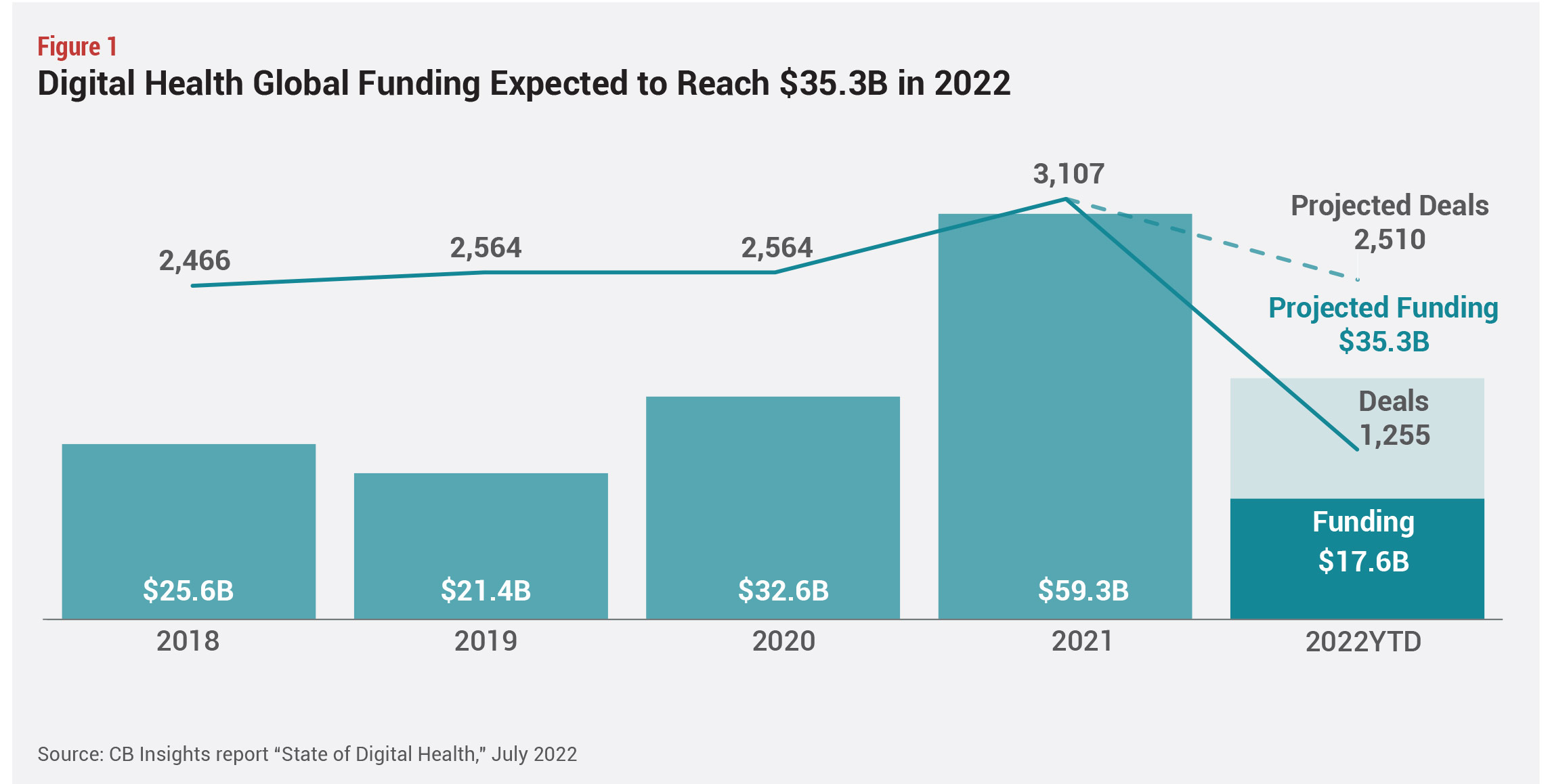 falling 32% from Q1 and dropping 58% from the all-time high reached in Q2 2021. The downturn impacted nearly all digital health categories, the authors said, and "mirrored the broader downtrend in funding for all private companies" (see Figure 1 ).
Digital health funding in the US fell 34% Q/Q in 2022 to $4.8 billion, which marks the lowest quarterly funding level in two years, according to CB Insights. Funding in Asia was also down, about 21%, in Q2. Europe was the only region followed that showed an increase in digital health funding during the period, posting a 6% sequential gain in Q2. But that total was boosted in large part by a single deal: a $193 million Series E round that went to Alan, a French start-up with a digital health insurance platform.
Notably, the report found nearly 60% fewer $100 million+ digital health mega-rounds in Q2, compared with Q1, and the number of new unicorns fell by 53% compared with Q1 2021's peak (see Figure 3). Eight new digital health unicorns emerged during Q2 2022, including remote health monitoring companies Ōura Health Oy ($2.6 billion) and Biofourmis ($1.3 billion). (For more on Biofourmis, see "Biofourmis: Predicting Disease, Partnering with Pharma," MedTech Strategist, September 1, 2020. Also see "Movano: Bringing Medical Grade Wearables to the Masses," MedTech Strategist, May 11, 2022.)
Funding for later-stage rounds took a particular hit in 1H 2022, as investors began to push back on valuations. As a result, later-stage companies are now closing smaller deals at lower valuations, according to the report. (Biofourmis had the top equity deal in the quarter, a $300 million Series D that closed in April.) The median change in valuation between financing rounds declined 180% in Q2 versus Q1 2022.
Trial MyStrategist.com and unlock 7-days of exclusive subscriber-only access to the medical device industry's most trusted strategic publications: MedTech Strategist & Market Pathways. For