ARTICLE SUMMARY:
Some takeaways from FDA's FY 2022 report on the Breakthrough Device program. Excerpted from Pathways' Picks November 2: Medicare Pay, Breakthrough Stats, CE Mark Times, and More.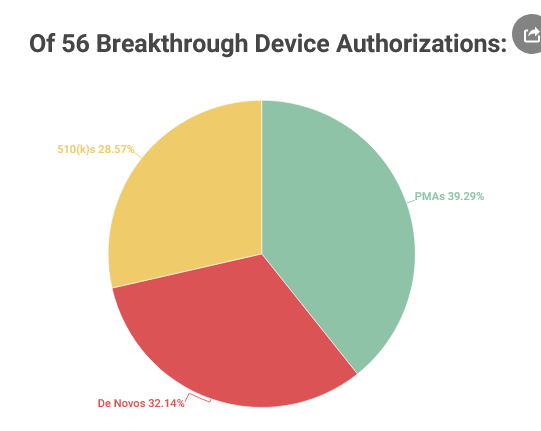 The number of FDA designations of Breakthrough Devices dropped in FY 2022 but the number of Breakthrough Devices authorized for marketing by the agency inched up in the fiscal year that ended September 30, according to updated numbers posted on FDA's website October 28. A few key data points:
FDA made 164 Breakthrough designations in FY 2022, down from 206 last year. The drop resulted from a reduction in company requests for designations during that period, possibly due to commercial COVID-19 backlogs, according to CDRH Director Jeff Shuren, who cited the trend last week during a panel discussion at The MedTech Conference in Boston.
On the other hand, the agency authorized 17 Breakthrough Devices during the same period, up from 15 in FY 2021 and 10 in FY 2020.
Seven of the FY 2022 authorizations were 510(k)s, almost double the number of 510(k)s authorized via the Breakthrough program previously.
In total from 2016 through September 30, FDA has designated 722 Breakthrough Devices and authorized 56 of them, with a relatively even split between PMA, De Novo, and 510(k) authorizations.
Trial MyStrategist.com and unlock 7-days of exclusive subscriber-only access to the medical device industry's most trusted strategic publications: MedTech Strategist & Market Pathways. For more information on our demographics and current readership click here.